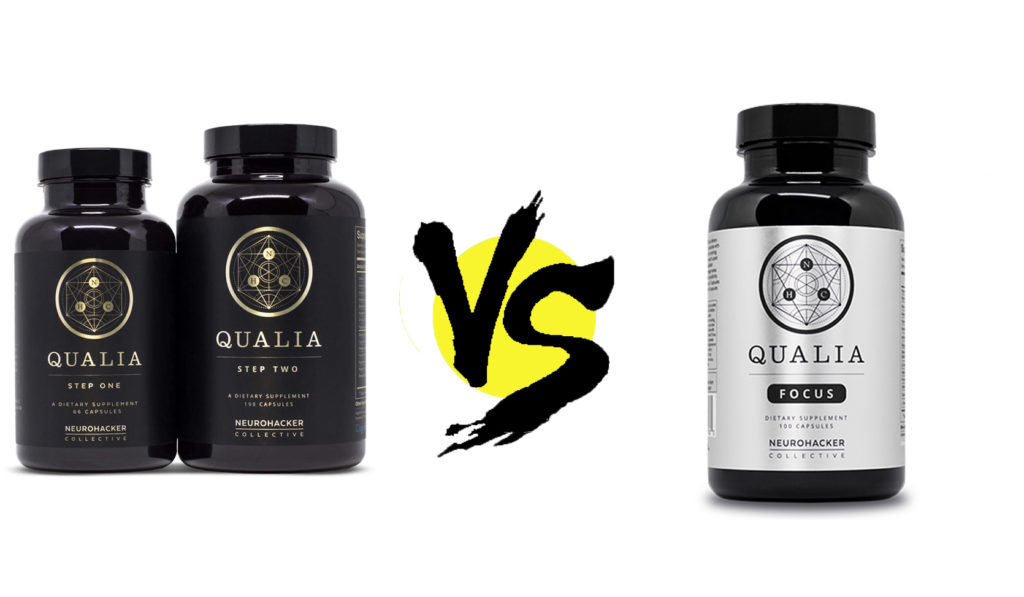 Qualia Original Stack vs. Qualia Focus represents a significant shift from Neurohacker Collective's original two-step superstack vision to their smaller, simplified, yet still pretty super nootropic formula design. Between Qualia Original Stack and Qualia Focus we have Qualia Mind (and Qualia Mind Caffeine-Free), which is arguably the best Qualia supplement in the line-up.
But even so, the question stands: which is better between Qualia Original Stack and Qualia Focus? A great question considering how much cheaper Qualia Focus is compared to Qualia Original Stack. (Spoiler alert: much, much cheaper!) So, let's read the Qualia Original Stack vs. Qualia Focus review to see what's what with these bad bois.
Formula Design
Qualia Original Stack is the OG Qualia formula, the first nootropic supplement by Neurohacker Collective to showcase many of the nootropic ingredients found in later Qualia formulations, including Qualia Focus. Yet, as Neurohacker Collective progressed their formula design, they didn't add to their original stack but rather reduced it to a smaller, more (*ahem*) focused nootropic design.
Between Qualia Original Stack and Qualia Mind, I favor the "Mind" version for its simpler formula. But does that automatically qualify Qualia Focus, the simplest formula yet, as the better version in this match-up? Hard to say until we take a look at their ingredients and formulas.
Qualia Original Stack vs. Qualia Focus: Ingredients
Qualia Original Stack Supplement Facts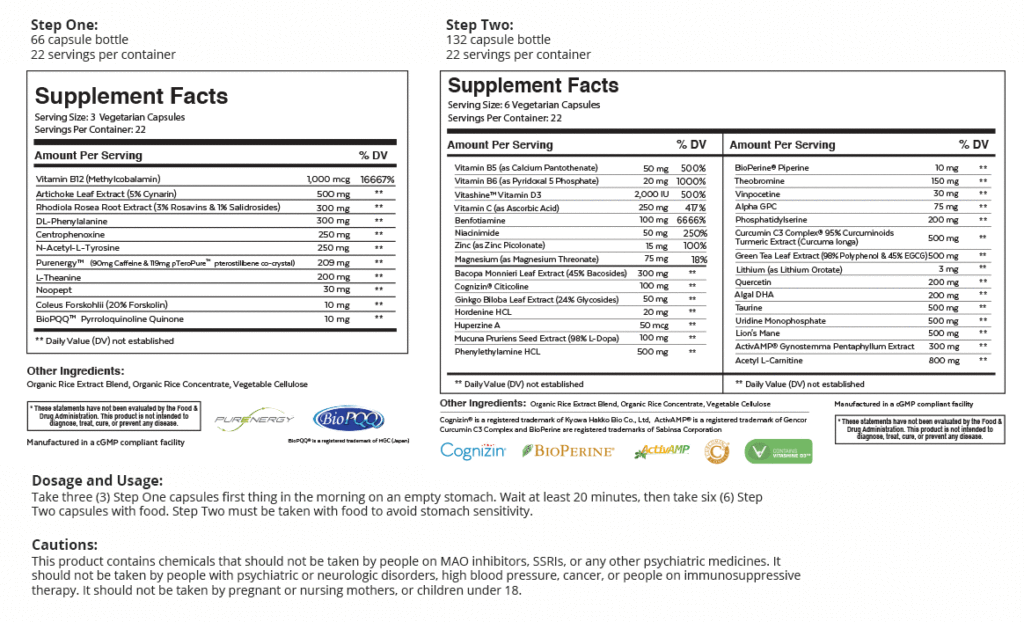 Qualia Original Stack Directions: Take three (3) Step One capsules first thing in the morning on an empty stomach. Wait at least 20 minutes, then take six (6) Step Two capsules with food. Step Two must be taken with food to avoid stomach sensitivity.
Qualia Focus Supplement Facts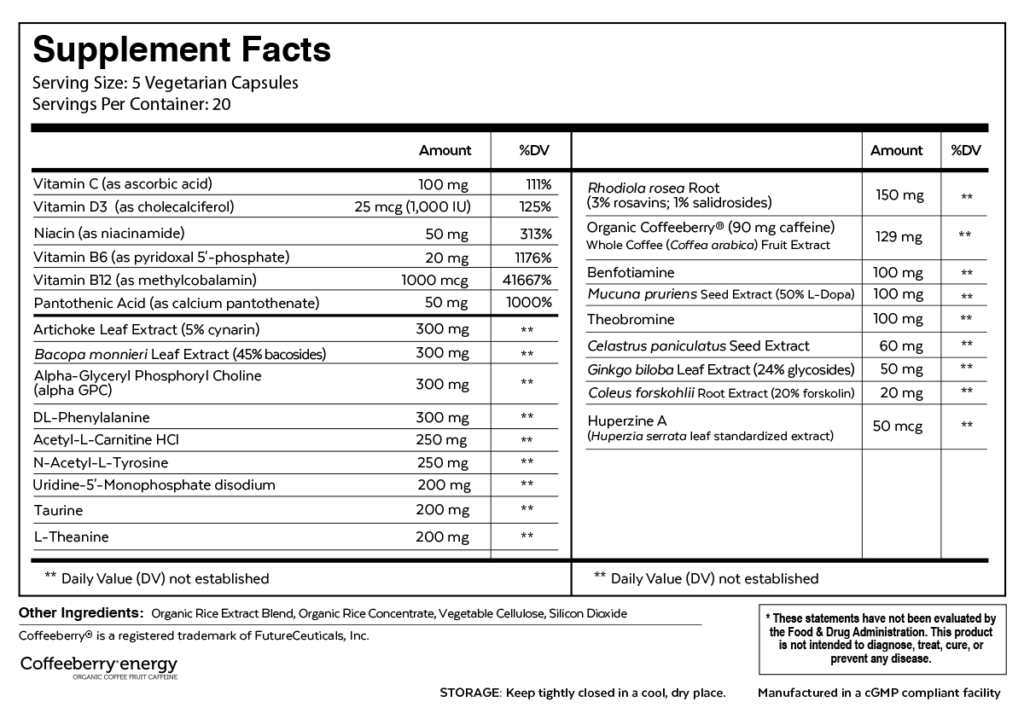 Qualia Focus Directions: As a dietary supplement, take 5 capsules with water first thing in the morning before eating. If stomach upset occurs, take with breakfast instead. Optimal dosage will vary based on body weight and sensitivity. Do not take more than 7 capsules at once or more than 9 capsules in a day.
Qualia Original Stack: One Step, Two Step Superstack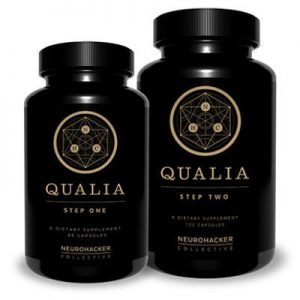 The Qualia Original Stack actually qualifies as two stacks, split into two separate formulas: Step One and Step Two. Each formula may qualify as a well-rounded nootropic supplement on its own; however, Qualia smartly divides them into two separate stacks with separate directions to ensure their ingredients are sufficiently absorbed. (And, presumably, to save Qualia customers from choking.)
Step One – 3 vegetarian capsules taken first thing in the morning.
Step Two – 6 vegetarian caps taken (with food) 20 minutes after Step One.
Essentially, what Qualia seems to have done was take all of the best nootropic ingredients of other mainstream nootropic supplements and compile them all into a single two-stack supplement. I imagine there's a method to Qualia's madness, but in it's presentation it simply comes across as too much — even if it's too much of a good thing. Not to mention, Qualia inserts Noopept and DHEA into its formula, sacrificing the all natural label for a pretty awesome synthetic drug (Noopept) and an unnecessary prohormone (DHEA). I say "unnecessary" because it's both ineffective and banned for competitive use. So, competitive athletes may be barred from all of Qualia's other awesome nootropic ingredients, simply due to the poor placement of DHEA.
Read my in-depth review on Qualia Original Stack.
Qualia Focus: One Simple, Super (Albeit Less Super) Step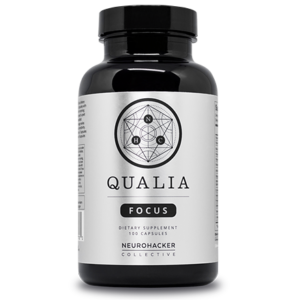 After Qualia Original Stack came Qualia Mind. And after Qualia Mind came Qualia Focus, the simplest, smallest (yet still large) Qualia supplement in the Neurohacker Collective line-up of nootropic brain health stacks. The idea: a more affordable brain health stack that supplies most of the ingredients found in Qualia Mind for a more cost-efficient Qualia experience.
Yet, while an affordable brain health supplement was direly needed by Qualia, the one thing I can't figure out with this one: where does the "Focus" come in?
Both Qualia Original Stack and Qualia Mind supply focus boosting ingredients. And, if anything, Qualia Mind seems to supply more focus boosting ingredients than Qualia Focus, which does nothing particularly focus enhancing over its larger predecessors.
Not a big deal — you're still getting a jam-packed supplement here — but it's a less-than formula as compared to Qualia Original Stack's focus boosts. Granted, the decrease in ingredients may reduce the risk of negative ingredient interactions posed by Qualia Original Stack's behemoth formula.
Read my in-depth review on Qualia Focus.
Unique Features
Qualia Original Stack supplies all of the (more or less) same ingredients as Qualia Focus …and then some. So, in comparing the "Unique Features" between these two supplements, I'll simply list some of the important nootropics Qualia Original Stack has over Qualia Focus, then detail what's potentially unique about Qualia Focus' simpler design over Qualia Original Stack.
Qualia Original Stack
Centrophenoxine – Viewed as a more enhanced DMAE, centrophenoxine may possess neuroprotective advantages, potentially enhancing elderly cognition.
Noopept – As a racetam-like nootropic, Noopept shares a similar structure and function to piracetam, except it's way more potent and effective at enhancing cognition. More on Noopept.
PQQ (as BioPQQ®) – Popular, premium brand of an energy boosting antioxidant. Works by enhancing mitochondrial energy output. More on PQQ.
Citicoline (as Cognizin®) – Somewhat of a powerhouse nootropic, citicoline boosts brain power by improving acetylcholine activity and molecular energy production. More on Citicoline.
Phosphatidylserine – Key phospholipid in brain cell membranes, assists with cell-to-cell communication and neurotoxic removal. More on Phosphatidylserine.
DHEA – As I said before, DHEA is a prohormone that does just about nothing for the brain and body when consumed orally. Not worth the WADA ban, in my opinion.
And More – There's more to list here that I'll simply skip over for the sake of time. If you want to read my full take on Qualia Original stack, check out my Qualia Original Stack Review.
Qualia Focus
Okay, so Qualia Original Stack supplies all of the same ingredients as Qualia Focus (with exception to, say, type of caffeine) …and then some. So, what does Qualia Focus have that's unique over Qualia Original Stack? For one: Qualia Focus' simpler focus may help reduce risk of negative ingredient interactions. With so many ingredients packed into Qualia Original Stack's formulas, it's reasonable to worry that certain ingredients may not be fully utilized due to absorption competition. Likewise, Qualia Focus' simpler formula requires cheaper manufacturing costs, decreasing the stack's overall price (as I'll cover below).
Thus, you may stack Qualia Focus with other mix-and-match nootropics of your liking to a greater effect than Qualia Original Stack …and still save money, baby. (That is if you're a smart nootropics shopper and don't mind the relative inconvenience.)
Potency & Quality
One of the reasons Neurohacker Collective supplements are so expensive: their high number of ingredients come with high dosages. Really, it's pretty impressive how Neurohacker Collective manages to stack so many ingredients without sacrificing their dosages.
This is mainly helped by the massive serving sizes, which Qualia sacrifices in terms of total servings per bottle… but still.
However, another reason their supplements are uber-duber expensive: Qualia supplements come with high quality, highly potent nootropics.
Qualia ingredients hack everything!
Qualia Original Stack and Qualia Focus cut virtually zero corners with their ingredient quality, supplying premium grade compounds and herbal extracts to ensure maximum bio-availability per nootropic. Granted, with so many ingredients it may be the case that certain ingredients have a harder time being absorbed into the body at all, especially in the case of Qualia Original Stack. But on an ingredient-by-ingredient basis, both supplements here impress with their high quality nootropics.
Although, the capsules may use some cleaning. (Why is rice filler at all necessary here?)
Value: Qualia Original Stack vs. Qualia Focus

Price
Servings
Price Per Serving
Qualia Original Stack
$149
22
$6.77
Qualia Focus
$69
22
$3.14
For a 22-serving supplement, Qualia Focus is pretty expensive, counting up to $3.14 per serving. Yet, Qualia Original Stack more than doubles that amount, charging you $6.77 per serving, which is… a lot of furkin' money to spend on a single supplement.
Granted, you're getting essentially double the nootropics with Qualia Original Stack's two-fer-one superstack design. And, plus, for both supplements, you may save a significant amount if you buy their Subscribe & Save order options — as opposed to single bottle orders. But even so: Qualia Original Stack and Qualia Focus are expensive brain health stacks with the former being one of the most expensive mainstream nootropic supplement stacks available in 2018.
Qualia Original Stack or Qualia Focus: Which is better?
Qualia Original Stack is Qualia Focus and more.
Qualia Focus appears twice in this Qualia Original Stack vs. Qualia Focus comparison review, considering that the Qualia Focus ingredients are all contained within Qualia Original Stack's two-step supplement design. Essentially, if you like Qualia Focus but you want an even more comprehensive nootropic brain booster, then Qualia Original Stack is the way to go.
Qualia Focus is simpler and cheaper.
I'd guess the primary reason Neurohacker Collective included Qualia Focus in their nootropic brain health line-up is simply to provide a cheaper, more accessible option. Qualia Focus is certainly the most accessible formula with the Qualia name attached. Having said that, we'll need to wait on more customer reviews to see how this compares to the other stacks, but for the most part it delivers much of the same Qualia experience expected of the other Qualia nootropics.
My Recommendation
No doubt, Qualia Original Stack supplies more and does more than Qualia Focus. In terms of supplement design, brainpower, and sheer size, Qualia Original Stack is easily the more impressive nootropic supplement between Qualia Original Stack vs. Qualia Focus.
Having said that…
The heavy price tag associated with Qualia Original Stack is nutso. In my opinion, it simply isn't worth it. And while Qualia Focus is still a pretty damn expensive formula, it's nowhere near as bad as Qualia Original Stack. (This price discrepancy is even more baffling between Qualia Focus and Qualia Mind, of which the latter isn't really that much bigger than Qualia Focus.) On that note, if you want an effective, yet inexpensive nootropic stack, consider my Best Nootropic Supplements of 2018 list, which lists some pretty impressive brain boosters.
Factoring in price, I recommend Qualia Focus over Qualia Original Stack. Yet, even pricing aside, I believe an argument could still be made for Qualia Focus, simply on the negative ingredient interactions front. So, my final judgment call here is:
Qualia Focus > Qualia Original Stack