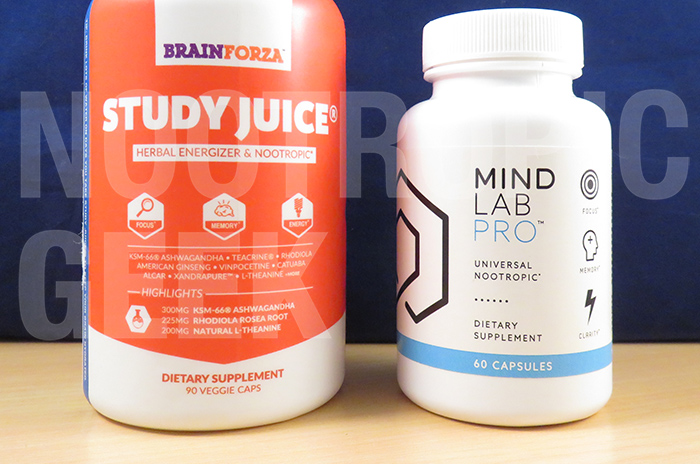 Many people don't understand:
Making 10 louder isn't the same as cranking it up to 11.
Study Juice easily qualifies as a loud "10" nootropic stack. Its ingredients are 10/10. Its design is 10/10. Its caffeine is 10/10. Even its price is 10/10 (well, technically $34.95). For all intents & purposes, it's a 10/10 supplement.
Yet, Mind Lab Pro cranks it up to 11, which, if you didn't know, is one more than 10. How does it do this? Through synergy, baby. By creating a stack that's more than the sum of its parts.
Yet, is it even possible to go beyond 10? Or are these products exactly the same?
Let's compare their reviews:
Formula Design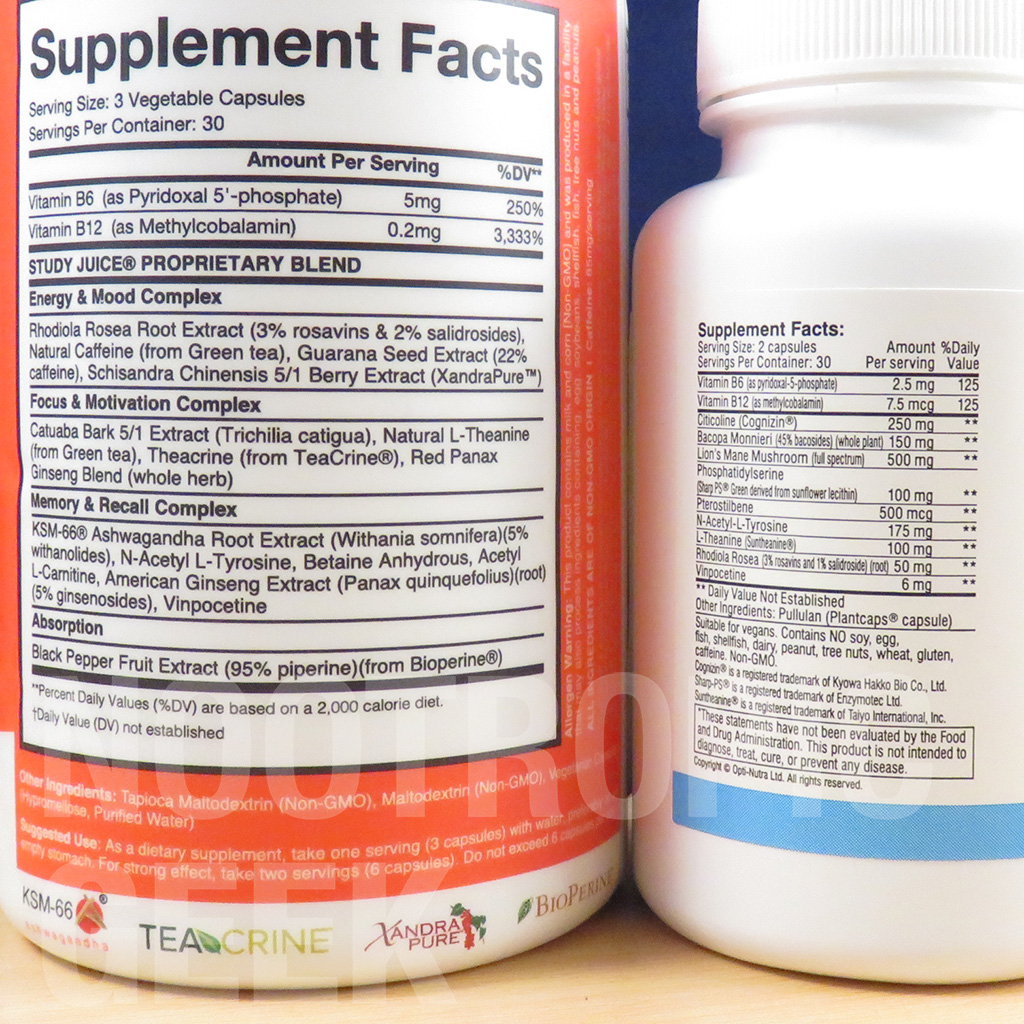 If the choice between Study Juice & Mind Lab Pro is stressing you, you're not alone. Both supplements are high value, high quality nootropic stacks, both being contenders for my Best Nootropic Supplements of 2017 (yet, only one ultimately earned a spot on the list).
By the end of this comparative review you'll know which one tops my 2017 list, but before we get there, let's check out the Formula Designs, starting with:
Study Juice: Geeks, Gamers, & Students Rejoice
Do you like caffeine? Of course you like caffeine, what kind of a question is that. I'm saying you consume caffeine, but that seems outside of the point. Study Juice has caffeine, a cognitive enhancing drug that I don't necessarily consider a nootropic. Even so, Study Juice handles its caffeine content well by complementing its druggy stimulation with these nootropic-geared blend:
Energy & Mood Complex. Not only is it pro-energy (caffeine) but it's also anti-stress & anti-fatigue (Rhodiola & Schisandra Chinensis).
Focus & Motivation Complex. Catuaba is a sex-enhancer (I suppose that entails motivation of a sort), yet the L-Theanine + Theacrine provide relaxing focus.
Memory & Recall Complex. Great blend here for its multifunctional adaptogenic Ashwagandha, anti-stress L-Tyrosine, plus more nootropics (generally unrelated to memory & recall, though).
And last but not least: BioPerine® Black Pepper Extract. Every formula should have this patented nutrient absorption enhancer. In tiny doses it can have a significant effect on a product's overall bioavailability. Read my in-depth review on Study Juice.
Mind Lab Pro: Brain Power on Spinal Tap 11
We're not satisfied with brains that amp up to level 10. We want an official Spinal Tap 11, which is exactly what Mind Lab Pro's biopathway synergy provides. MLP showcases just as much quality as Study Juice, yet demonstrates more diversity of bio-effect, creating a multiplying effect of effects for fully funcitonal brain power.
The biopathways targeted by Mind Lab Pro's ingredients: Energy, Chemicals, Bloodflow, Brainwaves, Neuroprotection, & Regeneration–many of which are covered by MLP's Cognizin brand of Citicoline alone.
Not everyone has the same brain profile, which is why not all nootropics work for everyone. Mind Lab Pro fixes this by adequately covering all grounds, adjusting your weakest links while supporting the rest. And it does so cleanly with its patented Plantcaps® capsules. No drugs. Read my in-depth review on Mind Lab Pro.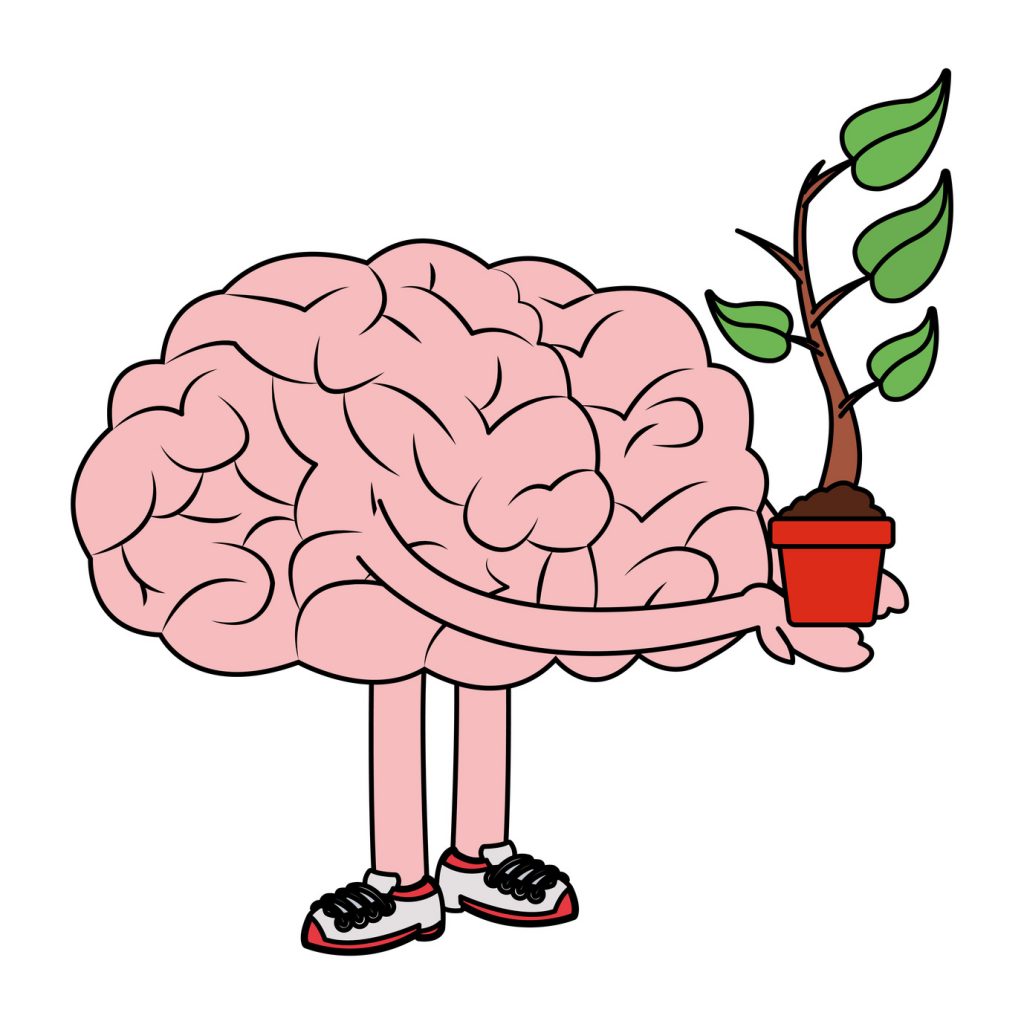 Unique Features
This is the most impressive ingredient match-up I've came across in awhile. Typically, these comparisons are fairly lopsided in the Unique Features section, especially against MLP, which offers only top quality ingredients. Yet, so does Study Juice, judging by its standardized herbal extracts and use of branded ingredients.
Having said that, Study Juice & Mind Lab Pro have many more differences than similarities in terms of ingredient selections. Let's see what's happening on each side:
Study Juice
Green Caffeine. Caffeine is caffeine, so it doesn't really make too much of a difference if it's coming from green tea or guarana. Study Juice sources it from both.
XandraPure™ Schisandra. XandraPure is a quality brand of a unique anti-stress adaptogen berry of traditional Chinese value.
TeaCrine® Theacrine. Similar to action in caffeine, theacrine seems to accomplish the low-dose sedative effects of caffeine at more moderate dosages.
KSM-66® Ashwagandha. KSM-66 is a respectable Ashwagandha brand. From cognition to physical health, Ashwagandha has a little something for everyone.
BioPerine® Black Pepper. Why not toss a little pepper on it? BioPerine helps enhance the overall bioavailability of Study Juice.
Mind Lab Pro
Cognizin® Citicoline. Of the choline sources, Citicoline is my preferred option for its dual supply of choline & cytidine (converts to the nootropic uridine).
Bacopa Monnieri Extract. Ayurvedic adaptogen Bacopa is a well-regarded herbal nootropic for its benefits on long-term memory. Just ask Reddit.
Lion's Mane Full Spectrum. Here's your neuroregeneration. Lion's Mane is believed to promote nerve growth factor (NGF) for increased neuron maintenance.
Sharp-PS® Phosphatidylserine. Even the FDA can't deny the value of Phosphatidylserine, which MLP provides in classy sunflower-derived fashion via Sharp-PS.
Pterostilbene. Many know of Resveratrol's antioxidant health benefits, but few know that Pterostilbene is a better form of Resveratrol.
Suntheanine® L-Theanine. Perhaps the only shared ingredient between Study Juice & MLP that MLP does better than Study Juice, thanks to the Suntheanine brand.
Potency & Quality
For all intents & purposes, Study Juice & Mind Lab Pro are equally ranked in terms of "Potency & Quality." For what each nootropic stack sets out to do, I can't say there's a whole lot that either product can do better:
The B vitamins are "bio-active"
The herbal extracts standardized
The amino acids on point
Neither product warrants any complaints in regards to potency & quality.
However…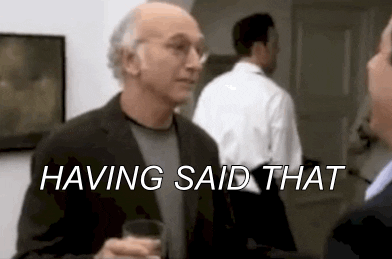 Study Juice uses proprietary blends, which isn't an issue with quality so much as quantity: All of the individual ingredient dosages outside of the vitamins & BioPerine are hidden underneath catch-all proprietary blend dosages.
Even though Study Juice rectifies this by supplying premium quality ingredients & adequate blend dosages, it's still an annoying practice–especially when caffeine is involved. Many inferior nootropic products employ this tactic to hide their over-reliance on caffeine. I don't think Study Juice is doing this, but it's still not a good look, ya deeeg.
Mind Lab Pro on the other hand shows all of its dosages and they look molto bene.
Value: Study Juice vs. Mind Lab Pro

Price
Servings
Price Per Serving
Study Juice
$34.95
30
$1.17
Mind Lab Pro
$65.00
30
$2.17
Study Juice or Mind Lab Pro: Which is better?
Study Juice is caffeinated brain juice.
Caffeinated nootropic stacks usually earn my recommendation as a "coffee alternative" or "energy drink alternative" or something of that sort, but Study Juice just straight up earns my recommendation. Yes, it has caffeine, and perhaps some of you aren't into the unnecessary stimulation (I'm not particularly), but it more than offsets that energy with a heavy roster of anti-stress adaptogens & pro-focus aminos. The result being mental energy shaped by relaxed focus. This is great for studying and for taking on Artorias of the Abyss.
Mind Lab Pro is non-caffeinated brain optimization.
The reason I'm not too big on caffeine: It comes at a cost. True nootropics don't come at a cost. They enhance cognition through enhancing brain structure & health, not by compensation. Mind Lab Pro is the perfect embodiment of this concept for its completely nootropic formula, which tackles a diverse number of natural biopathways for complete brain power. I believe their slogan is "100% Brain Power" and it's more than earned by this well-crafted formula.
My Recommendation
Study Juice was a very close contender for my 2017 Best Nootropic Supplements list, but ultimately missed the cut. Mind Lab Pro not only made the cut but topped the cut (Does the metaphor work that way?). It's a hard supplement to beat for its unmatched quality & ingredient selections. Study Juice demonstrates exceptional quality & selections as well, but fails to top the cut-topping MLP for SJ's proprietary blend tactics & slight lack of biodiversity.
Study Juice supports relaxed focus & mood.
Mind Lab Pro supports everything.
Thus my final judgment call:
Mind Lab Pro > Study Juice
If you you'd like to learn more about Mind Lab Pro and other information on Mind Lab Pro's ingredients, hit the following link: Click here to learn more about Mind Lab Pro.