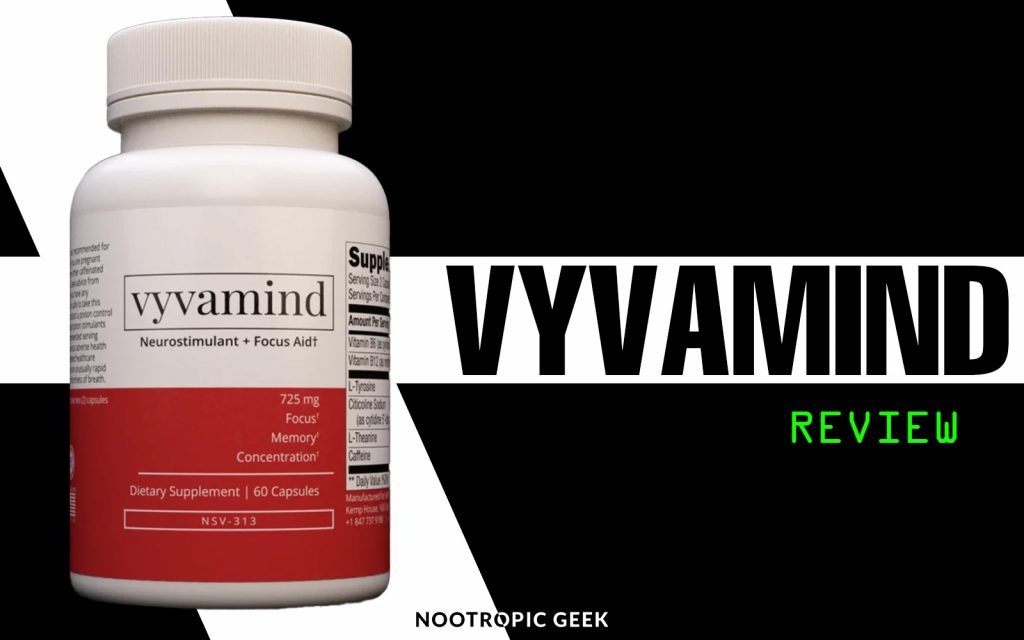 Vyvamind Review: Summary
Vyvamind is one of the more respectable nootropic supplements in the brain health game, and its reputation is deserved: Vyvamind is host to a few select natural nootropics that are great for boosting attention, mood, and focus, with some long-term brain health advantages as well. However, I'm afraid Vyvamind is perhaps too simple in its formulation, given its nearly $80 per bottle price. And though caffeine is a reliable, effective cognitive enhancer, I don't think it's necessary here and weakens its overall potential as a one-for-all daily brain health stack (which Vyvamind easily could be). Even so, this is, like a good cup of nootropic-enhanced coffee, a decent productivity stack.
About Vyvamind [NSV-313]
Vyvamind [NSV-313] is a Neurostimulant + Focus Aid nootropic supplement that claims to boost Focus, Memory, and Concentration.
Citicoline, L-Tyrosine, and L-Theanine — these are the three main ingredients that qualify this formula as a bona fide nootropic supplement.
Vyvamind also supplies a modest amount of caffeine (75mg), which is okay; however, I don't think it's totally necessary here.
The dosages aren't the worst, but you may need to double the serving size to achieve max benefits (thereby halving the value of this supplement, price-wise).
Vyvamind Ingredients

Ingredients
Amount Per Serving
Vitamin B6 (as Pyridoxine HCl)
2.5mg (147% DV)
Vitamin B12 (as Methylcobalamin)
50mcg (2083% DV)
L-Tyrosine
300mg
Citicoline (cytidine diphosphate-choline [CDP Choline])
200mg
L-Theanine
150mg
Caffeine Anhydrous
75mg
Serving Size: 1 Capsule
Servings Per Container: 60
Other Ingredients: Vegetable Cellulose (capsules), Silicon Dioxide, Magnesium Stearate
Directions: As a dietary supplement, take one (1) capsule with 8-12 fl oz of water.
All in all, Vyvamind is a fairly simple nootropic formula; although I think this works to the supplement's benefit. For the most part.
Nevertheless, let's take a look at each ingredient.
Vyvamind Review: Ingredients
Vitamin B6: Water-soluble vitamin involved in several catecholaminergic and serotonergic bio-pathways. When you're deficient in B6, you feel bad — you feel moody. Adding a little B6 to your daily nootropic regimen is never a bad idea for preserving cognitive function. More on Vitamin B6
Vitamin B12: Like vitamin B6, B12 is a good ingredient to add to your daily supplement regimen to sustain healthy cognitive function and development. Especially as you age, your B12 levels decline, making supplementation of this vitamin more and more effective at boosting brainpower. More on Vitamin B12
L-Tyrosine: One of the all-time best nootropics for stress and sleep deprivation, namely for sustaining focus and mood in times of mental strain. Typically, I enjoy over double the amount here in my morning coffee; however, as far as supplements go, 300mg is a respectable amount. More on L-Tyrosine
Citicoline: Arguably the best nootropic for both daily and long-term brain support. Citicoline, as opposed to the seemingly more popular alpha-GPC, supplies more than just choline: citicoline is a two-for-one combo of choline (precursor to neurotransmitter acetylcholine) and cytidine (precursor to brain-energizing uridine). More on Citicoline
L-Theanine: Any nootropic supplement that has caffeine (as Vyvamind does) should also supply L-theanine, if it wishes to work as a bona fide nootropic cognitive enhancer — and not an overpriced, over-glorified caffeine pill. A relaxing amino acid found in green tea leaves, L-theanine complements caffeine (and other stimulants) by calming the mind while sustaining focus. In other words, L-theanine can help lessen the jittery side effects of caffeine without sedation. Excellent natural nootropic. More on L-Theanine
Caffeine Anhydrous: Does caffeine enhance cognition? Yes, of course. Is caffeine a nootropic? Questionable — though I'd mostly say yes, despite the stimulant's ease in impairing cognition when (often) consumed excessively. 75mg is a modest amount here, offset by the 150mg L-theanine, which is the correct caffeine-to-theanine ratio for unlocking their combined benefits. More on Caffeine
Vyvamind Review: My Experience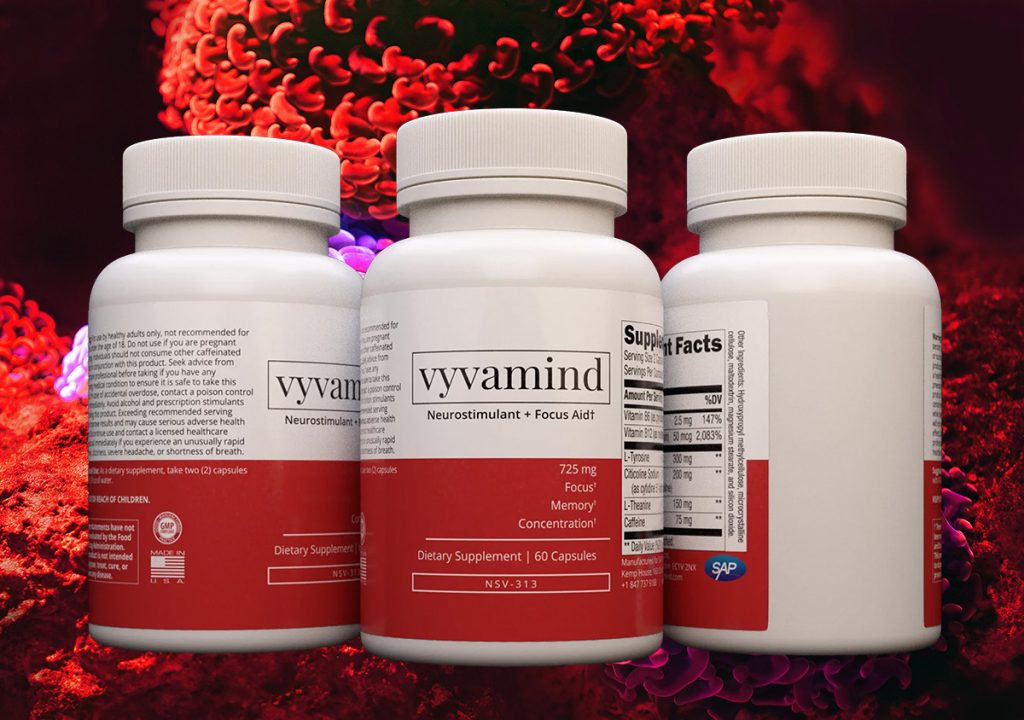 Unless I'm in the middle of trying out a heavily caffeinated supplement (e.g., an extreme-O pre-workout stack), I look forward to dumping a few of my favorite nootropics into my morning coffee. Typically, these are the natural nootropics I toss into my coffee: L-tyrosine (of course), L-theanine (of course of course), Rhodiola rosea extract, B-vitamin complex, MCT oil, and (if I'm feeling a little frisky) a little bit of phenylpiracetam or Noopept.
Vyvamind comes close to my special morning coffee stack.
By smartly pairing L-tyrosine and L-theanine with caffeine, Vyvamind essentially works as a decent caffeine pill for boosting productivity while lessening the stimulant's potential jittery downsides. L-theanine allows for a smoother, calmer caffeine rush while L-tyrosine keeps the brain's catecholamine levels (dopamine, norepinephrine) stocked up, creating a softer cushion for the post-energy crash.
What's more, Vyvamind's citicoline is nice as a solid source of choline and cytidine for general brain energy support.
In theory, Vyvamind works on all these fronts.
In practice, Vyvamind, when taken as directed (1 capsule per serving), is underwhelming. After a few morning of replacing my morning coffee with Vyvamind, I had to double the serving size to achieve any noticeable improvements on my brainpower. And there were improvements, yet not to the degree that I'd expect at this bottle's price point (see Pricing below).
Essentially, Vyvamind felt like a dilute version of my morning coffee stack.
This isn't necessarily a bad thing, if you're new to nootropics and just looking for a sort of "quick fix" stack for your daily mood, motivation, productivity, etc. etc. Vyvamind is a good supplement.
However, you can certainly do better at a similar (if not cheaper) price.
The Pros
If you want to get down to the absolute basics of a good caffeine stack, Vyvamind is a good model.
L-theanine and L-tyrosine (+ B-vitamins) not only complement caffeine well but are excellent nootropics on their own for mood and focus enhancement.
Citicoline is one of the best (many would argue the best) nootropics for both daily and long-term brain support.
The Cons
At this price point, Vyvamind feels underwhelming and even disappointing if you're a nootropic veteran.
I like caffeine, obviously. Vyvamind smartly packs in only a modest, scalable amount of caffeine. However, I'd rather they swap caffeine with another nootropic, so you can just take Vyvamind with your morning coffee instead.
Pricing
1-Month Supply
$74.99 for 60 capsules, a 60-day supply
$1.25 per serving
2-Month Supply
$139.98 for 120 capsules, a 120-day supply
$1.17 per serving
3-Month Supply
$207 for 180 capsules, a 180-day supply
$1.15 per serving
Again, I took double the serving, effectively doubling the cost per serving — e.g., $1.25 becomes $2.50 per serving for the 1-month supply option. Your mileage may vary; however, in terms of value, I'd classify Vyvamind as a fairly overpriced 30-day supplement at $2.50 per serving (2 capsules).
Who Takes Vyvamind?
Vyvamind isn't a niche nootropic but seems designed as a foundational stack for an all-around boost on brainpower. The added caffeine, in particular, combined with theanine and tyrosine is nice for that familiar rush of cognitive energy. However, I'd say that this actually limits Vyvamind's one-for-all potential, given that many people (myself included) aren't necessarily willing to sacrifice coffee for a tasteless pill of caffeine anhydrous. All the same, if what you're looking for is a clean source of caffeinated nootropic brainpower, Vyvamind is a great supplement for you.
Where to Buy It
Vyvamind is sold exclusively through the Vyvamind website, so you won't find this supplement on Amazon or eBay or GNC.
Conclusion: Does Vyvamind Work?
Yes, Vyvamind works. While Vyvamind doesn't exactly reinvent the wheel and, in my opinion, weakens its potential by adding caffeine to its formula, the simplicity on display here definitely works in this supplement's favor.
At least in terms of a daily focus and mood boost.
However, at the price point (or, rather, my price point, which takes into account doubling the serving size), I think Vyvamind is too simple. If I'm going to dish out nearly $80 for  a supplement, I'd actually hope for more than citicoline, tyrosine, and theanine — the three key nootropics in this formula.
You can easily find a comparable high-quality nootropic supplement within the same price range (if not cheaper) that includes these ingredients in addition to other smart natural nootropics, such as Bacopa monnieri, Lion's Mane, Rhodiola rosea, etc. etc. As it stands, Vyvamind misses out on a few brain pathways, making this formula somewhat incomplete.
Nevertheless, for what it is, Vyvamind is a decent stack that gets what it has right.
Final Rating
Formulation Strategy

Brainpower Benefits

Brain Health Benefits

Transparency

Quality

Value