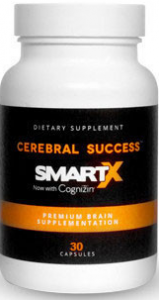 The company behind Nootrobox was denied by ABC's Shark Tank.
Cerebral Success was not.
What more do you need to know?? Probably quite a bit, especially considering that the most successful product to win over the Shark Tank is a sponge, i.e. the Scrub Daddy. Don't get me wrong: It's a very impressive sponge. But still… it's a sponge.
Not everything that profits is what I would call quote-unquote "important." And SmartX is a very profitable product, selling at $65 per pop. But is it a good product?
Check the review to find out:
About SmartX
Manufactured by Cerebral Success, SmartX supplies "Premium Brain Supplementation" with a new welcomed addition: Cognizin® Citicoline!
Counting up to 17 ingredients, SmartX delivers a wide variety of bioeffects… on paper. But that doesn't seem to pragmatically add up in the formula's limited capsule space.
SmartX hides its ingredients in a caffeinated proprietary blend, a supplement tactic backed by an well-earned bad reputation.
SmartX Ingredients

Ingredients
Amount Per Serving
Niacin (Vitamin B3)
20 mg (100% DV)
Vitamin B6 (as Pyridoxine HCl)
10 mg (500% DV)
Folic Acid (Vitamin B9)
400 mcg (100% DV)
Vitamin B12 (as Cyanocobalamin)
20 mcg (333% DV)
Proprietary Blend
1365.1 mg
Cognizin®, L-Theanine, L-Tyrosine, Glucuronolactone, Caffeine Anhydrous, Bacopa Monnieri Extract (50% Bacosides), DHA (Docosahexaenoic Acid), Schizandrol-A, L-Glutamine, Alpha Lipoic Acid, Phosphatidyl Serine, Vinpocetine, Huperzine A
Serving Size: 2 Capsules
Servings Per Container: 30
Other Ingredients: Gelatin, Magnesium Stearate
Directions: Begin with 1 capsule to determine your tolerance to various ingredients in this product. After at least 4 days, if increased intensity is desired, increase to 2 capsules.
A little bummed that SmartX hides its formula behind a proprietary blend wall. Nonetheless, I'm seeing some decent nootropic ingredients here, starting with the:
B Vitamins – Significant doses of low quality B vitamins, namely pyridoxine HCl (should be P-5-P) and cyanocobalamin (should be methylcobalamin). Not a bad mix for enhanced cerebral circulation and neurotransmitter mood status. More on B Vitamins.
Proprietary Blend

Citicoline (as Cognizin®) – SmartX earns bragging rights by this Cognizin branded supply of citicoline, a two-part compound of choline & cytidine, a precursor to the nootropic uridine. More on Citicoline.
L-Theanine – I take this stuff every morning & night for its anxiolytic improvements on focus & sleep. The perfect complement to caffeine. More on L-Theanine.
L-Tyrosine – Supplementing tyrosine during stressful, intense conditions may improve mood & focus, particularly when supplemented as N-Acetyl-L-Tyrosine. (SmartX sticks with plain L-tyrosine.) More on L-Tyrosine.
Glucuronolactone – Popular energy drink compound, although based on the lack of research, I'm unsure why it's used in energy & nootropic supplements.
Caffeine Anhydrous – Cheap, reliable stimulation.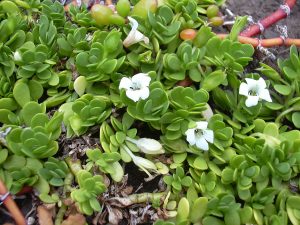 Bacopa Monnieri Extract (50% Bacosides) – Awesome Ayurvedic adaptogen for memory, learning, & stress, supplied in a potent 50% bacosides extract. More on Bacopa.
DHA (Docosahexaenoic Acid) – The more popular utilized omega-3 fatty acid, supports brain health but likely requires a higher dosage than what SmartX provides.
Schizandrol-A – Natural adaptogen component of the Chinese fruit: Schisandra chinensis. Backed by positive research & deep historical tradition.
L-Glutamine – The most abundant amino acid in the body, rarely found in deficient states, leading to the question: Why supplement it? More on Glutamine.
Alpha Lipoic Acid – Referred to as the "Universal Antioxidant" for its resistance to free radical damage across the brain & body. More on Alpha Lipoic Acid.
Phosphatidylserine – Key fatty acid compound to brain cell membranes, assists with brain toxin removal as well as neuron-to-neuron communication. More on Phosphatidylserine.
Vinpocetine – Semi-synthetic compound derived from Periwinkle plant, potent circulatory boosts in only tiny dosages, enhancing the supply of oxygen & nutrients to the brain. More on Vinpocetine.
Huperzine A – Semi-synthetic compound derived from Chinese club moss, best known for its inhibition of acetylcholinesterase, the enzyme responsible for the catalytic breakdown of neurotransmitter acetylcholine. More on Huperzine A.
SmartX: Cognizin-Fueled Booster Blend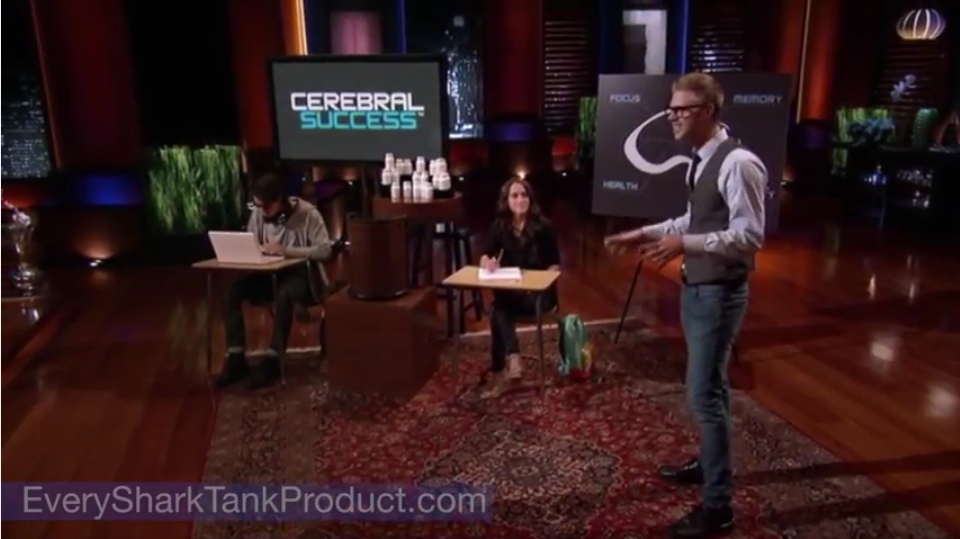 With exception to the B vitamins, SmartX hides its formula in a proprietary blend, effectively masking the individual ingredient dosages beneath a catch-all 1365.1 mg. My inner calculator tells me that this dosage averages out to a possible 105 mg per ingredient.
Not a terrible amount, especially considering the low dosage requirements of vinpocetine & hup-A, but not the best either, particularly for the high-dose requiring ingredients such as citicoline, L-theanine, DHA, tyrosine, phosphatidylserine… Practically every ingredient in this blend.
In fact, I may recommend doubling down on the stack's daily serving size to get the most of this formula, while urging mindfulness with regards to the additional caffeine intake.
Dosages aside, the diversity of SmartX's bioactivities deserves praise, demonstrating the following potential biobenefits:
Memory & Learning – Via multi-dimensional acetylcholine support.
Anxiety & Stress – Reduced via tyrosine, schizandrol-A, & L-theanine.
Cerebral Circulation – Thanks to the B vitamins & vinpocetine.
Antioxidant Support – Looking at you, alpha lipoic acid.
Stimulation – Looking at you, caffeine.
Caffeine powers engaged!
That's a lot of bioaction for a single nootropic supplement. Almost too much… Hopefully, the internal design of SmartX's proprietary blend can support all of this. (I'm not betting on it!)
The Pros
Most of SmartX's formula sits on well-researched, qualified nootropics, delivering a potentially wide array of nootropic brain benefits.
Upgrading to Cognizin citicoline was a smart move for Cerebral Success, hopefully evidence of an upward moving trend in SmartX's reformulation process.
SmartX offers a 30-day satisfaction guarantee — or your money back!! — refunding the full amount if you're not down for Cerebral Success' brain booster.
The Cons
There are too many ingredients in this stack, spreading the bioefficacy of each ingredient too thin to deliver all of their benefits.
If some ingredients are sufficiently dosed, I won't know until Cerebral Success removes the proprietary blend.
Despite the company's appearance on Shark Tank, Cerebral Success isn't backed by the best reputation, with some customer reviews complaining of autoship scam tactics and misleading claims.
Pricing
$65.00 for 60 capsules, a 30-day supply
$2.17 per serving
Who Takes SmartX?
The Cerebral Success presentation on Shark Tank geared heavily towards the student-aged market. Trevor Hiltbrand, the company's founder, claimed their products were originally formulated as a DIY project to alleviate his own inattention & focus problems. Funny enough, Barbara Corcoran invested in Cerebral Success because her husband was experiencing age-related brain fog symptoms.
Where to Get It
You can buy Cerebral Success SmartX directly through the manufacturers in addition to big-name retailers such as Amazon, eSupplements, & so on.
Conclusion: Does SmartX Work?
For the sake of Barbara Corcoran & her husband, I hope so.
Judging by SmartX's ingredient choices, I'd rank the supplement as a competent nootropic stack worth the consideration — perhaps not worth the full $65 price tag but at least worth the consideration.
My suggestion: Either find a retailer that offers SmartX at a cheaper, more reasonable price or go for a more proven nootropic supplement that's actually worth the dolla.
Read my Best Nootropic Supplement to Buy in 2020 list here.
Final Rating
Formulation Strategy

Brainpower Benefits

Brain Health Benefits

Transparency

Quality

Value