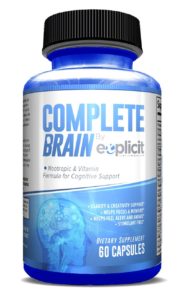 Normal nootropic supplements provide only that: Nootropics.
CompleteBrain, on the other hand, says Eff that! That's incomplete!
According to CompleteBrain, the complete nootropic experience involves nootropics and multivitamins — key nutrients essential to basic brain health and cognitive function. And guess what: They're right.
Without nutrition, you have no cognition. And without cognition, there's no cognitive enhancement. However, I have to ask: Is a nootropic multivitamin necessary?
Typically, I supplement my nootropics and multivitamins separately to avoid compromising the dosages of either. Let's read the CompleteBrain review to see how these guys manage (or mismanage) this.
About CompleteBrain
CompleteBrain is a two-part formula: Multivitamin and Nootropic, mixing basic nutrients with well-researched cognitive enhancers for "today's fast paced world."
The nootropic aspect is intended to support anxiety and stress reduction: "2 things often getting in the way of clear thoughts and good sleep!"
CompleteBrain accomplishes the multivitamin portion, yet puts in a questionable effort on the nootropic side, which is hidden in a proprietary blend.
CompleteBrain Ingredients

Ingredients
Amount Per Serving
Vitamin A (as Beta Carotene)
2400 IU (48% DV)
Vitamin C (as Ascorbic Acid)
125 mg (417% DV)
Vitamin D (as cholecalciferol)
100 IU (25% DV)
Vitamin E (as Dl Alpha Toco 50%)
30 IU (100% DV)
Vitamin B1 (as Thiamine Monotrate)
3 mg (200% DV)
Vitamin B2 (Riboflavin)
1.7 mg (100% DV)
Vitamin B3 (Niacidine)
12.5 mg (75% DV)
Vitamin B6 (Pyridoxal Phosphate)
12 mg (750% DV)
Folic Acid Pure
400 mcg (100% DV)
Biotin 1%
3 mcg (3% DV)
Vitamin B5 (Pantothenic Acid)
12 mg (120% DV)
Calcium (as calcium-carbonate)
20 mg (2% DV)
Iron (as Ferrous Fumarate)
1 mg (6% DV)
Magnesium (as magnesium oxide 58%)
50 mg (12% DV)
Zinc (oxide)
10 mg (67% DV)
Selenomethionine (Amino Acid Chelate 0.2%)
50 mcg
Copper (Gluconate 13%)
52 mcg (3% DV)
Manganese (Sulphate 20%)
400 mcg (20% DV)
Chromium (Polynicolinate)
12 mcg (10% DV)
Molybdenum (Amino Chelate)
10 mcg
Potassium (Citrate 36%)
50 mg
Proprietary Blend
692 mg
DMAE Bitartrate (Dimethylaminoethanol), L Glutamine, Glutamic Acid, Green Tea Extract, Bacopin Extract, Choline (bitartrate), Inositol, N-Acetyl Tyrosene, Bilberry Fruit Extract, Gaba (Gamma Aminobutyric Acid) Grape Seed Extract, Grape Fruit Seed Extract, Olive Leaf, Cinnamon Bark Extract, Licorice Root Extract, Boron (Citrate), DHA (Docosahexaenoic Acid) 14%, Vanadyl Sulfate 19%, Phosphatidyl Serine 20%, Huperzine A
Serving Size: 2 Capsules
Servings Per Container: 30
Other Ingredients: Cellulose (Vegetable Capsule), Magnesium Stearate, Silicon Dioxide
Directions: As a dietary supplement take two (2) veggie capsules once a day. For best results take 20-30 min before a meal with an 8oz. glass of water or as directed by your healthcare professional.
CompleteBrain seems to have copy and pasted the periodic table of elements onto its Supplement Facts, stacking up a hefty roster of vitamins, minerals, aminos, acids, et cetera, et cetera. For the sake of time and eye strain, I've divvied up the ingredients into just two summarized categories. Check it:
CompleteBrain Review: Ingredients
Vitamins and Minerals
There's a total of 21 vitamins and minerals here, essentially covering the multivitamin aspect of CompleteBrain. Most of these are decent quality ingredients at decent quantity dosages, but aren't necessary in a quote-unquote nootropic stack.
Not to say that vitamins and minerals aren't important to brain health and cognition: They are. But I wouldn't qualify any of these as cognitive enhancers, with exception to say Vitamin B6 and the rest of the B vitamins, which enhance mood and cerebral circulation. A few ingredients could improve their quality — e.g. Zinc Oxide to Zinc Citrate — but overall nothing too exciting or nootropic here.
Proprietary Blend
DMAE Bitartrate – May benefit cognition impaired by hyperattention or neurodegeneration, but could use stronger research to beef up its argument (and justify its #1 spot in this blend). More on DMAE.
Green Tea Extract – Green tea possesses awesome antioxidants and nootropic L-theanine, an anti-anxiety amino. CompleteBrain doesn't state the content of this extract, so I'll just hope for L-theanine. More on L-Theanine.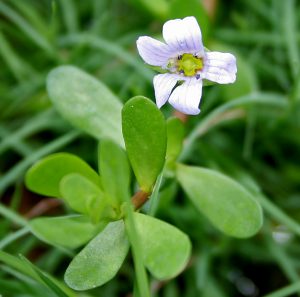 Bacopin Extract – Bacopa monnieri is an awesome Ayurvedic adaptogen, supports memory and learning while resisting stress. Requires long-term supplementation to reach peak effect. More on Bacopa.
Choline Bitartrate – Precursor to neurotransmitter acetylcholine and membrane lipid phosphatidylcholine, however dietary choline is unable to pass the blood-brain barrier. Should have went with either citicoline or alpha GPC, the true cholinergic nootropics. More on Choline.
N-Acetyl Tyrosene (*Tyrosine) – Misspelled as "Tyrosene" here, tyrosine is an anti-stress amino that sustains mood and focus during conditions of intense stress and activity. More on L-Tyrosine.
GABA – Natural GABA neurotransmitters enact the brain's ability to relax & sleep, but dietary GABA is practically useless for its inability to cross the blood-brain barrier. Picamilon is the better option for this.
Grape Fruit Seed Extract– Could be any number of polyphenols and antioxidants found in grapes. I'm hoping for a heavy concentration of pterostilbene, a resveratrol analogue that's 4x more bioavailable than standard resveratrol. More on Pterostilbene.
Docosahexaenoic Acid (DHA) – One of two fatty acids important to omega-3 supplements (the other being EPA). It's low placement in this blend essentially makes it useless here for its high dosage requirement.
Phosphatidylserine – Also disappointed to see this awesome nootropic placed so low on CompleteBrain's blend. Great for long-term brain health and cognition. More on Phosphatidylserine.
Huperzine A – Requires tiny dosages for potent effects, so its low placement is hopefully fine. Best known for its inhibition of acetylcholinesterase, an enzyme responsible for the breakdown of acetylcholine. More on Huperzine A.
CompleteBrain Review: Ye Standard Multivitamin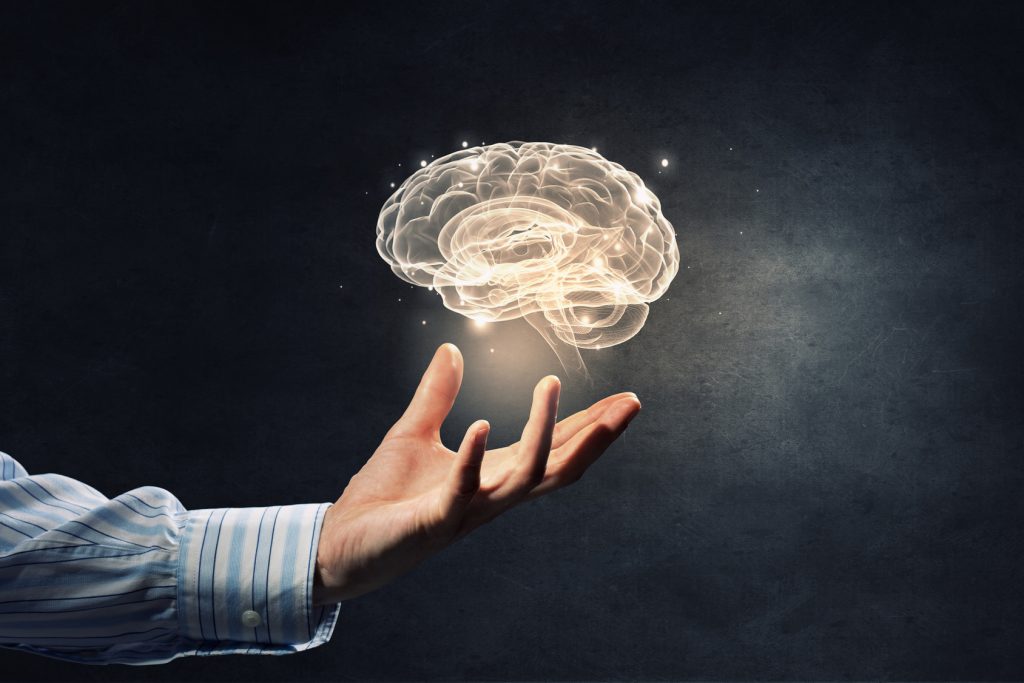 CompleteBrain is perhaps too complete of a supplement, effectively rendering the product incomplete. Inadequate. Ineffective… Not complete.
Put simply:
There are too many ingredients in this formula and not enough milligrams to cover them all.
This is common with supplements that attempt the multivitamin + nootropic stack approach. Multivitamins require just that: Multiple vitamins (and minerals), but it's that excessive multiplicity that sucks all the energy from the ingredients that truly matter for enhanced cognition: The nootropics.
CompleteBrain has the nootropics. And some damn good ones, most notably:
N-Acetyl-Tyrosine – in the bio-activated NALT form.
Bacopin Extract – bacopin is the bioactive constituent of bacopa.
Phosphatidylserine – just an awesome nootropic compound.
However, there are also a few duds: Choline bitartrate, GABA, Licorice.
[SIDE NOTE: Licorice consumption spikes cortisol (stress hormone) levels. Not the smartest addition to a formula intent on increasing brain health and cognition.]
Of course, these are moot points, given the overall low dosage of the proprietary blend that holds these nootropics. Spread evenly, there's an average of < 40 mg per ingredient in this blend, not near enough to adequately cover each nootropic. With that in mind, CompleteBrain seems to fulfill the multivitamin promise, but only sprinkles in a few nootropics to justify its "nootropic" status. Admittedly, there is a cognitive upside there. I'm just not betting on it.
The Pros
Vitamin and mineral deficiencies produce poor cognitive performance and negative health consequences. CompleteBrain may alleviate the symptoms of such.
The proprietary blend isn't all bad, showcasing a few impressive cognitive enhancers and no caffeine. (This is a good thing.)
CompleteBrain is cheap and easy to find, sold in most major retailers.
The Cons
CompleteBrain hits the multivitamin angle, yet fails at the more impressive feat: Enhancing cognition.
The proprietary blend hides the individual ingredient dosages of this nootropic supplement's nootropics, a major problem in this review.
Customer reviews are suspiciously buzzword-heavy and well-written, some claiming the formula delivered "Limitless-like boosts on focus!" INSERT: the squinting eyes of skepticism.
Pricing
$19.95 for 60 capsules, a 30-day supply
$0.67 per serving
Who Takes CompleteBrain?
CompleteBrain seems particularly geared towards older users, the only demographic that may benefit by these vitamins and minerals, as well as the leading nootropic: DMAE. Younger men and women likely wouldn't get much out of this stack.
Where to Buy It
You can buy CompleteBrain directly through the manufacturers as well as major retailers such as Wal Mart and Amazon.
Conclusion: Does CompleteBrain Work?
Nahhh… naht really.
CompleteBrain might nourish a malnourished brain, having the secondary effect of an enhanced (or rather: restored) cognition. But for the average, healthy plebeian, CompleteBrain won't do much other than give you the self-satisfaction of supplementing a multivitamin.
If you want a true cognitive enhancer, I'd recommend checking out these bad boys or Amazon's better nootropic options. Otherwise, despite how much is packed into these pills, you won't get much out of CompleteBrain.
Final Rating
Formulation Strategy

Brainpower Benefits

Brain Health Benefits

Transparency

Quality

Value

Average