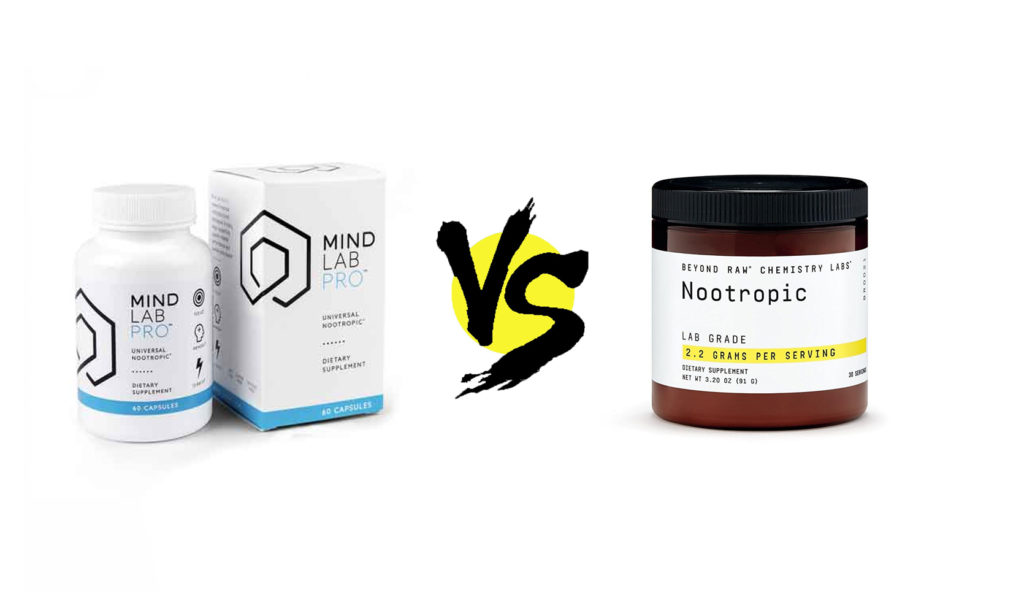 Mind Lab Pro vs. Beyond Raw Chemistry Labs Nootropic pits two of the best tasting supplements on the nootropic market against each other. Mm, yum!
Okay, that's a lie: one of these supplement stacks tastes like absolute ass while the other doesn't have any taste at all. (Unless you have sensitive enough tastebuds to differentiate all of the nuanced tastes of a vegetarian-based capsule.) However, ultimately, who cares what a supplement tastes like. What you should be asking here is: which of these supplements does a better job at boosting mental performance? Which nootropic stack works better?
Now that's a great question. And you'll find the answer to that, if you read my Mind Lab Pro vs. Beyond Raw Chemistry Labs nootropic comparison review. So, like, let's do that.
Formula Design
Altogether in this comparison review I'll cover what's in these supplements' formulas, what's outside of these formulas (e.g., their additives), and which product is the better value, price-wise. However, let's start with the basics: the nootropic ingredients.
Mind Lab Pro vs. Beyond Raw Chemistry Labs Nootropic: Ingredients
Mind Lab Pro Supplement Facts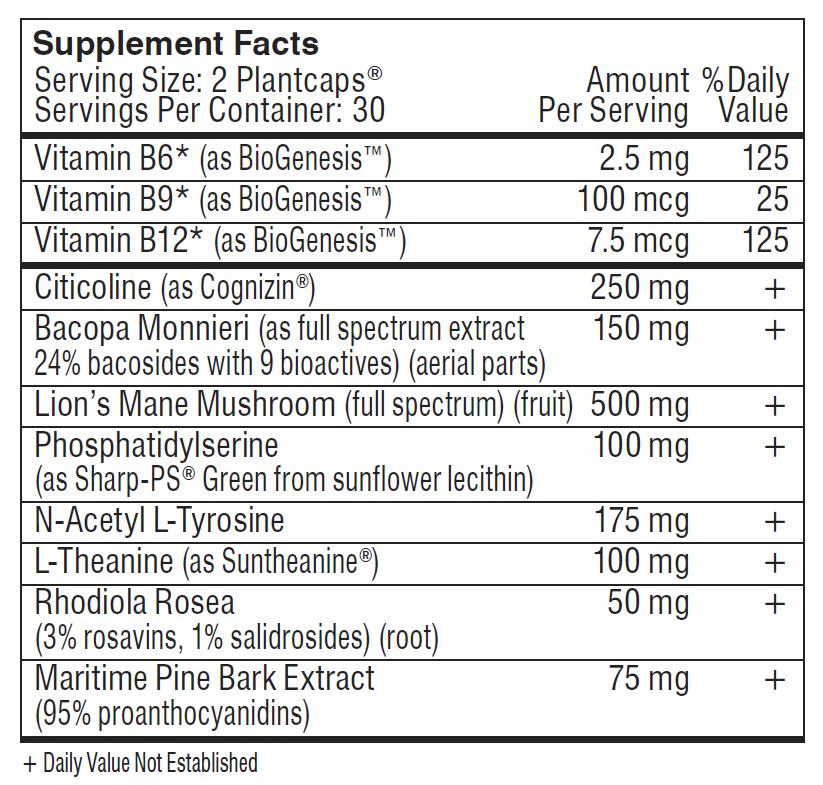 Mind Lab Pro Directions: Take two (2) capsules in the morning or early afternoon, preferably with food. This may be increased to a maximum of four (4) capsules in a 24-hour period. Do not exceed four (4) capsules in a 24-hour period unless otherwise directed by a health care practitioner.
Beyond Raw Chemistry Labs Nootropic

Beyond Raw Chemistry Labs Nootropic Directions: As a dietary supplement, mix one scoop with 8 oz of water or other beverage.
Mind Lab Pro: Full-Spectrum Brainpower Booster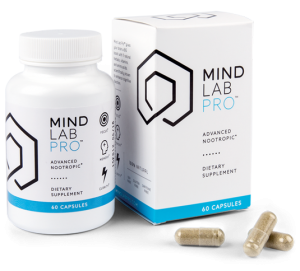 Eleven research-backed nootropics covering six brain bio-pathways for 100% brainpower. That's the goal of Mind Lab Pro, an "Advanced Nootropic" stack with an impressive cognitive enhancing strategy. Rather than flush the brain with cheap-O stimulants and synthetics, Mind Lab Pro stacks an all natural cast of nootropics that each target brainpower through the following brain pathways: Brain Energy, Brain Chemicals, Blood Flow, Brainwaves, Neuroprotection, and Neuroregeneration.
It's an altogether impressive nootropic stack that accomplishes the following:
Supplies all nootropic ingredients – no junky, ineffective filler crap.
Showcases all ingredient dosages – no proprietary blend shenanigans.
Keeps the capsules clean – thanks to those Plantcaps® capsules, baby.
It's one thing to stack awesome ingredients. It's another to ensure that they're all sufficiently dosed and of exceptional quality. Mind Lab Pro excels on all of these measures, amplifying both short- and long-term brain health.
Read my in-depth review on Mind Lab Pro.
Beyond Raw Chemistry Labs Nootropic: Semi-Stimulating Brain Scoops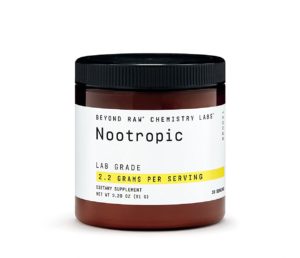 If you've read my separate review on Beyond Raw Chemistry Labs Nootropic, you'll see a common complaint in the comment section: the taste. It's awful — memorably so. But, frankly, I don't care about taste so much as: does the formula work. And, yes, Beyond Raw Chemistry Labs Nootropic's formula works.
With one of the fattest L-tyrosine dosages on the market (1.5 g), Chemistry Labs Nootropic works very well at one thing in particular:
L-tyrosine helps replenish catecholamine neurotransmitters lost by stress and fatigue.
In other words, Beyond Raw Chemistry Labs Nootropic works particularly well as a cognitive booster when cognition is impaired by sleep deprivation and too much stress. As such, I qualify Beyond Raw Chemistry Labs Nootropic as a "clutch" game-day supplement; one to quickly amplify brain activity for competitive mental performance. However, as a daily brain health formula, this supplement lacks a proper choline source to pair with its cholinergic acting ingredients (Bacopa and Huperzine-A).
Even so, this is a minor gripe I have with an otherwise pretty groovy brain booster.
Read my in-depth review on Beyond Raw Chemistry Labs Nootropic.
Unique Features
Here are the not unique features (a.k.a. shared ingredients) between these formulas: L-tyrosine, Bacopa, L-theanine, and Rhodiola. While these ingredients aren't exactly 100% similar between Mind Lab Pro and Beyond Raw Chemistry Labs Nootropic, I'm only listing totally unique ingredients to each formula. And here they be:
Mind Lab Pro
B Vitamins (as BioGenesis™) – B6, B9, B12 — Mind Lab Pro's B vitamins may help improve mood-related chemical status and cerebral circulation. More on B Vitamins.
Citicoline (as Cognizin®) – One part choline, another part cytidine, citicoline is both an awesome cholinergic and effective ATP energy booster. The Cognizin brand seems to work particularly well. More on Citicoline.
Lion's Mane Mushroom – A somewhat unique nootropic shroom altogether, Lion's Mane seems to work by increasing NGF activity, giving Mind Lab Pro a special neuroregenerative advantage. More on Lion's Mane.
Phosphatidylserine (as Sharp-PS®) – The Sharp-PS brand of PS sources this awesome, brain healthy phospholipid from sunflowers, not soy (the usual PS source). Great, groovy stuff here.. More on Phosphatidylserine.
Maritime Pine Bark Extract – Another somewhat unique nootropic, maritime pine bark extract supplies an incredibly rich complex of antioxidants, helping the brain's resistance to free radical damage while boosting brain building factors.
Beyond Raw Chemistry Labs Nootropic
Theacrine (TeaCrine®) – As a caffeine-like ingredient, theacrine is only semi-stimulating, potentially having even a calming benefit at lower dosages.
Coffee Bean Extract (NeuroFactor™) – NeuroFactor is a cool herbal extract, utilizing the total bio-active spectrum of coffee beans (rather than just caffeine).
Gamma-Aminobutyric Acid (GABA) – An interesting ingredient choice, considering that standard oral GABA has a hard time crossing the blood-brain barrier (and thus virtually rendering the ingredient ineffective). As a neurotransmitter, GABA essentially helps the brain relax.
Huperzia Extract (Huperzine-A) – This semi-synthetic nootropic drug seems to help acetylcholine activity by inhibiting acetylcholinesterase, the enzyme responsible for acetylcholine breakdown. More on Huperzine-A.
Potency & Quality
I'm happy to report here: both Mind Lab Pro and Beyond Raw Chemistry Labs Nootropic have exceptionally high quality nootropics. Few things bug me more than a well-crafted nootropic stack that offers its nootropics in weak, impotent forms.
I want that potent stuff. I want that spicy stuff, baby.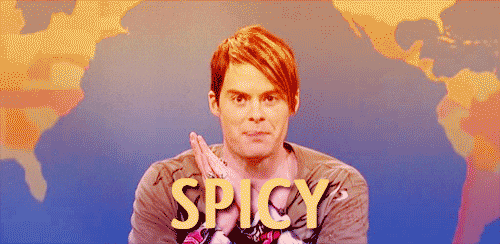 And, for the most part, both Mind Lab Pro and Beyond Raw Chemistry Labs Nootropic cut zero corners on the quality scale. (For the most part…) On the Mind Lab Pro side, we're seeing high quality stuff across the board:
All herbs come in standardized extract form.
The compounds are easy to absorb.
Capsules are premium, patented Plantcaps®.
And on the Beyond Raw Chemistry Labs Nootropic side, we're seeing premium, patented ingredient forms and herbal extracts (e.g., Suntheanine and NeuroFactor), and a clean, additive-free powder scoop format. (In fact, I think it's the lack of additives that makes this supplement taste so very, very bad.) However, the formula makes one misstep: GABA.
Standard GABA is weak sauce, which is why we have Phenibut and Picamilon as more powerful GABA options.
I'm not too sure why supplements still include GABA in their stacks. It's essentially the DHEA of brain health supplements (considering that DHEA is both hyped and ineffective). But it's not a huge issue with Chemistry Labs Nootropic, given the overwhelming amount of high quality ingredients in its stack… but, even so, Mind Lab Pro has the superior quality between these two supplements.
Value: Mind Lab Pro vs. Beyond Raw Chemistry Labs Nootropic

Price
Servings
Price Per Serving
Mind Lab Pro
$65
30
$2.17
Beyond Raw Chemistry Labs Nootropic
$29.99
30
$1.00
Beyond Raw Chemistry Labs Nootropic is undoubtedly the cheaper supplement here. Although, it's perhaps worth noting that Mind Lab Pro offers various buying options from 1 bottle to 3 bottles (+ 1 free), which significantly reduces the price per serving, if you're leaning in the MLP direction.
Mind Lab Pro or Beyond Raw Chemistry Labs Nootropic: Which is better?
Mind Lab Pro hits the full spectrum of optimum brainpower.
By targeting all brain bio-pathways, Mind Lab Pro genuinely qualifies as the Universal Nootropic; one that can be used by all types of thinkers as a daily brain health pick-me-up. And by mixing both short- and long-term geared nootropics, this supplement offers significant neuroprotective advantages that you may cash in on years later. Plenty of nootropic supplements err heavily on the side of "I want brainpower NOW!" cognitive enhancers, which may ironically impair cognition down the road. However, Mind Lab Pro manages to hit all ends of the mental performance spectrum.
Beyond Raw Chemistry Labs Nootropic is a great "game day" nootropic option.
You're tired, you barely got any sleep last night, and that all has you pretty stressed because you have an exam this morning. Cue up the Beyond Raw Chemistry Labs Nootropic scoop with its massive dose of anti-stress L-tyrosine. Yes, Mind Lab Pro has L-tyrosine, but Chemistry Labs Nootropic has a lot more. While this means that Chemistry Labs Nootropic has less room for many of the other awesome nootropics found in Mind Lab Pro, this still spells good news for the desperate worker, student, athlete, etc. who pulls all-nighters more than what's actually helpful or productive.
My Recommendation
Do you want long-term, daily brain health boosts or a quick fix right now? For me, I tend to opt for the former over the latter — after all, all-nighters aren't necessary, if you simply do a little bit of work everyday. And that's sort of the approach that Mind Lab Pro takes to cognitive performance: the formula keeps the brain-wheels turning daily so that they stay turning when everything else starts to sputter.
Also, to be fair, Beyond Raw Chemistry Labs Nootropic isn't simply a quick fix health stack. But it places a significant amount of weight on the quick fix end of things.
Because Mind Lab Pro supplies a more comprehensive nootropic synergy design than Beyond Raw Chemistry Labs Nootropic, my final recommendation is:
Mind Lab Pro > Beyond Raw Chemistry Labs Nootropic
If you you'd like to learn more about Mind Lab Pro and other information on Mind Lab Pro's ingredients, hit the following link: Click here to learn more about Mind Lab Pro.