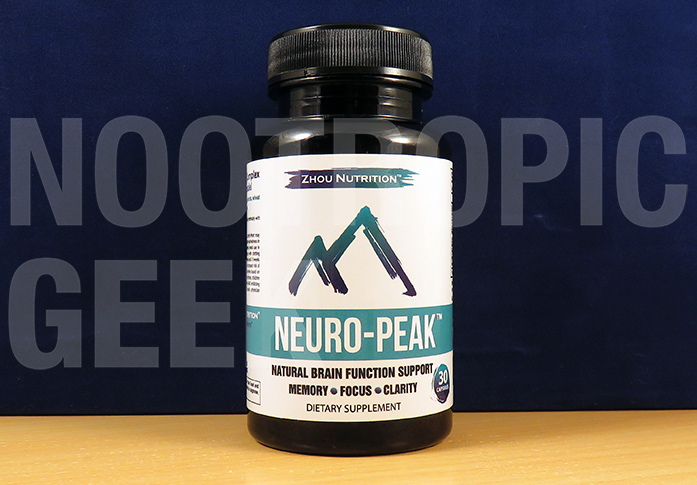 Before climbing a mountain, it's smart to:
Prepare food & supplies
Test & calibrate equipment
Monitor the weather
Monitor your health
So on and so forth… And if I'm looking at the brain is a "mountain," Neuro-Peak accomplishes the prep-work flawlessly and actually covers a decent amount of ground at the base of the mountain. But perhaps it covered too much ground, expending all of its resources on circumnavigating the mountain rather than climbing it.
How close to the "peak" does Neuro-Peak travel?
Let's find out in this review:
About Neuro-Peak
Manfactured by Zhou Nutrition, Neuro-Peak is a "physician-formulated" stack geared towards restoring cognition & brain function with clinical-level nootropics.
Memory, focus, & clarity are the specific intended benefits of Neuro-Peak, which tackles these brain effects with its multi-angled 9-ingredient formula.
The ingredient choices are solid, some of which are the best for brain health. But the dosages leave plenty to be desired.
Neuro-Peak Ingredients

Ingredients
Amount Per Serving
 St. John's Wort (as 3% extract) (flower heads)
250 mg
 Dimethylaminoethanol Bitartrate (DMAE)
50 mg
 N-Acetyl-L Carnitine HCl
50 mg
 L-Glutamine
150 mg
 Phosphatidylserine 4% Complex
(consisting of Lecithin and Phosphatidylserine)
125 mg
 Ginkgo Biloba (as 24% extract) (leaf)
50 mg
 Vinpocetine (seeds)
2 mg
 Bacopa Monniera leaf extract (20% bacosides)
100 mg
 Huperzine-A (aerial plant)
10 mcg
Serving Size: 1 Capsule
Servings Per Container: 30
Other Ingredients: Gelatin (bovine), vegetable magnesium stearate, microcrystalline cellulose and silicon dioxide.
Directions: 1 capsule, 1-2 times daily preferably with meals or as directed by a healthcare professional.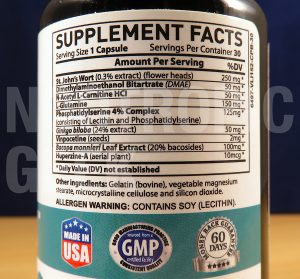 My Neuro Peak Review
When I look at Neuro Peak's label, the left half of the supplement facts look good. The half that lists the ingredient names. But the right half, the dosage half, is looking pretty, well… I'll get to the dosages in a bit. Let's first take a look at the ingredients: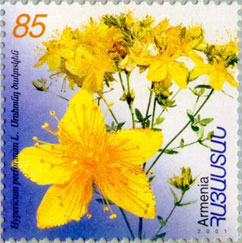 St. John's Wort – Traditionally used for mood & depressive disorders, St. John's Wort is a nootropic herb used today for… well, mood & depressive disorders. Quality extract. Sub-par dosage. More on St. John's Wort.
Dimethylaminoethanol Bitartrate (DMAE) – Believed to take part in neurotransmitter acetylcholine synthesis, optimize brain cell membranes, and alleviate agitated Theta brainwaves. More on DMAE.
N-Acetyl-L Carnitine HCl – ALCAR works as a brain-energizer, increasing alertness & mitchondrial activity–particularly in elderly demographics. This dosage is waaay low, though. More on ALCAR.
L-Glutamine – I'll need to see more research before I'm willing to classify L-Glutamine as a "nootropic." The amino acid is fairly common in the diet, so it doesn't seem all that necessary here. More on Glutamine.
Phosphatidylserine Complex – Awesome nootropic with an FDA health claim to boost. Seems to assist with brain cell membranes while clearing brain toxins & boosting brain chemicals. More on Phosphatidylserine.
Ginkgo Biloba – The world's most popular memory-booster, although the memory benefits are more short- than long-term. Seems to primarily work by increasing cerebral bloodflow, increasing inflow of oxygen & nutrients and outflow of toxins & waste. More on Ginkgo Biloba.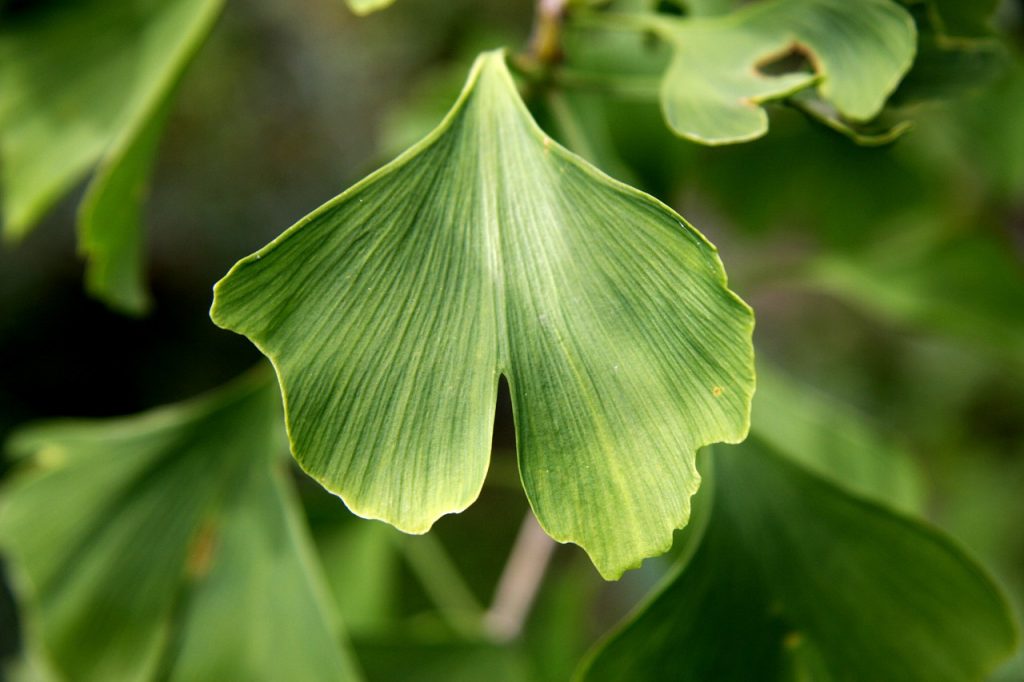 Vinpocetine – Lab-synthesized compound from periwinkle plant. Also boosts cerebral bloodflow, in addition to acting as an antioxidant & anti-inflammatory in the brain. More on Vinpocetine.
Bacopa Monniera leaf Extract – Potent antioxidant. Powerful memory-enhancer. Well-researched stress-reducer. Bacopa enhances brain health & cognition across-the-board, increasing in value the longer it's supplemented. More on Bacopa.
Huperzine-A – Prevents the breakdown of acetylcholine, making Hup-A a smart addition to any formula with acetylcholine promoters. More on Huperzine A.
Neuro-Peak: Many Benefits, Low Ceiling
As this review progresses, the "Peak" part of Neuro-Peak's name is going to look more & more ironic. Because, despite all of the awesome nootropics in this formula, Neuro-Peak's many benefits have very little room for growth due to a couple puzzling design choices:
Neuro-Peak's gelatin is leaving vegans jelly for these nootropics.

Low Dosages – The first blatantly poor decision is the poor dosage attached to each ingredient in this formula. Even Vinpocetine, which requires very little, is under-dosed.

Non-Vegan – The bovine gelatin capsule is harmless for consumption, but prevents vegan/vegetarian access to Neuro-Peak's awesome nootropics. Why cut off a huge demographic of supplement users for the sake of "cheap" gelatin?
It's a common problem with nootropic stacks that opt for a higher number of ingredients (in this case: 9), but fail to supply enough milligrams to reach Critical Mass Dosages. Admittedly, 9 ingredients isn't a ton of nootropics, but it'll take at least two servings to reach adequate levels of each nootropic–consequentially, doubling the cost of Neuro-Peak.
Yet, even if you're doubling the cost, here's why Neuro-Peak is still worth the investment:
The nootropics are on-point – St. John's Wort, PS, Ginkgo Biloba, Vinpocetine, Hup-A, etc. etc. all cover different aspects of brain health & cognition. Only L-Glutamine is questionable and it's still arguably good for you.
The only remaining contention lies on DMAE, which some users swear by. Other users swear against.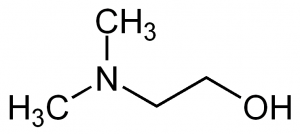 My stance: DMAE seems to work, but is set back by reported side effects, notably among pregnant women. As such, DMAE should definitely be avoided by pregnant women, but is okay in this formula for its low dosage. I highly doubt it'll do much, bad or good, with only 50 mg to stand on.
The Pros
Neuro-Peak chooses plenty of smart, potent nootropics with short-&-long term benefits on cognition & brain health.
Ingredient quality is on point, stacking up a couple potent extracts (St. John's Wort & Bacopa) with the right ingredient forms for brain health (e.g. ALCAR).
Zhou Nutrition is the real-deal when it comes to supplements, further evidenced by their commitment to transparency on the Supp Facts. No prop blends, baby!
The Cons
The low dosages are a glaring issue with this formula. Even doubling the servings doesn't outright correct the problem for a few ingredients.
DMAE & L-Glutamine aren't bad ingredients. The former actually supplies notable nootropic action. I'm just not convinced that these two are the best options.
Bovine gelatin is cheap, but cuts off a huge demographic of vegetarian/vegan consumers. In the long-run, this doesn't seem the most cost-effective design.
Pricing
$34.97 for 30 capsules, a 15-30-day supply
$1.17 per serving
Who Takes Neuro-Peak?
Neuro-Peak is described as a "physician-formulated" nootropic stack "formulated by a physician who specializes in anti-aging." As such, Neuro-Peak is a clock-rewinding brain health product for the older ladies & gents.
Where to Get It
Neuro-Peak is primarily sold through Amazon as well as other various online retailers.
Conclusion: Does Neuro-Peak Work?
Neuro-Peak's ingredients individually work.
But, judging by the dosages, the sum of Neuro-Peak's ingredients might actually be less than the parts. At least, this seems to be true under the dosages provided. Technically, the directions state that 1-2 capsules should be taken daily, but I'd prefer Neuro-Peak to stick to a 2 capsule daily directive and supply enough capsules to last 30 days.
More capsules, same price?? Well, no duh I want that.
Everyone wants that with every supplement!
But with Neuro-Peak that would be the fair price & plan with these ingredients & dosages. On that note, Neuro-Peak is often found on sale with its prices nearly slashed in half, so if you can find the deal, then I more than recommend doubling down on Neuro-Peak.
Final Rating
Formulation Strategy

Brainpower Benefits

Brain Health Benefits

Transparency

Quality

Value