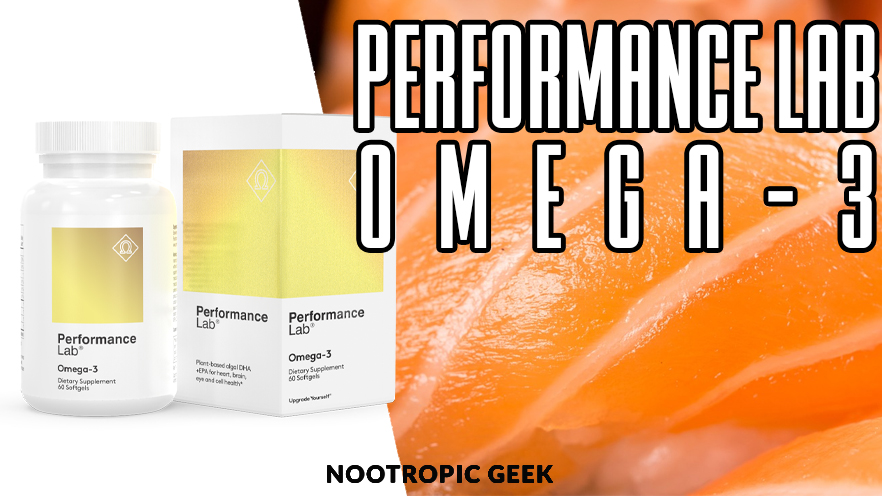 Essential Brain Food for Cognition and Neuro-Repair
The brain is full of fat. In fact, the brain is nearly 60% fat, which is why I'm petitioning to replace the insult "fat ass" with "fat brain."
It only makes sense, right?
But I'm not writing this Performance Lab Omega-3 Review to convince you to say "fat brain" instead of "fat ass" (at least, that's not my primary motive here). No, I'm writing this review to spread the good word on Performance Lab Omega-3: it's a really good supplement offering the cleanest, greenest omega-3s I've ever seen.
Obviously, nootropic nerds are interested in omega-3s, as they contribute to the healthy fat profile of the brain. However, omega-3s do much more than improve brain health and function. Before we read the review, here's a quick refresher on omega-3 fatty acids and their numerous health benefits:
What are Omega-3 Fatty Acids?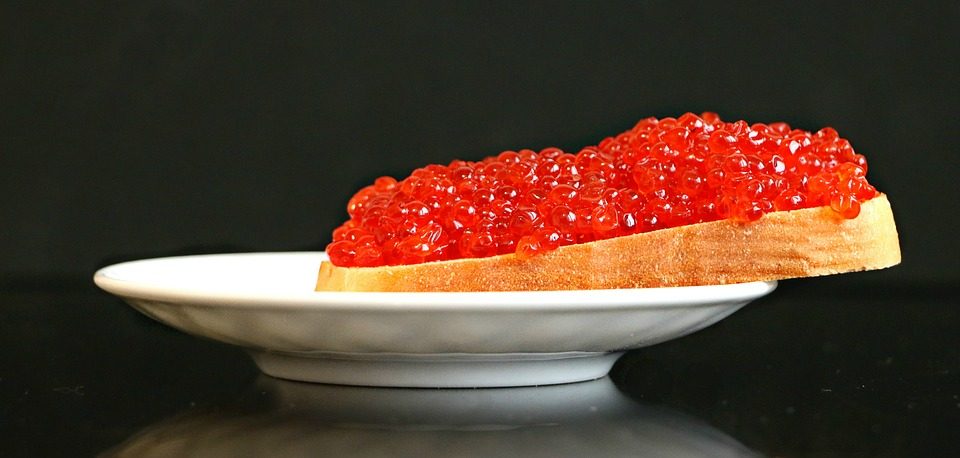 In the world of health and nutrition, "omega-3" is virtually synonymous with "fish." Some of the highest natural concentrations of omega-3 fatty acids are found in fish, such as mackerel, salmon, cod, herring, and sardines, as well as oysters and caviar (or fish eggs). Flaxseed and walnuts provide non-fishy omega-3s.
But what are omega-3 fatty acids? Essentially, omega-3 fatty acids are a type of beneficial fat that includes alpha-linolenic acid (ALA), docosahexaenoic acid (DHA), and eicosapentaenoic acid (EPA). Of these three, DHA and EPA are most important to our health, as well-demonstrated by clinical research which has linked DHA and EPA supplementation to improvements in:
Cardiometabolic Health
Brain Health and Function
Visual Health
Immune Function
Muscle Health
Joint Comfort and Stability
Bone and Connective Tissue Strength
While an official daily recommended amount of dietary omega-3s has not been established, many of us fail to get enough omega-3s much to the detriment of our overall health. This is why taking a clean, effective omega-3 supplement is a smart strategy to improving your overall health, as well as boosting the potency of the fat-soluble ingredients in your other brain health supplements.
To keep your brain and body full of beneficial fats, stack omega-3 with medium-chain triglyceride (MCT) oil. More on MCT oil here.
About Performance Lab Omega-3
Performance Lab Omega-3 is a 100% plant-based omega-3 supplement, a unique, effective alternative to fish-based omega-3 supplements.
Powered by life's™ OMEGA Algal Oil, Omega-3 supplies perhaps the best omega-3 ingredient, which is untainted by fish toxins and pollutants; also, no "fishy" aftertaste or smell.
Omega-3 also comes delivered in the first vegan, carrageenan-free softgel capsulea: NutriGels®, which is made from tapioca, glycerin, caramel, and purified water.
Performance Lab Omega-3 Ingredients

Ingredients
Amount Per Serving
Calories
20
Total Fat
2 g (3% DV)
 Saturated Fat
0.5 g (<1% DV)
 Trans Fat
0g
Cholesterol
2 mg (<1% DV)
Sodium
1 mg (<1% DV)
Total Carbohydrate
1 g (<1% DV)
Algal Oil (from life's™ OMEGA 60)
2000 mg
 Total Omega-3 Fatty Acids
1100 mg
 DHA (Docosahexaenoic Acid)
600 mg
 EPA (Eicosapentaenoic Acid)
300 mg
Serving Size: 2 NutriGels®
Servings Per Container: 30
Other Ingredients: NutriGels® Vegan Softgel [Modified Tapioca Starch, Glycerin, Purified Water, Annatto (Bixa orellana)]
Directions: Take 2 softgels with your first meal of the day. For best results use daily and consistently.
Typically, there isn't much to talk about when it comes to omega-3 supplements. Usually, what I look for are the DHA:EPA ratio (should be 2:1) and the additives (i.e., "Other Ingredients"), which should be all synthetic-free. Many supplements deliver on the 2:1 ratio, yet they fail to deliver on the quality of their formula, stuffing their formulas full of unnecessary artificial additives and cheap-O softgel material.
Not so with Performance Lab Omega-3. Let's take a look at the unique high quality of this softgel's algae-based omega-3s:
Performance Lab Omega-3 Review: Ingredients
life's™ OMEGA Algal Oil, 2000mg – whereas most omega-3 supplements deliver fish-sourced omega-3s, OMEGA 60 goes straight to the source: algae. Though, yes, consuming fish is a great way to increase your omega-3 intake (and it's just all-around healthy), fish are more like omega-3 intermediaries, considering that they get their omega-richness from algae. By cutting out the "middle fish," so to speak, OMEGA 60 delivers a more clean, safe, and toxin-free (think: mercury) source of omega-3s.
Other highlights of OMEGA 60 include:
First and only plant-based alternative to fish with sufficient DHA+EPA
Natural DHA+EPA triglyceride forms that are easy to absorb
Naturally optimized in a 2:1 DHA to EPA ratio, the ideal omega-3 ratio
Made from non-GMO algae, a pure and potent source of omega-3s
Eco-friendly — no impact on fish population and minimal carbon footprint
Omega-3 pills are often derided as "fish pills," and rightly so. However, thankfully, OMEGA 60 offers a natural, effective, high-quality omega-3 alternative to fish-sourced omegas, making this perhaps the cleanest omega-3 supplement available.
Want some?
Get the Best Deal on Performance Lab Omega-3 here.
Performance Lab Omega-3 Review: My Experience
Anyone who claims to immediately "feel" the effects of omega-3s with their first serving is lying to you. You don't immediately feel the effects of an omega-3 supplementation. Rather, the benefits accumulate over time, as the omega-3s work to support brain cell membrane formation, repair, and function.
I've long supplemented omega-3 simply for the research-backed health benefits. Reduced risk of coronary heart disease (CHD), of osteoarthritis, of cognitive decline — the benefits associated with omega-3 are typically defined in the context of "health protection," as opposed to "performance enhancement," which is what I think a lot of nootropic nerds, such as myself, are typically looking for when they're looking for nootropics.
With that in mind, it's difficult to get anyone riled up over omega-3s. Either you trust in the long-term health benefits or not.
But I'd like to recommend Performance Lab Omega-3, a clean, green, seaweedy alternative to your typical low-quality "fish pill" omega-3s, as something to get at least a little bit riled up over.
There's a lot of reasonable skepticism towards omega-3 pills, due to the general low quality and "fishy" origins of many mainstream omega-3 supplements. Fortunately, Performance Lab Omega-3 has bucked this trend by providing an omega-3 supplement that's actually:
Clean: no artificial additives or fish-related toxins
Green: no fish, meaning no animal byproduct, but eco-friendly algae-sourced omegas
Effective: algae-sourced omegas and not only cleaner but purer than fish-sourced omegas
What's more, Performance Lab Omega-3 encapsulates its omegas in NutriGels, the first vegan softgel made without red seaweed-sourced carageenan, which has been linked with several health risks and immune response disruptions. Instead, NutriGels are made out of modified tapioca starch, glycerin, and purified water, leaving out all artificial additives, colorants, preservatives, etc. Only clean, green omegas here encapsulated in clean, green softgels.
I take Performance Lab Omega-3 daily in the morning with my morning nootropic stack to not only attain the immense brain health benefits (memory, focus, mood — the whole works) of omega-3s but to enhance the absorption of my fat-soluble cognitive enhancers. If you're considering taking a daily omega-3 supplement, or are already taking one but looking for something better, I can certainly recommend Performance Lab Omega-3.
Take Omega-3 simultaneously with your nootropics for best results.
Want some?
Get the Best Deal on Performance Lab Omega-3 here.
The Pros
Performance Lab Omega-3 supplies a 100% natural, plant-based source of omega-3 fatty acids, cutting out the toxicity and general low-quality of fish-sourced omega-3 supplements.
In addition to being all-natural and plant-based, Omega-3 is also eco-friendly — safe for fish populations, minimal carbon footprint.
Performance Lab's NutriGels are also the first vegan, carrageenan-free softgel capsule, making this the cleanest omega-3 supplement both inside and out.
The Cons
Pricing
1 Box
$39 for 60 softgels, a 30-day supply
$1.30 per serving
2 Boxes
$78 for 120 softgels, a 60-day supply
$1.30 per serving
3 Boxes (+ 1 Free)
$117 for 240 softgels, a 120-day supply
$0.98 per serving
Here's the best way to go about buying Performance Lab products: buy your favorite stack in bulk to get that free shipping — two of my favorites are Performance Lab Sleep and Performance Lab Energy — then add the new product you want to try to the order (say, Omega-3!). Or if you're feeling bold, go all in on Omega-3.
Want some? Get the Best Deal on Performance Lab Omega-3 here.
Who Takes Performance Lab Omega-3?
Omega-3 supplements aren't exclusive to any demographic or type of physical or cognitive activity. Anyone can take omega-3 supplements, and just about everyone perhaps should add a daily omega-3 to their diet. Performance Lab Omega-3 is a good complement to your daily nootropic stack, as a source of fatty acids with which to enhance the bioavailability of your fat-soluble nootropics. Not to mention that omega-3 tends to work synergistically with many cognitive enhancers, such as citicoline, phosphatidylserine, and more.
Stack with Performance Lab Mind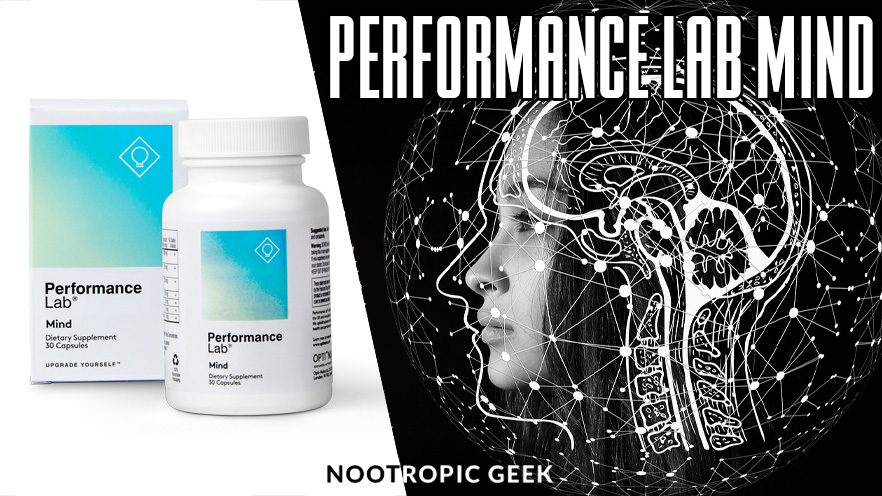 Speaking of stacking omega-3 with nootropics, perhaps the best nootropic stack best designed to specifically stack with Performance Lab Omega-3 is Performance Lab Mind, a straight-to-the-point daily brain booster that combines four of the best nootropics for natural performance enhancement:
Citicoline (as Cognizin®), 250 mg
Phosphatidylserine (as Sharp-PS® Green), 100 mg
L-Tyrosine (as Ajipure®), 250 mg
Maritime Pine Bark Extract, 75 mg
Research suggests that the particular combo of omega-3s, choline, and uridine (citicoline = choline + uridine, a precursor to cytidine) may affect synapse formation for the better. As we age, the cognitive benefits of omega-3s and citicoline only increase, making Performance Lab Omega-3 and Mind a great duo for preserving your cognitive health and performance.
Want some? Get the Best Deal on Performance Lab Mind here.
Read my Performance Lab Mind review here.
Where to Buy It
You can buy Performance Lab Omega-3 here.
All Performance Lab supplements — including the Performance Lab Omega-3 and more — sell exclusively through the Performance Lab website: www.performancelab.com
Conclusion: Does Performance Lab Omega-3 Work?
Yes, Performance Lab Omega-3 works. If omega-3s work (and they do, as they're essential to healthy cognitive function and development), then Performance Lab Omega-3 works the best of all omega-3 stacks.
It's important to note that the point of supplementing omega-3s isn't to acutely boost your cognitive performance in the way that, say, L-theanine and L-tyrosine, or even caffeine, do. Omega-3 is a supplement you take in consideration of your health and long-term performance, not necessarily as an immediate cognitive booster. However, having said that, omega-3s may help amplify the effects of the fat-soluble nootropics in your daily stack.
Either way, if you're interested in supplementing omega-3s, you can't do any better than Performance Lab Omega-3. This easily qualifies as my favorite go-to omega-3 formula.
Want some? Get the Best Deal on Performance Lab Omega-3 here.
Read my Best Nootropic Supplements to Buy in 2021 list here.
Final Rating