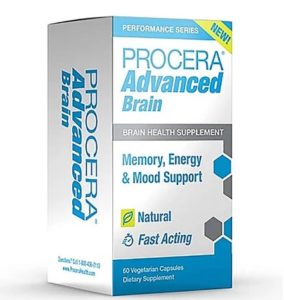 As one of the bigger supplement brands, selling recognizable nootropic products such as Procera AVH and Procera XTF Extreme, Procera generates a little more than average excitement with each of their brain health supplement release. And when I first took a look at their latest stack — Procera Advanced Brain — no lie, I got a little (more than average) excited.
Mainly because this brain health supplement looks to be potentially the best Procera nootropic stack yet.
I say that because I'm seeing several of my favorite nootropic ingredients in this stack. But only several. Which is a reminder that the best Procera nootropic stack doesn't equal the best nootropic overall.
To see how this formula stacks up, generally speaking, we'll need to subject it to the harshest, strictest nootropic rating system on the internet: the Nootropic Geek review. So, let's read this nootropic geek's Procera Advanced Brain review!
About Procera Advanced Brain
Manufactured by Procera Health, Procera Advanced Brain is an all-natural Brain Health Supplement designed to improve memory, energy, and mood.
One-part B vitamin complex, one-part herbal adaptogens (plus zinc), Procera Advanced Brain supplies premium, clean, green, and safe cognitive enhancement.
Procera is a big brand name, and Procera Advanced Brain is perhaps their best brain health supplement, but I'm not too sure it's worth that price tag.
Procera Advanced Brain Ingredients

Ingredients
Amount Per Serving
Vitamin B1 (from cocarboxylase)
5 mg (333% DV)
Vitamin B-2 (from riboflavin 5′-phosphate)
10 mg (588% DV)
Vitamin B-3 (as niacinamide)
40 mg (200% DV)
Vitamin B-6 (from pyridoxal 5′-phosphate)
15 mg (750% DV)
Folate (as 5-MTHF) (from Quatrefolic®)
400 mcg (100% DV)
Vitamin B-12 (as methylcobalamin)
400 mcg (6,667% DV)
Pantothenic Acid (from Ca pantothenate)
20 mg (200% DV)
Zinc (from Zn malate)
15 mg (100% DV)
Memory Support Blend
370 mg
Ginkgo biloba (Leaves) Extract (standardized to 24% Flavone Glycosides and 6% Terpene Lactones), Panax Ginseng C.A. Meyer (5% ginsenosides) (root)
Ashwagandha Extract (root)
100 mg
Rhodiola rosea (3% rosavins) (root)
100 mg
Phosphatidylserine
100 mg
Serving Size: 2 Capsules
Servings Per Container: 30
Other Ingredients: microcrystalline cellulose, HPMC (veggie capsule), silica.
Directions: Take two (2) capsules daily.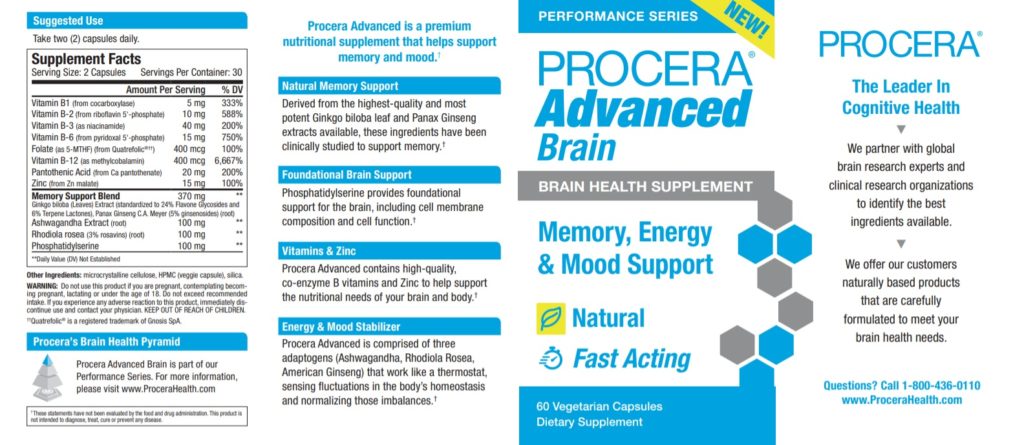 With an impressive B vitamin profile and a potent spectrum of herbal nootropic extracts, Procera Advanced Brain immediately qualifies itself as one of the higher quality cognitive enhancing supplements on the 2018 market. But do these potent nootropics deliver on the promises made by Procera here? I'll need to check out the ingredients one by one to find out. So, like, let's do that, doods.
Procera Advanced Brain Review: Ingredients
B Vitamins – As important co-factors in various brain chemical conversions, B vitamins play an essential role in cognitive brain balance. Many nootropic users value B vitamins for their mood and circulatory support. More on B Vitamins.
Zinc Malate – Zinc is an interesting mineral. It's hugely important to general health and well-being, as life tends to generally suck when zinc levels are down. I wouldn't qualify it as a major nootropic, but it is a major general health ingredient. So, that's pretty neat.
Memory Support Blend
Ginkgo Biloba Extract – Procera Advanced Brain supplies a potent Ginkgo extract at an undisclosed dosage amount. Best known for its boost on elderly health and cognition, Ginkgo is surprisingly versatile in its range of health benefits, potentially improving cerebral circulation as well as working memory. Even for the average, healthy, younger users. More on Ginkgo Biloba.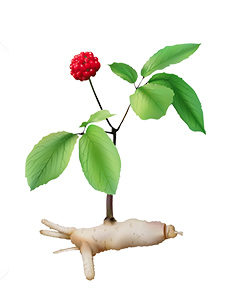 Panax Ginseng Extract – Accompanying Ginkgo in the Memory Support Blend, Panax ginseng is a highly bio-active herbal adaptogen. While its exact bio-mechanisms are hard to pinpoint, Panax ginseng seems to stabilize the brain and body's energy levels, simultaneously relaxing and energizing the mind, as needed. More on Panax Ginseng.
Ashwagandha Extract – As one of the more sedative adaptogens, ashwagandha questionably qualifies as a nootropic. Under heavy dosages and extracts, ashwagandha might provide too much relaxation, inhibiting brain power. Yet, in most cases, this powerful adaptogen helps calm the mind and body, reducing anxiety levels for better mood and clarity. More on Ashwagandha.
Rhodiola Rosea Extract – Perhaps my favorite herbal adaptogen, Rhodiola rosea is a powerful anti-stress nootropic, alleviating fatigue and stress levels for better cognitive stamina and clarity. Rhodiola works quick, making it an especially delicious cognitive enhancer. More on Rhodiola Rosea.
Phosphatidylserine – Good on Procera for supplying this key phospholipid compound. As an integral part of the brain cell's phospholipid membrane, PS helps facilitate cell-to-cell communication and regeneration. Supplementing PS daily may increase cognitive clarity and longevity. More on Phosphatidylserine.
Procera Advanced Brain Review: B Vitamins and Herbal Adaptogens
Essentially, Procera Advanced Brain promises to enhance three measures of cognition: Memory, Energy, and Mood. And, for the most part, Procera Advanced Brain delivers on these promises:
Memory – "working" memory by Ginkgo; long-term via PS.
Energy – Ginseng and Rhodiola for, you can say, energy balance.
Mood – B vitamins for dopaminergic mood; Ashwagandha for less anxiety.
Compared to other Procera products, Procera Advanced Brain surprisingly does a much better job at enhancing on-the-spot cognition, whereas most Procera formulas have a reputation for long-term elderly cognitive enhancement. (With exception to the caffeinated Procera XTF Extreme.)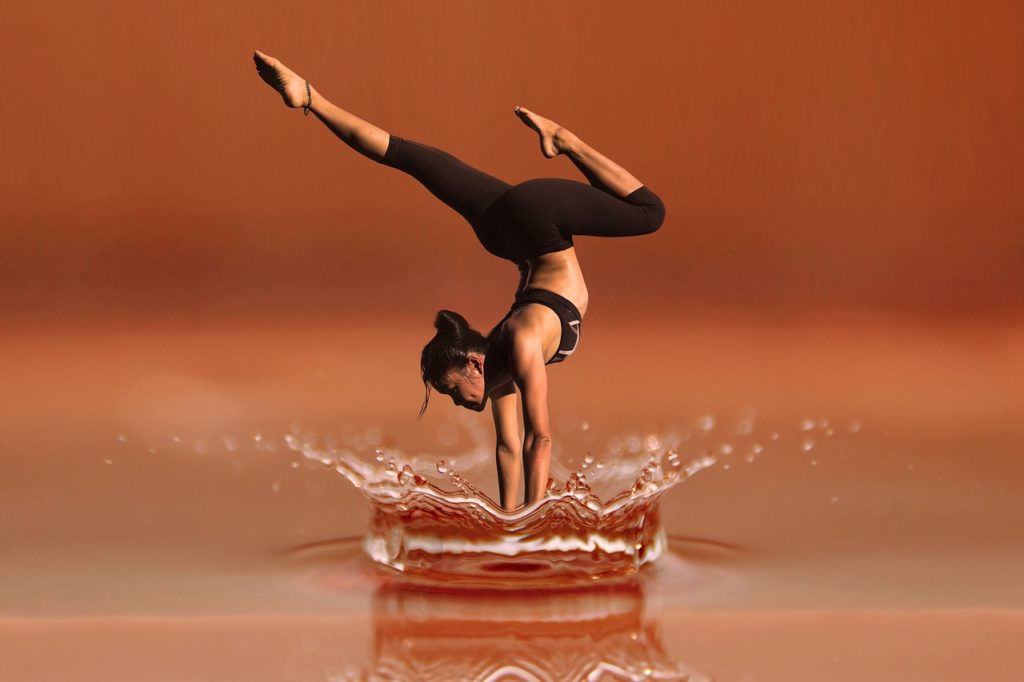 What I particularly like about Procera Advanced Brain's acute brain boosts is that this supplement doesn't rely on cheap caffeine or synthetic stimulants, resorting to more natural nootropic enhancement. Mood and energy are easily accomplished by riskier stim ingredients. However, these ingredients often come at the cost of a post-effect crash and (potentially) long-term cognitive diminishment.
Granted, Procera Advanced Brain doesn't supply the best natural nootropics for memory, energy, and mood. For example, with all of those B vitamins, I'd like to see the likes of L-tyrosine in this brain booster stack. Given how much Procera thinks this supplement is worth, I'd expect just a little bit more here.
Even so, price aside, Procera Advanced Brain reads like an advanced brain health supplement, ranking as one of the best, if not the best, Procera brain stack yet.
The Pros
Procera Advanced Brain stacks an impressive mix of high quality B vitamins (+ zinc) with potent herbal extracts. Simply good quality all around.
The adaptogen mix covers a wide spectrum of stress-related brain and body benefits, considering how stress impacts nearly every aspect of our health and performance.
While I wouldn't expect any risky synthetics from a Procera product, I'm nonetheless happy to see Procera sticking to its clean, green roots.
The Cons
For the asking price, I'd expect more from Procera Advanced Brain — more cholinergic noots for the memory claim, L-tyrosine for the mood and energy… etc.
This is a minor gripe but… the Memory Support Blend. Does that 370 mg strictly cover Ginkgo and Ginseng or all of the ingredients listed beneath the blend? The difference there is significant.
Pricing
1 Bottle
$79.95 for 60 capsules, a 30-day supply
$2.67 per serving
3 Bottles
$169.95 for 180 capsules, a 90-day supply
$1.89 per serving
6 Bottles
$299.95 for 360 capsules, a 180-day supply
$1.67 per serving
These prices represent the order options listed on the Procera Health website. Obviously, buying the 6 bottle order option grants you the cheapest price per serving amount — and this seems to hold true, as compared to other Procera Advanced Brain listings across the internet. But for a cheaper single bottle price, look to other online retailers.
Who Takes Procera Advanced Brain?
While I view Procera products as older cognitive health support supplements, Procera claims that Procera Advanced Brain is "Used by professionals & military personnel to enhance memory & productivity". Sort of a bold claim on the military end. Even so, I'd qualify Procera Advanced Brain as a nootropic supplement that may benefit users of all ages, but older men and women may particularly benefit by this bad boy.
Where to Buy It
You can buy Procera Advanced Brain through various online and in-store retailers, including GNC, Amazon, Vitamin Shoppe, eBay, and Procera Health's website.
Conclusion: Does Procera Advanced Brain Work?
The a little more than average excitement actually panned out well here. We have on our hands a little more than average brain health stack with Procera Advanced Brain.
As I said before, it's not exactly the best nootropic supplement — not that far above the average — but it may qualify as the best Procera product, which is a good thing, given that Procera shells out pretty decent nootropic stacks. At the least, Procera supplies unique nootropic formulas, which is more than what many brain health stacks can claim these days.
Having said that, I imagine the price might be a deal-breaker for many of you. Admittedly, it dampens my mood a bit on this one. However, if you're that impressed with this stack, buying in bulk may save you a great deal in the long-run, somewhat lessening the financial blow. And don't get it twisted: Procera Advanced Brain is pretty impressive.
Final Rating
Formulation Strategy

Brainpower Benefits

Brain Health Benefits

Transparency

Quality

Value

Average