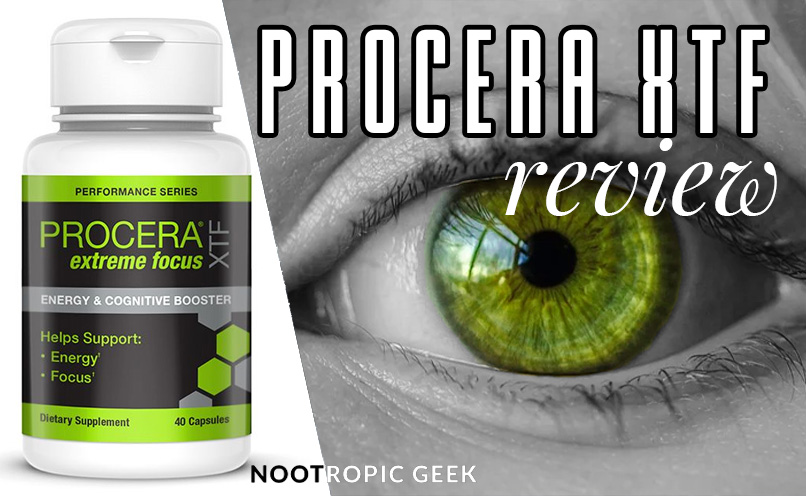 Summary: Procera XTF Review
Procera XTF is an "Extreme Focus" formula that takes the original AVH formulation (ALCAR + Vinpocetine + Huperzine-A) and extreme-ifies it by adding (wait for it…) CAFFEINE — as well as a welcome dose of Rhodiola rosea, one of my favorite nootropics. Having said that, this isn't exactly the boldest or ballsiest formula on the market, despite its "extreme" marketing. For big, bold, and ballsy nootropics, hit the following link:
Procera XTF is an Extreme Focus product that promises to deliver extreme energy without the "crash and burn" of caffeine.
How does Procera XTF intend to accomplish this?
With caffeine, of course! Or rather 40 mg of caffeine, a relatively mild dose of stimulation that likely won't entail a crash & burn effect because, well, 40 mg isn't enough caffeine fuel to accelerate into crash & burn territory.
Not the most extreme approach cognitive enhancement, but there are a few other ingredients outside of XTF's caffeine. Let's check out the rest of the formula in the Procera XTF review:
About Procera XTF Extreme Focus
Following the successful AVH, Procera XTF takes the original AVH formulation and makes it EXTREME! with the Extreme Focus Blend.
In the supplement market, "extreme" usually translates to caffeine and maybe a few B vitamins. Procera XTF upholds this tradition.
Rhodiola, the best addition to Procera's formula, is supplies in a potent 3%, 1% extract, yet hidden in a caffeinated proprietary blend.
Procera XTF Ingredients

Ingredients
Amount Per Serving
Vitamin B3 (as niacin 50%, niacinamide 50%)
25 mg (125% DV)
Vitamin B6 (as pyridoxine hydrochloride)
25 mg (1250% DV)
Pantothenic acid (as calcium d-pantothenate)
25 m (250% DV)
Procera Cognitive Blend:
757 mg
Acetyl L-carnitine HCl, Ginkgo biloba (leaf) (std. to 24% flavone glycosides, 6% terpene lactones), and huperzine A (from Huperzia serrata) (aerial parts)
Extreme Focus Blend:
346 mg
Rhodiola rosea (root) (3% rosavins & 1% salidrosides), green tea extract (leaf) (50% caffeine), green coffee extract (bean) and guarana (seed) (3-4% caffeine)
Serving Size: 2 Capsules
Servings Per Container: 20
Other Ingredients: Vegetable capsule, silicon dioxide, magnesium stearate, and titanium dioxide. Contains 40 mg of natural caffeine.
Directions: Take two (2) capsules daily.
You have to admit: Procera XTF's green & black design is much slicker & more extreme than AVH's lame-O pharmaceutical blue & white. Yaaawn. But how do the ingredients stack up?
Check it out:
B Vitamins – B vitamins serve a variety of metabolic functions. Niacin & B6, in particular, assist with cerebral circulation as well as mood, although Procera goes with the cheaper pyridoxine HCl over the "active" P-5-P B6 form. More on Vitamin B6.
Procera AVH Memory Proprietary Blend
Acetyl L-Carnitine HCl – ALCAR is able to pass the blood-brain barrier, delivering carnitine's mitochondrial support to brain cells. Assists with elderly cognition and may help with general brain bioenergetics at all ages. More on ALCAR.

Ginkgo Biloba – An ancient herbal brain booster associated with healthier circulation (blood flow) and increased working memory, making this one of the more reliably effective natural cognitive enhancers. More on Ginkgo Biloba.
Huperzine A – Another semi-synthetic compound, this time extracted from Chinese club moss. Best known for its inhibition of acetylcholinesterase, an enzyme responsible for the breakdown of neurotransmitter acetylcholine. More on Huperzine A.
Extreme Focus Blend
Rhodiola Rosea (3% rosavins, 1% salidroside) – Standardized extract of a potent adaptogen, boosts mental & physical performance by resisting fatigue & stress. More on Rhodiola.
Green Tea Extract (50% caffeine) – One could hope for L-theanine, the brainwave optimizing amino found in green tea, or even the neuroprotecting antioxidants. Procera focuses primarily on the 50% caffeine content here. More on L-Theanine.
Green Coffee Bean Extract & Guarana Extract (36% caffeine) – More caffeine, this time from coffee bean & guarana, potentially adding a metabolic fat burner aspect to this nootropic stack. Altogether, this rounds up to 40 mg caffeine, according to XTF's "Other Ingredients." More on Guarana.
Procera XTF: Caffeinated AVH

Procera XTF Extreme Focus! takes the original Procera AVH formula, cuts it in half, adding another proprietary blend mix ("Extreme Focus Blend") in addition to a few B vitamins. The original AVH formula is hinted at by its name: Acetyl L-Carnitine, Vinpocetine, Huperzine-A — however, Procera XTF modifies this by swapping vinpocetine with Ginkgo biloba, another natural nootropic that similarly assists with brain bloodflow.
Three brain energizing ingredients that actually synergize fairly well, at least in the context of elderly brain health & age-related neurodegeneration.
Halving the AVH formula obviously halves the value of these ingredients in the Procera XTF iteration, which is fine for Huperzine-A — its tiny dosage requirement can handle it — but not so much for ALCAR, a more demanding compound, and Ginkgo biloba.
I'm thinking it would've been better for Procera to leave out AVH, giving their users the option of stacking the actual AVH product with XTF.
Furthermore, a significant portion of Procera XTF's second blend is just caffeine. That's to be expected in a nootropic product that has the word "Extreme" in its name. And these caffeine extracts aren't bad, so long as they come with the aminos & antioxidants associated with their sources (e.g. L-theanine, EGCG). But it's also just caffeine.
Rhodiola is much more exciting, and thank Procera for prioritizing it over its caffeine. This sort of saves XTF, which otherwise would just be a lamer, caffeinated version of AVH. Not to say that XTF isn't a lamer, caffeinated version of AVH, but it's a lamer, caffeinated version of AVH that also has Rhodiola.
And that's purdy coo.
The Pros
Rhodiola is the best addition to this mild reiteration of Procera AVH. In fact, I'm writing this review having just chugged some rhodiola, I like it that much.
The "natural" approach to caffeination is groovy, potentially (hopefully) maintaining all of the healthy antioxidants & nutrients contained in their sources.
While I had to check various sources to get the full picture, Procera takes a step towards transparency by displaying more ingredient dosages than its previous product.
The Cons
Half of the formula reads like a poor man's Procera AVH product, the other half reads like a poor man's caffeine stimulant. I sense conflicting identities with this one.
The proprietary blend is still in use, covering the Extreme Focus Blend, hiding the dosage of XTF's best ingredient: Rhodiola.
Procera has a poor reputation with deceptive marketing, autoship scam tactics, and generally sloppy claims. In 2015, this lead to a $1.4 million fine by the FTC.
Pricing
$39.95 for 40 capsules, a 20-day supply
$2.00 per serving
Who Takes Procera XTF?
Procera AVH targeted older users. Procera XTF takes on the younger, college-aged demographics, indicated by their "University Tested" claim — although, the AVH blend is not as effective for younger users. Several customer reviews seem to agree.
Where to Get It
You can buy Procera XTF directly through the manufacturer's website. GNC carries Procera products as well, but Amazon does not.
Conclusion: Does Procera XTF Work?
Half of Procera XTF's formula is only half as good as Procera AVH, and the remaining half of the formula relies heavily on caffeine, a cheap-O non-nootropic stimulant.
Procera XTF also adds a few B vitamins & rhodiola, which, let's be fair, is in a quality, standardized extract form. But Procera hides their rhodiola content in a proprietary blend, while opting for only mid-range B vitamin quality.
Right now, AVH & XTF are sold at the same price ($39.95), which seems high for both products, considering that you're not even getting a month's worth here. Technically, XTF has more ingredients than AVH, potentially hiking up the manufacturing costs. Yet, it still hasn't quite earned that price tag.
Final Rating
Formulation Strategy

Brainpower Benefits

Brain Health Benefits

Transparency

Quality

Value