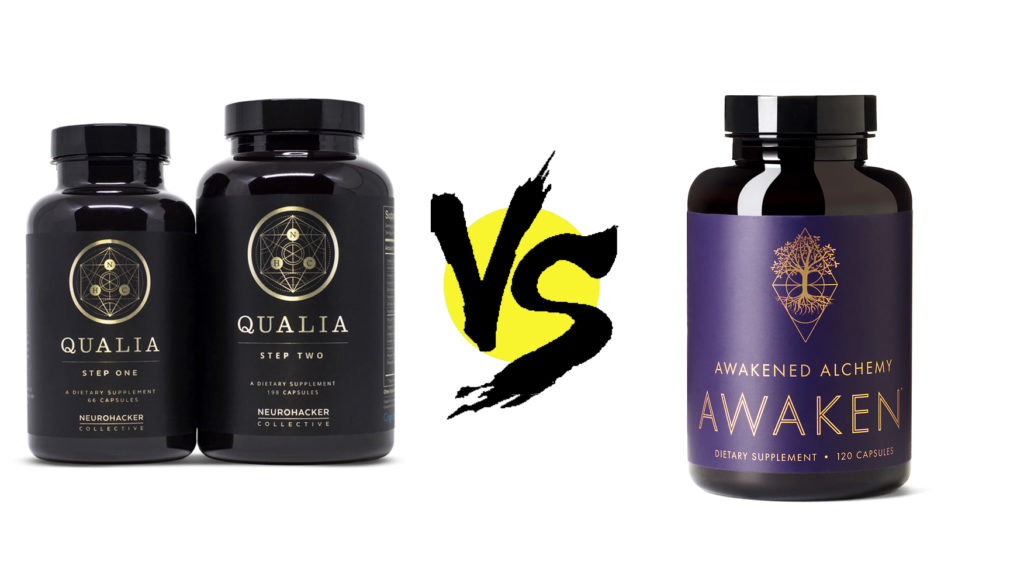 Between Qualia vs. Awakened Alchemy, which supplement does this description better describe: herbal extracts stacked with natural nootropic compounds and a surprise addition of Noopept, a psychostimulative, racetam-like nootropic drug.
Hm?… so, which one is it?
That's right: both.
In terms of their ingredient profiles, Qualia and Awakened Alchemy are fairly similar, hitting many of the same brain bio-pathways and benefits. Yet, with over 40 ingredients on Qualia's side and only 12 ingredients in Awakened Alchemy, it's hard to imagine Qualia not hitting more bio-benefits than Awakened Alchemy — or is all that extra stuff just useless fluff? Let's read the Qualia vs. Awakened Alchemy comparison review to find out.
Formula Design
While Qualia and Awakened Alchemy share similar nootropic ingredients and interests, their formula designs are vastly different, namely with regards to ingredient count and suggested use …but I won't get into all of that right here. Keep reading:
Qualia: 40+ Ingredients, Two Stacks
Manufactured by Neurohacker Collective, Qualia (Original Stack) is the, now, somewhat outdated Qualia option, thanks to the newer and improved Qualia Mind stack, which simplifies and condenses many of the best parts of the original stack. For instance, whereas Qualia Mind comes as a single bottle, the original Qualia stack comes as a two-step stack — that is, two bottles differentiated as:
Step One – 12 ingredients, 3 caps serving size, 22 servings.
Step Two – 30 ingredients, 6 caps serving size, 22 servings.
Altogether, that makes for 41 ingredients, split into 9 daily capsules (that's a lot of caps!), for 22 days' worth of Qualia-enhanced brainpower. And while a majority of that brainpower comes from Qualia's smart selection of clean, natural herbal extracts and nootropic compounds, Qualia also fits in a little Noopept and DHEA — the first being a synthetic nootropic drug and the latter being a WADA banned substance that, well… doesn't seem to do much.
From my perspective, DHEA is a bad idea that significantly limits who can even take this supplement. Fortunately, Qualia's follow-up product (Qualia Mind) removes this bad boi. Read my in-depth review on Qualia.
Awakened Alchemy: Semi-Synthetic Enlightenment!
Similar to Qualia, Awakened Alchemy is primarily and predominantly filled with natural herbal extracts and nootropic compounds, yet makes a little room for more "smart drug"-style ingredients, such as Noopept and Sulbutiamine — the latter being a semi-synthetic for its synthetic bond between two natural thiamine vitamins.
There's a uniquely bionic appeal to Awakened Alchemy's design that, while I prefer 100% clean and natural nootropic stacks, gets me a little amped, as few nootropic supplements successfully pull off the natural "smart drug" stack without raising too many red flags.
Qualia comes close to that success, yet slightly falters with its DHEA. However, this isn't to say that Awakened Alchemy pulls this move off flawlessly: Noopept and Sulbutiamine both come with tolerance build up concerns, essentially decreasing in value the more you consume them — particularly if you consume them on a daily basis.
Even so, Awakened Alchemy packs a significant, brain-boosting punch with only 12 ingredients. Read my in-depth review on Awakened Alchemy.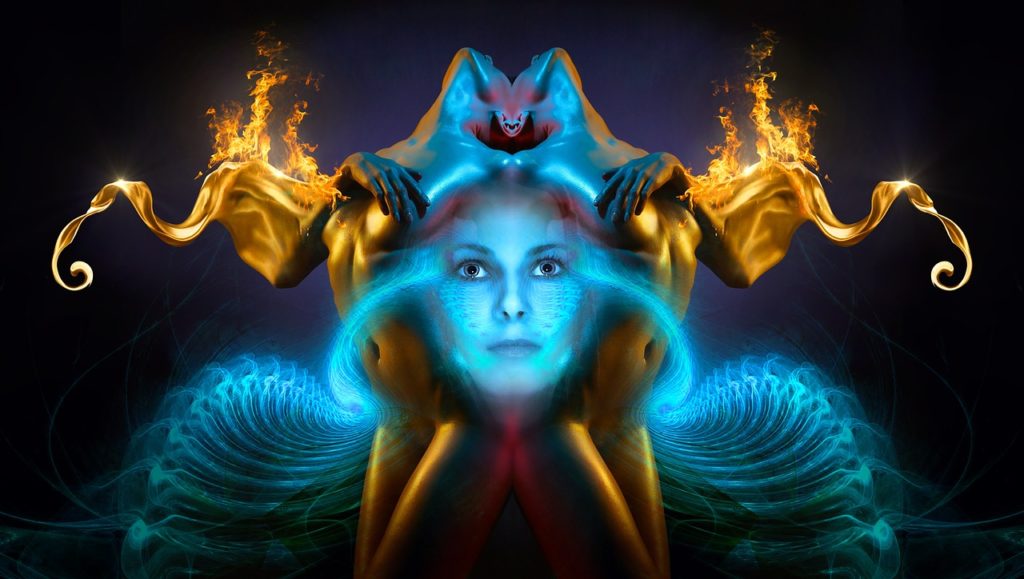 Unique Features
In a way, Awakened Alchemy almost feels like a condensed version of Qualia, at least with regards to the more unique items shared by both formulas, namely: Noopept, Phenylethylamine, PQQ… These are somewhat hot cognitive enhancers, yet few formulas actually carry them — let alone in the same formula.
With that in mind, I see Qualia and Awakened Alchemy as close competitors, both supplements targeting more or less the same results. Yet, with way more ingredients under its belt, Qualia clearly has more guns on its side, and thus more targets in its sights. But Awakened Alchemy may have a couple tricks up its sleeve, as well.
Let's see what each supp has:
Qualia
DHEA – Of all Qualia ingredients, DHEA is perhaps the least valuable for its banned substance status and weak efficacy. Generally speaking, DHEA's bio-activity isn't powerful or beneficial enough to warrant consideration.
Purenergy™ (Caffeine + Pterostilbene) – With pterostilbene, Purenergy™ delivers a more nootropic-enhanced caffeine experience, partnering caffeine's mental stimulation with polyphenolic neuroprotection. More on Caffeine.
PQQ (as BioPQQ™) – Awakened Alchemy has PQQ. But Qualia has the more premium BioPQQ™ brand of this powerful antioxidant. More on PQQ.
Citicoline (as Cognizin®) – Awaked Alchemy has CDP Choline. But Qualia has the more premium Cognizin® brand of this powerful brain boosting choline + cytidine donor. More on Citicoline.
Many, Many More – Aside from DHEA and Qualia's branded ingredients, the formula supplies many, many more awesome nootropics with significant brain boosting potential, such as Bacopa monnieri, Rhodiola rosea, Ginkgo Biloba, Vinpocetine, L-theanine, and more. The sheer size of Qualia is definitely a unique feature here.
Awakened Alchemy
Ashwagandha (Std. to 2.5% Withanolides) – One of the groovier nootropic options, Ashwagandha borders on the side of sedative, delivering a feel-good dose of mental relaxation and strength enhancement. More on Ashwagandha.
Shilajit (Std. to 20% Fulvic Acid) – A mineral-rich tar that grows on rocks, shilajit is a powerful Ayurvedic tonic that, when supplemented in its extract form, may possess significant cognitive and physical performance enhancing benefits. Its antioxidant and adaptogenic qualities make it a popular choice among both athletes and nerds.
Sulbutiamine – Viewed as a drug due to its synthetic bond between thiamine and thiamine, sulbutiamine may improve mood and reduce anxiety; although, tolerance build up is a concern with this guy. More on Sulbutiamine.
Single Stack – Not necessarily the most unique feature, given that most supplements come as a single stack; yet, compared to Qualia's two-stack formula …sure, Awakened Alchemy's single stack formula design is relatively unique here.
Potency & Quality
Standardized herbal extracts? Check.
Easy-to-absorb nootropic compounds? Check!
Absorption-enhancing BioPerine® black pepper extract?? Oh, hell yea!
Yes, in terms of potency and quality, both Qualia and Awakened Alchemy got 'em. On both sides, I'm seeing all of the boxes checked that are required for high quality, highly bio-active nootropic brain health stacks. And to top it all off, both Qualia and Awakened Alchemy made the smart move of including BioPerine, an extract of the bio-active constituent of black pepper, which allows for other nootropics, such as turmeric (found in Qualia), to achieve greater results.
Really, there's nothing to gripe about for either supplement. Perhaps Qualia has an edge over Awakened Alchemy with its higher number of branded ingredients (e.g., Cognizin®, BioPQQ®). But Awakened Alchemy still supplies an impressively high quality brain stack.
Value: Qualia vs. Awakened Alchemy

Price
Servings
Price Per Serving
Qualia
$149
22
$6.77
Awakened Alchemy
$99
30
$3.30
With a 2-4 capsules up to 2 times daily directive, Awakened Alchemy has the potential to be one of the more expensive nootropic brain health stacks on the 2018 market. For example, doubling the daily serving to 8 daily capsules jacks that price per serving number up to $6.60. Yet, even that is cheaper than Qualia's $6.77 price per serving, averaged out from Qualia's 22 servings per bottle. (Although, to be fair, Qualia's serving sizes are huuuuuge.)
You can buy either Qualia or Awakened Alchemy in single bottle orders (the most expensive price per serving options). However, subscribing to monthly Qualia shipments may save you $20 per Qualia bottle, whereas buying 2 or 3 bottles worth of Awakened Alchemy may decrease A.A.'s price per servings to $2.98 and $2.77, respectively.
Qualia or Awakened: Which is better?
Qualia is more nootropics for more dollars.
While Awaken supplies several of Qualia's most hard-hitting nootropics (e.g. citicoline, tyrosine, Noopept), Qualia still has many, many more highly dosed nootropics between its two-step stacks, potentially hitting many more brain pathways than Awakened Alchemy. Granted, the extremely high ingredient count also comes with nutrient absorption concerns, given that these ingredients are all vying for digestive space. Yet, as a brain booster stack, Qualia gives us noot geeks plenty to drool over.
Awakened Alchemy is fewer nootropics for still quite a bit of dollars.
I tend to prefer simplicity over complexity, as the latter runs the risk of excess. And Awakened Alchemy happens to provide a nootropic stack that's not only simple but complex in its range of brain bio-benefits. Which is über-doober cool. Yet, you'd think having 30 fewer ingredients than Qualia would drastically decrease the cost of Awakened Alchemy… and don't get me wrong: Awaken is much cheaper than Qualia. Yet, it's not that much cheaper, really, especially if you're doubling the serving sizes, as the directions partially recommend. Even so, if you have the money, Awakened Alchemy is a solid choice for cognitive enhancement.
My Recommendation
Both Qualia and Awakened Alchemy do a solid job at enhancing brain health and function. Yet, Qualia seems to do an even better job in both the health and function departments, boosting mental performance while also nourishing the brain for enhanced cognitive longevity.
Qualia is a comprehensive brain health stack. Awaken, on the other hand, is more narrowly focused, expending its hard effort and investments into a tighter range of mental performance enhancement.
Frankly, I'm not 100% into the synthetic "smart drug" scene. Yes, I dabble every now and then. However, if I were to craft a daily stack, I'd put the drugs aside to be taken on an "as-needed" basis — so as not to diminish their spunk over time. Having said that, between Qualia and Awakened Alchemy, Qualia seems the healthier daily stack option, and it earns my ultimate recommendation here.
Qualia > Awakened Alchemy