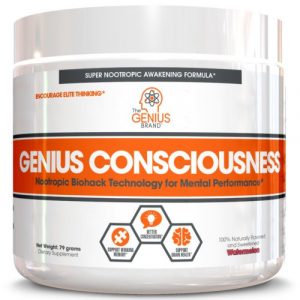 This Genius Consciousness review isn't simply a nootropic supplement review. It's a "Super Nootropic Awakening Formula" review, which is super different and, well, just way more super than your standard supplement review.
And I'll start this review off by listing Genius Consciousness' brain benefit promises (or are they demands?):
THINK DEEPER
FIND CREATIVITY
FREE THOUGHT
Essentially, Genius Consciousness is your brain's "red pill" awakening stack — except this "red pill" doesn't come as a pill but rather as a scoopable powder. A red, watermelony powder. But does it work? Let's read the super-duper Genius Consciousness review to find out.
About Genius Consciousness
From The Genius Brand comes Genius Consciousness, a Nootropic Biohack Technology for Mental Performance.
Nootropic Brain Boosts: Genius Consciousness mixes cholinergic and dopaminergic brain boosters with a unique brain regenerating shroom: Lion's Mane Mushroom.
Stimulative Mental Performance: Topping Genius Consciousness' nootropic foundation is a comprehensive complex of coffee bean extracts and patented methyliberine.
Genius Consciousness Ingredients

Ingredients
1/2 Scoop (2.6 g)
1 Scoop (5.3 g)
Acetyl-L-Carnitine HCl
500 mg
1 g
Lion's Mane (Hericium erinaceus) [Fruit Body] Powder
500 mg
1 g
AlphaSize® (as 50% Alpha-GPC)
300 mg
600 mg
L-Tyrosine
250 mg
500 mg
Methyliberine (as Dynamine® 40% tasteless [1 Scoop Yielding 50mg, 1/2 Scoop Yielding 25mg])
62.5 mg
125 mg
Caffeine (from Coffea arabica [Bean])
50 mg
100 mg
SerinAid® (as 50% Phosphatidylserine)
50 mg
100 mg
NeuroFactor™ (Coffea arabica [Fruit] Extract)
50 mg
100 mg
AstraGin™ (Panax notoginseng [root] Extract and Astragalus membranaceus [root] Extract)
25 mg
50 mg
Huperzia serrata [Whole Plant] (Standardized to 1% Huperzine-A)
5 mg
10 mg
Serving Size: 1/2 Scoop (2.6 Grams); 1 Scoop (5.3 Grams)
Servings Per Container: 30 or 15, respectively
Other Ingredients: Citric Acid, Organic Stevia Leaf Extract, Natural Flavors, Silica, Beet Root Extract, Monk Fruit Extract.
Directions: Assess your individual tolerance by mixing 1/2 scoop into 6-10 ounces of water (vary amount of water by taste preference) and consume 15-30 minutes before mental performance is required. If you experience any displeasing effects, discontinue use and consult your doctor. To support maximum cognitive performance and energy, we recommend using 1 scoop in 8-12 oz of cold water (vary amount of water by taste preference).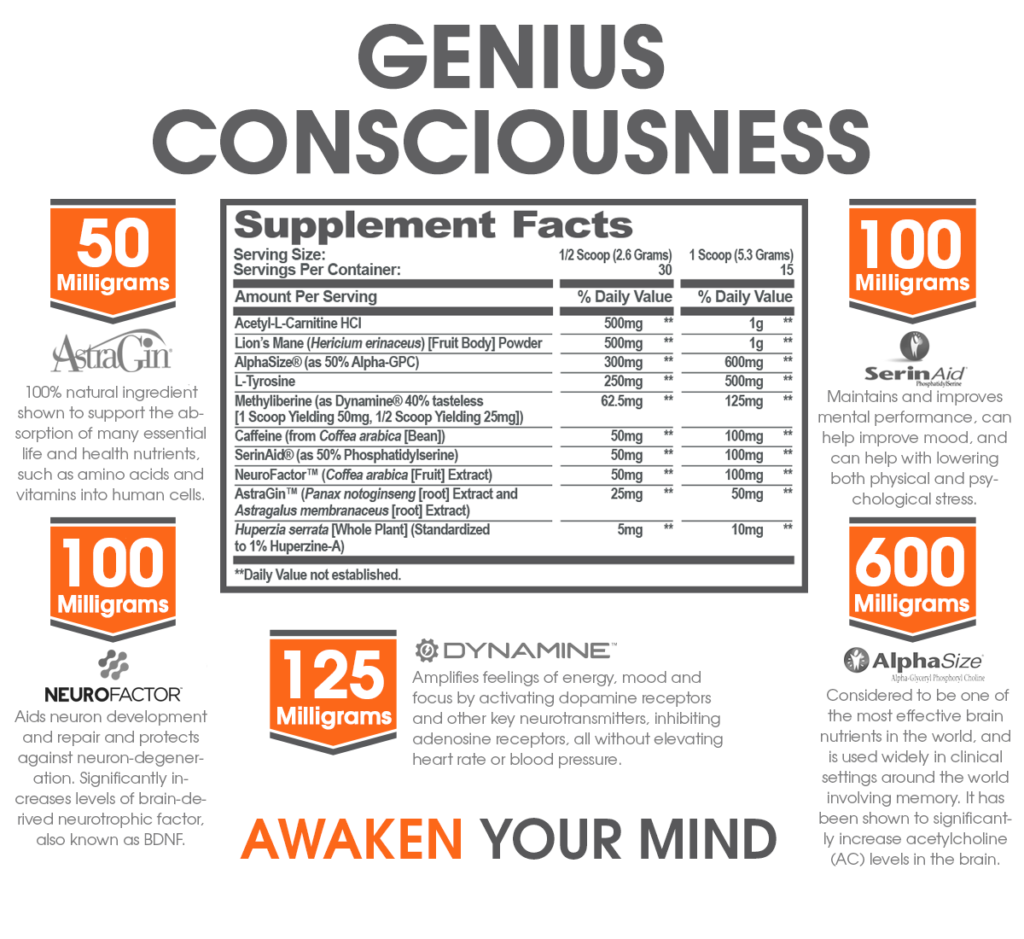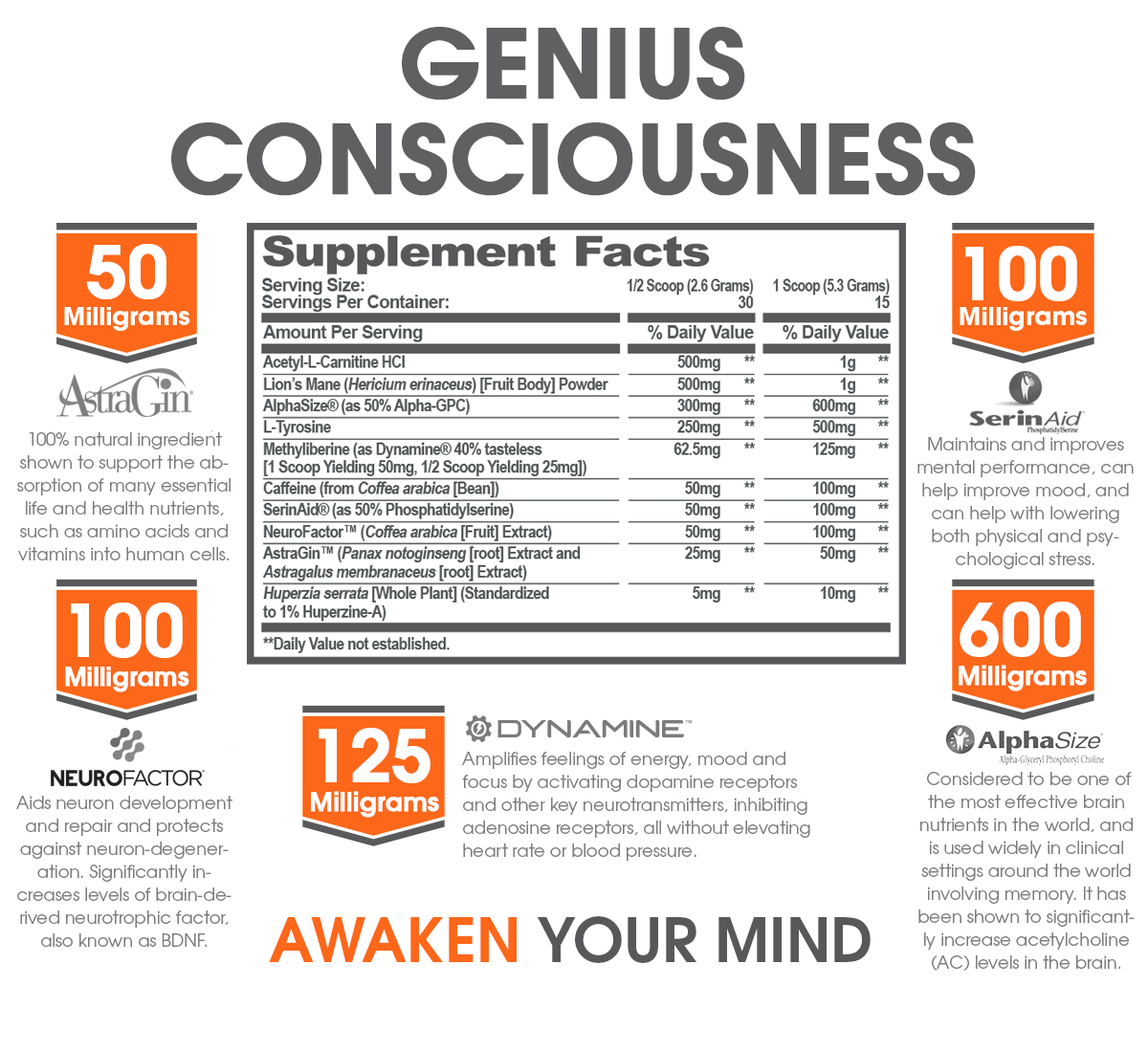 Genius Consciousness promises "Nootropic Biohack Technology for Mental Performance" and gives us 10 highly dosed nootropics that, for the most part, seem to improve mental performance. But how? And how MUCH improvement? We'll need to check out the formula ingredient-by-ingredient to find those answers. Check it:
Genius Consciousness Review: Ingredients
Acetyl-L-Carnitine HCl – Believed to improve brain mitochondrial ATP energy output, ALCAR is a popular nootropic amino with significant cognitive enhancing potential …namely for the elderly and heavy alcohol users. For the average, healthy user, ALCAR doesn't seem to do much. More on ALCAR.
Lion's Mane Mushroom – Perhaps my favorite shroom, Lion's Mane is a key player in natural neuroregeneration, potentially increasing NGF levels for increased neuron growth and repair. Some supplements supply enhanced Lion's Mane extract. Genius Consciousness gives us the plain powder stuff. More on Lion's Mane.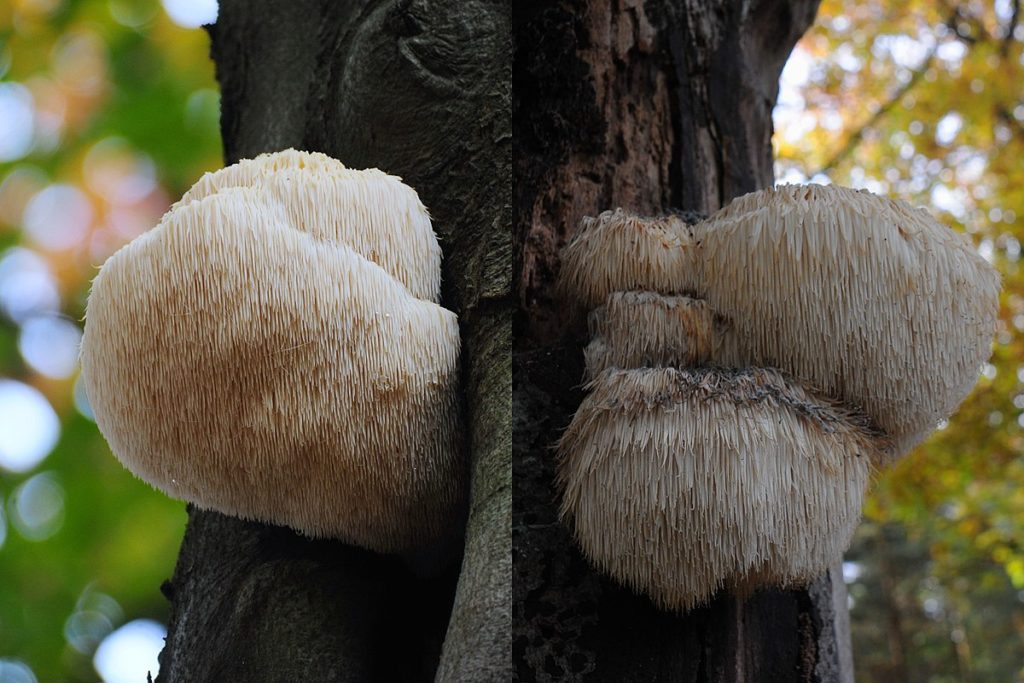 Alpha-GPC (as AlphaSize®) – Having a high choline concentration, alpha-GPC seems to increase the brain's stock of neurotransmitter acetylcholine precursor, potentially improving memory, learning, and focus. AlphaSize® is a quality alpha-GPC brand. More on Alpha-GPC.
Alpha-GPC or Citicoline?
Perhaps the two most popular cholinergics for cognitive performance are alpha-GPC, which supplies a high concentration of choline, and citicoline (or CDP Choline), which supplies choline plus cytidine, a precursor to brain booster nucleotide uridine. Depending on your cognitive goals, you may prefer either alpha-GPC for its choline concentration or citicoline for its choline + cytidine nootropic combo. Genius Consciousness smartly chooses AlphaSize®, a premium form of alpha-GPC, while other effective supplements, such as Mind Lab Pro (
review here
) and Performance Lab Mind (
review here
), supply citicoline in its preferred Cognizin® branded form.
L-Tyrosine – One of the best anti-stress nootropics for its direct role in catecholamine synthesis. When the brain is stressed and/or over-activated, natural tyrosine levels tank to keep up with the brain's catecholaminergic demands. Supplementing the amino may help keep mood and motivation levels soaring. More on L-Tyrosine.
Methyliberine (as Dynamine®) – An interesting, unique theacrine-like ingredient. And the fact that it's theacrine-like means that methyliberine is like a caffeine-like ingredient, meaning it potentially possesses stimulative cognitive bio-benefits. Sort of a risky addition, given there's not much on this bad boy, but 50 mg is conservative enough for methyliberine-newcomers to give Genius Consciousness a try.
Caffeine (from Coffea arabica) – This is not a caffeine-like ingredient. This is caffeine. A natural stimulant drug that… you know what, you know what caffeine is. Next ingredient. More on Caffeine.
SerinAid® (50% Phosphatidylserine) – A quality brand of phosphatidylserine, an important brain cell membrane phospholipid that may improve long-term memory and cognition. Essentially, PS is a key nootropic for cognitive longevity. More on Phosphatidylserine.
NeuroFactor™ (Coffea arabica Extract) – NeuroFactor™ isn't simply caffeine. This extract takes a more comprehensive bio-active extract from coffee beans, giving us more antioxidants for more free radical damage reduction.
AstraGin™ (Panax notoginseng Extract and Astragalus membranaceus Extract) – Patented combo of ginseng and astragalus, purportedly used to increase amino absorption. In other words, this extract enhances the bioavailability of Genius Consciousness' amino nootropics. More on Ginseng.
Huperzia serrata Extract (1% Huperzine A) – In small dosages, Hup-A can significantly boost cognition by inhibiting acetylcholinesterase, the enzyme responsible for acetylcholine breakdown. More on Huperzine A.
Genius Consciousness Review: Noot-Based, Stim-Charged Brainpower
Noot-Based, Stim-Charged — what do I mean by that? Good question, and here's a good answer: Genius Consciousness bases its brain boosts on a series of well-dosed, natural nootropics, then charges your mental performance levels up a notch with some good ol' caffeinated stimulation.
In fact, the formula very neatly splits into those two sub-categories:
Nootropics – ALCAR, Lion's Mane, Alpha-GPC, L-Tyrosine, PS, Hup-A
Stimulants – Methyliberine, Caffeine, NeuroFactor™
And NeuroFactor™ somewhat bridges the gap between nootropic and stimulant, as this coffee bean extract brand includes both the stimulative and neuroregenerative aspects of the coffee bean.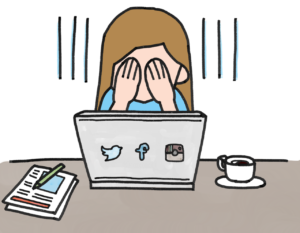 Aside from the nootropics and stimulants, Genius Consciousness also supplies AstraGin™, a clever addition to this formula for its amino-absorption-enhancing properties, which in turn boosts the effects of Genius Consciousness' L-tyrosine. This ingredient, in addition to the generally high quality and well-dosed nature to Genius Consciousness' ingredients, indicates to me that these guys know how to craft an effective, worth-the-money supplement.
These aren't bunk-O ingredients supplied in bunk-O formats, capsulated in bunk-O pills. Genius Consciousness pulls out the big guns for this formula, cramming these hefty dosages into hefty powder serving sizes. The only downside here being that stimulant-sensitive users may be at risk of Genius Consciousness' well-dosed stimulants — particularly methyliberine.
Yet, you know exactly what you're getting yourself into here, which I credit to Genius Consciousness' non-proprietary label design. All around, Genius Consciousness is an impressive caffeinated cognition booster.
The Pros
Inferior brain health stacks utilize caffeine as a crutch. Genius Consciousness enhances the caffeine experience with smart nootropics and complementary brain boosters.
Across the board, Genius Consciousness showcases high quality, well-dosed ingredients, throwing a few patented brain boosters in the mix as well.
For such a high quality stack, Genius Consciousness is reasonably priced, especially if you're satisfied with only 1/2 scoop per serving.
The Cons
ALCAR is the only questionable nootropic in this stack. Not because it's a bad ingredient per se… but it may not do much for the average, healthy nootropic customer.
Genius Consciousness supplies its stimulants with class, yet the stimulant-heavy approach to brain boosting inherently runs a higher risk than your all natural, stim-free nootropic options.
Pricing
$37.99 for 15 scoops, a 15- to 30-day supply
$1.27 per 1/2 scoop serving; $2.53 per 1 scoop serving
Who Takes Genius Consciousness?
Genius Consciousness' powder format allows for this supplement to operate not only as a nootropic brain booster but as a healthier energy drink alternative, as well. I imagine Genius Consciousness appealing to college students and athletes, creative types and techies — really anyone who may benefit by a nootropic-enhanced caffeine experience.
Where to Buy It
You can buy Genius Consciousness through Amazon and possibly eBay. Following the "buy" link on the Genius Consciousness website will reroute you to Amazon, so I'm assuming that's the primary buying location for this bad boy.
Conclusion: Does Genius Consciousness Work?
Yes, for what Genius Consciousness promises, Genius Consciousness works. Which means that Genius Consciousness works to improve: Working Memory, Better Concentration, and Brain Health. And given the formula's use of stimulants and fast-acting aminos, this is a product that you can expect to work fast and reliably.
In other words, Genius Consciousness is a I-need-to-get-shit-done right-now stack that actually helps you get shit done right now. Granted, it's not the most nuanced nootropic brain health stack, as compared to nootropic supplements that can amplify mental performance without any reliance on stims. Yet, it's one of the more nuanced stim supplements I've seen out there, making it at least worth a buy as an "as-needed" mental performance boost.
Final Rating
Formulation Strategy

Brainpower Benefits

Brain Health Benefits

Transparency

Quality

Value