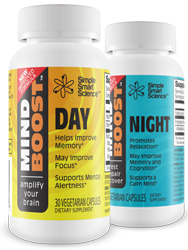 Nootropic Geek during the day.
Nootropic Freak at night, am I right? *wink-wink*
Acceptable behavior isn't uniform, changing every day, roughly around 7-8 pm (unless you live in summertime Alaska) when the moon replaces the sun and the clothes come off and the lights turn off and the Picamilon hits, knocking your anxious ass to sleep.
Only a few manufactured nootropic supplements understand this: That what's necessary for day-time cognition may not translate well into the night, and vice versa. MindBoost gets this, delivering two separate formulas: Day & Night. Here's my review on both:
About MindBoost
Manufactured by Simple Smart Science, MindBoost is a two-part day-time & nighttime nootropic stack, respectively & aptly named Day & Night.
The Day formula takes on the anti-stress, anti-fatigue approach to optimizing brainpower, with a Ginkgo circulatory edge on performance.
The Day formula mixes Ashwagandha + Picamilon for anti-anxiety resistance to insomnia, promoting relaxed, feel-good sleep.
MindBoost Day Ingredients

Ingredients
Amount Per Serving
5-MTHF [(6S-5-Methyltetrahydrofolic Acid, Glucosamine salt)(Quatrefolic®)]
500 mcg (125% DV)
Vitamin B-12 (as Methylcobalamin)
100 mcg (1667% DV)
Brain Formula Proprietary Blend
660 mg
Bacopa leaf 4:1 (Bacopa monnieri)(leaf), Rhodiola Rosea Powder (Rhodiola rosea), Ginkgo Biloba Extract (Ginkgo biloba)(24% Glycosides, 6% Terpene Lactones)(leaves)
Serving Size: 1 Capsule
Servings Per Container: 30
Other Ingredients: Hydroxypropylmethylcellulose, rice flour, vegetable stearate, silica.
Directions: Adults, take 1 capsule daily with water, preferably with a meal, as a dietary supplement, or as directed by a doctor. (Maximum Results: Consistent daily use of this product may improve cognition and lower the risk of cognitive decline. We recommend taking MindBoost™ Day once daily for a minimum of 30 days to see optimal results.)
***
MindBoost Night Ingredients

Ingredients
Amount Per Serving
Folate (as folic acid)
500 mcg (125% DV)
Proprietary MindBoost Blend
600 mg
Ashwagandha extract (root), Picamilon
Serving Size: 1 Capsule
Servings Per Container: 30
Other Ingredients: Vegetable capsule, microcrystalline cellulose, magnesium stearate, silicon dioxide.
Directions: 1 capsule approximately 1 hour before bed with food. (Maximum Results: Consistent daily use of this product may improve cognition and lower the risk of cognitive decline. We recommend taking MindBoost™ Night once daily for a minimum of 30 days to see optimal results.)
We have two Supplement Facts on our hands to filter through, essentially taking on a 2-for-1 review. For you that means nothing: You just have to sit on your ass and read it. But for me, I have to write this up! So, to make it easier, I'll be taking each formula ingredient-by-ingredient. Check it:
Day Formula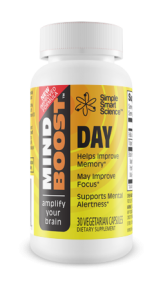 5-MTHF – Quality folate, believed to slow down cognitive decline, improving cognitive performance in older age by limiting brain atrophy — although, for the average, healthy user, vitamin B9 isn't much of a nootropic cognitive enhancer.
Vitamin B12 (as Methylcobalamin) – Similar to B6, vitamin B12 doesn't enhance cognition until old age (via cognitive preservation) or under vegan conditions. More on B12.
Brain Formula Proprietary Blend
Bacopa Leaf 4:1 – Awesome Ayurvedic adaptogen that improves resistance to stress while boosting memory & learning. Requires long-term supplement to reach peak effect. More on Bacopa.
Rhodiola Rosea Powder – Personal favorite mental & physical performance enhancer for its quick, potent resistance to stress & fatigue, although MindBoost could do better than this plain powder. More on Rhodiola.
Ginkgo Biloba Extract (24% glycosides, 6% terpene lactones) – For athletic performance, Ginkgo goes great with Rhodiola, enhancing cerebral circulation & working memory. More on Ginkgo Biloba.
Night Formula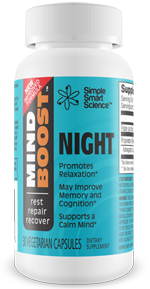 Folate (as folic acid) – Lower quality folate as compared to the Day formula's folate, but still purdy good stuff.
Proprietary MindBoost Blend
Ashwagandha Extract (root) – Rhodiola & Bacopa for day-time resistance to stress, Ashwagandha for nighttime anti-anxiety relief. Smart given the herb's sedative effects. More on Ashwagandha.
Picamilon – Two-parts GABA & niacin, a synthetic duo of natural compounds, able to cross the blood-brain barrier for potent anxiolytic relaxation. Be sure to cycle to avoid tolerance build-up. More on Picamilon.
MindBoost: Day & Night Cognition
The plan: Take 1 MindBoost Day during the day for day-time cognitive boosts, take 1 MindBoost Night for nighttime cognitive rest. (Then we kill the Batman.) Simple enough. Let's review it step-by-step, starting with:
The Day Formula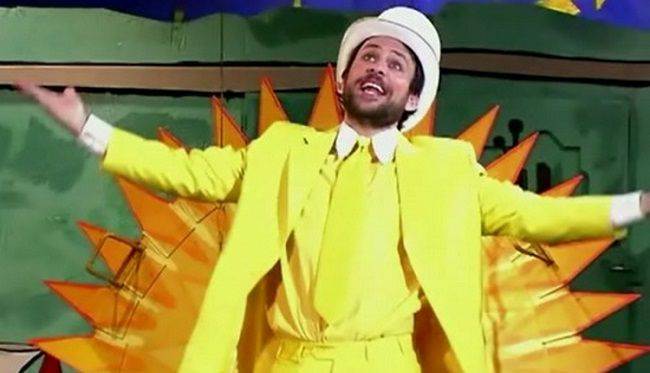 If it weren't for Bacopa, MindBoost Day easily could have passed as an (incomplete) performance enhancer for its Rhodiola + Ginkgo combo, an herbal duo famously researched for its benefits on strength training & recovery. And personally researched by me: It works.
But how does MindBoost Day rank as a cognitive enhancer?
Purdy good, at least in its ability to combat stress & fatigue for a clean, focused mind. MindBoost recommends only 1 capsule during the day, but I could envision the Day formula helping for both the morning wake-up and afternoon recharge.
Supplementing MindBoost Day over a long period of time should engage Bacopa's pro-memory, pro-learning benefits for the long-run.
***
The Night Formula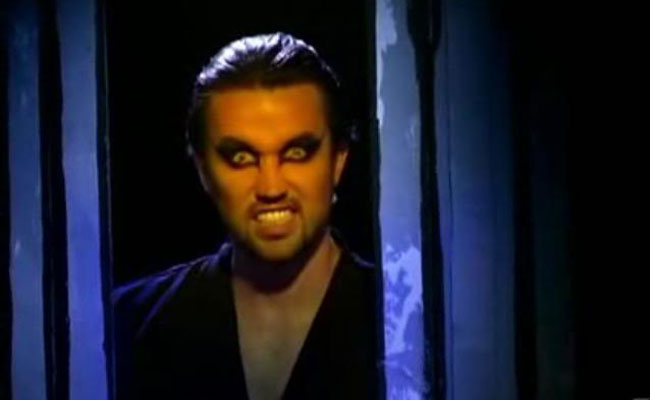 Can't sleep? Outside of melatonin, which I avoid for the next-day headache, there are a number of options available to nootropic enthusiasts: Kava Kava, Valerian, Phenibut… or, the MindBoost Night route, Ashwagandha & Picamilon.
There are two reasons I like the nootropic Ashwagandha + Picamilon duo: 1) Ashwagandha, 2) Picamilon. And that's really all I need to say, given how well-researched, well-regarded these two nootropics are — the former being a natural adaptogen herb, the latter being a potent synthetic drug.
In fact, if the effects of this stack aren't too sedating, I'd consider taking this during the day-time as well, at least for social gathering to take advantage of picamilon's anti-(social)-anxiety benefits.
The "Maximum Results" Directive
For quote-unquote Maximum Results, MindBoost recommends consistent daily use of these products "for a minimum of 30 days to see optimal results." For MindBoost Day, this is fine. For MindBoost Night, not so much. Namely due to the brain's potential tolerance build-up against Picamilon's effects. My recommended Picamilon cycle: 4 days on, 2 days off.
The Pros
Taken together, the day-time + nighttime adaptogenesis may promote 24-hour resistance to focus-killing, body-draining stress & fatigue.
With exception to Rhodiola, the ingredient quality is exceptionally on-point, stacking herbal extracts on patented folate & potent Picamilon.
The Ashwagandha + Picamilon duo is a simple, innovative approach to anxiety-free sleep, one of those why-didn't-I-think-of-that? stacks.
The Cons
The hyperfocus on adaptogenic anxiolysis may be offputting to users seeking stimulating, racetam-like cognitive boosts on focus & processing.
A minor gripe buuuuut: Rhodiola powder should be Rhodiola extract, standardized to 3% rosavins, 1% salidroside.
The Simple Smart Science websites gives off major infomercial vibes, reeking of autoshipment trials & bogus fees. I recommend buying through a separate retailer, e.g. Amazon.
Pricing
MindBoost Day
$39 for 30 capsules, a 30-day supply
$1.30 per serving
MindBoost Night
$39 for 30 capsules, a 30-day supply
$1.30 per serving
Who Takes MindBoost?
MindBoost does not discriminate: Everyone benefits by less stress, everyone benefits by better sleep. If Rhodiola isn't already in your nootropic stack and Picamilon remains on your bucket list, MindBoost is for you.
Where to Get It
You can buy MindBoost directly through Simple Smart Science or through various retailers, including Amazon, eBay, etc.
Conclusion: Does MindBoost Work?
MindBoost may not offer the best brain-boosting benefits, or really even qualify as a brain-booster, but its mental resistance to stress, fatigue, & insomnia promotes well-rested, anxiety-free cognition, which, let's face it, likely solves about 99% of the average person's cognitive issues.
If you had to choose between one… eh, really, either one holds significant value. Personally, I'd stick with MindBoost Night for its unique supply of Picamilon, but I wouldn't make fun of you for choosing either/or.
Final Rating
Formulation Strategy

Brainpower Benefits

Brain Health Benefits

Transparency

Quality

Value