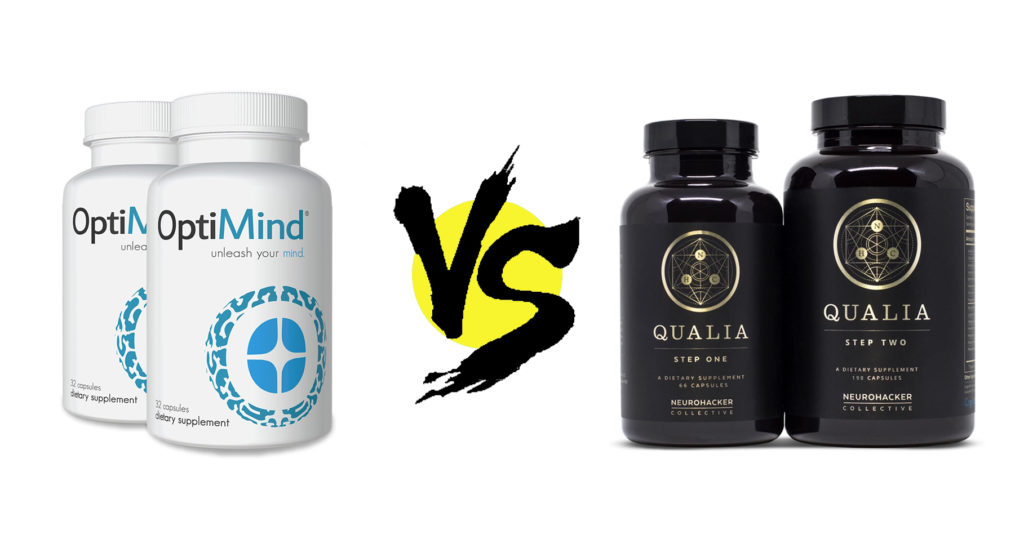 OptiMind vs. Qualia is a numbers battle. And for a couple of reasons.
Reason 1 – The crazy number of orders for OptiMind bottles.
Reason 2 – The crazy number of ingredients in Qualia's two-step stack.
Both of which lend a decent intro argument for both sides. Yet, the numbers are also against these nootropic supplements, most notably in the capsule category (only 32 for 16 OptiMind servings??) and in the pricing category (you want me to pay how much, Qualia??).
So, to get a better idea of what we're dealing with here, I'll need to take a more qualitative look at these supplements, calculating the actual value of those numbers. Let's read the comparison review to see what's what between these big money stacks.
Formula Design
Woah, unfair! Single-stack OptiMind against two-for-one Qualia? That's like pitting Brock Lesnar and Kimbo Slice (may he R.I.P) against Conor McGregor — I don't care how great McGregor is, the odds simply aren't in his favor.
But, of course, not all big boys are Brocks or Kimbos. Especially within the realm of brain health supplements. In fact, it's the long listed formulas that tend to be the most ineffective: You expect all of those ingredients to work with such tiny capsule space? So, let's see if we have an underdog success story on our hands here, starting with the underdog.
OptiMind: Proprietary Feel-Goods and Chemicals
Focus Longer, Wake Up Effortlessly, Feel the Effects Today — these are the purported benefits of OptiMind and its brain chemically formula (as purported by OptiMind). And, well, to all of that I say… maybe.
Why the lack of confidence, Geek?
I'll tell you why in two words: Proprietary Blend.
That's right. OptiMind has gone the way of non-transparency with its Supplement Facts, hiding its individual ingredient dosages under a proprietary "Focus Blend" label. Which means I have to guess at what's working in this formula — and I'm not a nootropic guesser. I'm a God damn reviewer. And here's my best guess review: OptiMind has some decent neurotransmitter supporting nootropics. The most exciting addition being Sulbutiamine, a synthetic mood and motivation booster with potential benefits against social anxiety. Only one problem: It's prioritized below Vinpocetine and Huperzine-A, which require massively low dosages.
Which only exacerbates my already exacerbated lack of confidence. Read my in-depth review on OptiMind.
Qualia: Everything but the Kitchen Sink
Okay, where do I start with Qualia… I suppose the best place to begin is with Step One of Qualia's "two step" double stack formula. I likely won't get to everything in this 40+ ingredient product, but here it goes: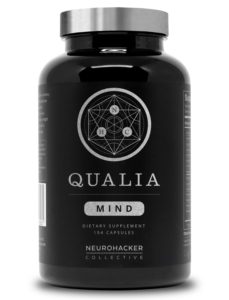 Qualia: Step One
12 ingredients packed into 3 clean veggie capsule servings, taken first thing in the morning. Here you'll find a smart mix of caffeine (delivered as Purenergy™) and L-theanine for your calm morning energy boosts, Rhodiola rosea for your "sleep-be-gone" fatigue reduction, as well as Noopept and DHEA, which somewhat complicate things here. After all, DHEA is a banned substance in competitive sport, and Noopept is a synthetic "smart drug" that, while it delivers fast cognitive enhancement, does come with tolerance issues. Even so: a powerful brain booster wake-up supp can be found in Qualia's Step One formula.
Qualia: Step Two
Now, onto Step Two: 30 ingredients, 5 tablets (why tablets?), taken 20 minutes after Step One with a meal. And, well… *exhhhaaaale* okay, I'll do my best to cover as much as I can here. Essentially, what we're seeing is a cleaner mix of nootropics — and by "cleaner" I mean that we're not seeing anything on par with Noopept and DHEA. The nootropics are generally natural, and there's an increased emphasis on antioxidants (vitamin C, curcumin extract, green tea extract) and cholinergic enhancement (bacopa, citicoline, alpha GPC, huperzine A, and more).
If I had to choose between Step One and Step Two, I'd likely side with Step Two. Even though Step Two comes with a greater risk of negative ingredient interactions — and, thus, side effects. Which is sort of the flipside (and downside) to Qualia's incredible bio-diversity of brain benefits. Neurohacker Collective has gone balls to the wall with their product, and I'm actually impressed by that. But also somewhat skeptical… I'd almost prefer a slimmer, tighter stack that focuses solely on the key "pressure points" of cognition than a comprehensive brain health super-stack. But, hey! if it works, it works. And Qualia seems to work. Read my in-depth review on Qualia.
Unique Features
It'd perhaps be easier for me (and likely for you), if I were to simply list OptiMind's unique features and we assume that Qualia supplies every other ingredient known to humankind. However, upon closer inspection, OptiMind has a few surprise advantages over Qualia… a few. But they're worth pointing out. Check it:
OptiMind
Phosphatidylserine (as Serinaid®) – Qualia has Phosphatidylserine. OptiMind has Serinaid®, a premium PS brand (albeit at an undisclosed amount). More on Phosphatidylserine.
Bacopa Monnieri (50% Extract) – Qualia has a 45% extract. OptiMind has a 50% extract (albeit at an undisclosed amount). Both are great but 50% is obviously greater than 45%. More on Bacopa Monnieri.
Gamma-aminobutyric Acid (GABA) – Qualia doesn't mess around with GABA, likely because they know its practically useless as an oral supplement. Yet, OptiMind has it, making it a relatively unique feature to OptiMind's formula.
Alpha Lipoic Acid – Known as the "universal antioxidant", ALA seems to boost the brain and body's resistance to free radical damage. Not a bad addition here. More on Alpha Lipoic Acid.
Sulbutiamine – The most unique addition to OptiMind's brain stack, Sulbutiamine classifies as a synthetic in my book. Although, it's unfortunate that OptiMind prioritizes this nootropic so low in its proprietary blend. More on Sulbutiamine.
Qualia
I won't list every unique ingredient but rather the most stand-out nootropics and features in Qualia's formula, such as:
Noopept – As a racetam-like smart drug, Noopept essentially acts like a jazzed up piracetam, with subjective reports of having a "psychostimulatory" effect on cognition. May come with tolerance issues, if taken daily over time. More on Noopept.
DHEA – Not too sure about this guy. Despite the controversy around this prohormone, DHEA doesn't seem to do much for the brain or body when orally supplemented. At least, it doesn't seem worth the triggered drug test (if you're a competitive athlete).
Caffeine (as Purenergy™) – Two-parts caffeine and pterostilbene, an awesome antioxidant polyphenol, Purenergy™ is a quality source of an otherwise commonplace stimulant. More on Caffeine.
PQQ (as BioPQQ™) – Quality PQQ brand. This brain energizer has a potent antioxidant status with potential cognitive longevity expanding benefits. More on PQQ.
N-Acetyl L-Tyrosine – OptiMind has L-tyrosine. Qualia has N-Acetyl L-Tyrosine, the more enhanced L-tyrosine form, which converts to focus and energy boosting catecholamine neurotransmitters. More on L-Tyrosine.
Citicoline – My preferred nootropic choline donor, citicoline is two-parts choline and cytidine, which converts to uridine, a powerful nootropic compound with significant brain building potential. More on Citicoline.
Two Step Stack – OptiMind packs all of its contents into a single formula, whereas Qualia splits its 40+ ingredients across two separate stacks. This seems necessary to reduce any nutrient absorption competition issues between Qualia's ingredients.
Potency & Quality
If a nootropic supplement goes the proprietary blend route, it has a chance to win back some points with its ingredient quality. After all, what if a product truly wants to keep its formula a proprietary secret? I'm not tossing that possibility completely out the window, especially if the supplement demonstrates an investment in fiery hot ingredients and extracts.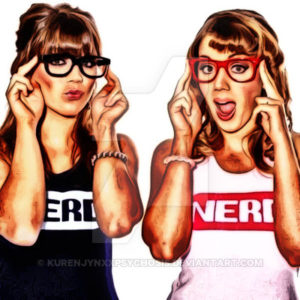 OptiMind has a few decent quality nootropics, most notably: Vitamin B12 (as Methylcobalamin), Phosphatidylserine (as Serinaid®), and Bacopa Monnieri Extract (50% Bacosides). Not too shabby. Yet, not the most stellar example of a high quality supplement — the majority of the supplement sits on average to below-average quality ingredients.
Qualia, on the other hand, really impresses in this category, showcasing a wide range of high quality ingredients — made more impressive by how many ingredients are in this double-stack. The herbs are all potent extracts, the aminos are in bio-active forms, the vitamins and minerals are easily absorbed… If I have to read closely and squint to find faults with a formula's ingredients, then I'm staring at a finely tuned nootropic stack.
Qualia is finely tuned. OptiMind has room for improvement.
Value: OptiMind vs. Qualia

Price
Servings
Price Per Serving
OptiMind
$60
16
$3.75
Qualia
$149
22
$6.77
Both OptiMind and Qualia offer single bottle orders as well as discounted subscription orders. For OptiMind, the single bottle subscription comes out to $43.31 per month, reducing that price per serving cost to $2.71. Qualia, on the other hand, costs $129 per monthly supply, rounding out to $5.86 per serving. Still a buttload all around, yet the subscription options are obviously cheaper. (Yet, you have to bear in mind that OptiMind falls significantly behind on the capsule count.)
Also, it's definitely worth noting that OptiMind has plenty of negative customer reviews under its name that complain of shady tactics with OptiMind's autosubscription service. Qualia, as far as I know, has no issues with its autosub orders.
OptiMind or Qualia: Which is better?
OptiMind has Sulbutiamine.
Stacked against Qualia, about the only thing that OptiMind really has going for itself is Sulbutiamine. Not too many mainstream supplements carry this potent nootropic, and I think this actually works to OptiMind's benefit …even if I'm not at all confident that OptiMind delivers a sizable enough amount of the mood booster. But, hey, I took my Sulbutiamine today, so I'm feeling positive about it!
Qualia not only has more ingredients but more better ingredients.
I realize "more better" makes me sound like a three year old (I'm actually turning seven next month), but that's the best way to put it: Qualia has a lot of ingredients and they're all better than OptiMind's. Unless you're big on Sulbutiamine or Alpha Lipoic Acid, there's not much reason to side with OptiMind over Qualia. And I realize that Qualia is insanely expensive, but so is OptiMind when you factor in the product's horrible serving count. Either way, prep thy wallet's butt cheeks…
My Recommendation
Due to pricing concerns, I'm not 100% confident to recommend either OptiMind or Qualia. Personally, with that kind of money, I think there are better nootropic investments that will give you a greater bang for your buck than what's offered here.
However, if you're a big-time brain health spender, the obvious option is obvious: Qualia.
Qualia has just about everything you need for better short- and long-term thinking, and then some. Perhaps too much "then some" — however, it's definitely a substantial step up from OptiMind's proprietary blend obscurity. I prefer to know exactly what's going into my body, and Qualia at least does us the service of detailing their product. And that gets a fat two-step thumbs up from this guy.
Qualia > OptiMind