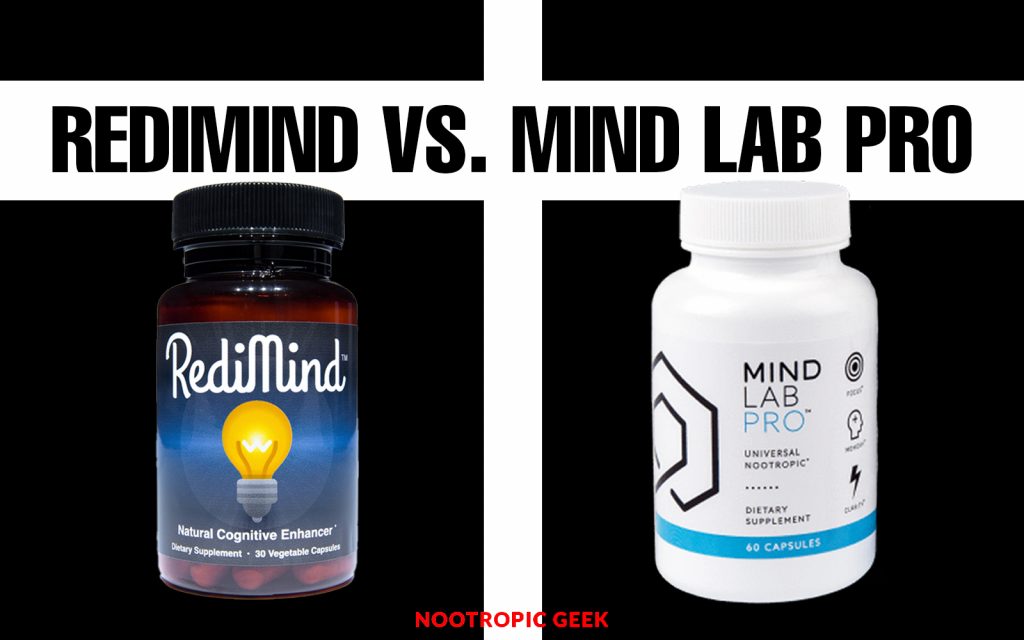 Summary: RediMind vs. Mind Lab Pro Comparison Review
I'm here to compare RediMind and Mind Lab Pro, but, really, there is no comparison. RediMind simply isn't a good nootropic formula, whereas Mind Lab Pro is one of the best. For the past several years, Mind Lab Pro has set the gold standard on what a daily nootropic formula should look like — one that boosts acute cognitive performance while supporting long-term brain health. RediMind, on the other hand, is well-marketed and widely distributed… and that's about all that it has going for itself. It's an easy judgment call for me: Mind Lab Pro.
Formula Design
Off the bat, the first thing you should notice: RediMind uses a proprietary blend, Mind Lab Pro does not.
Essentially, proprietary blends (look at RediMind's Supplement Facts) obscure the individual ingredient dosages, under the guise of protecting companies' "proprietary secrets." This is BS and almost always a shady tactic for supplement manufacturers to hide their cheap, poorly dosed formulas, as I suspect to be the case with RediMind.
RediMind vs. Mind Lab Pro: Ingredients
RediMind Supplement Facts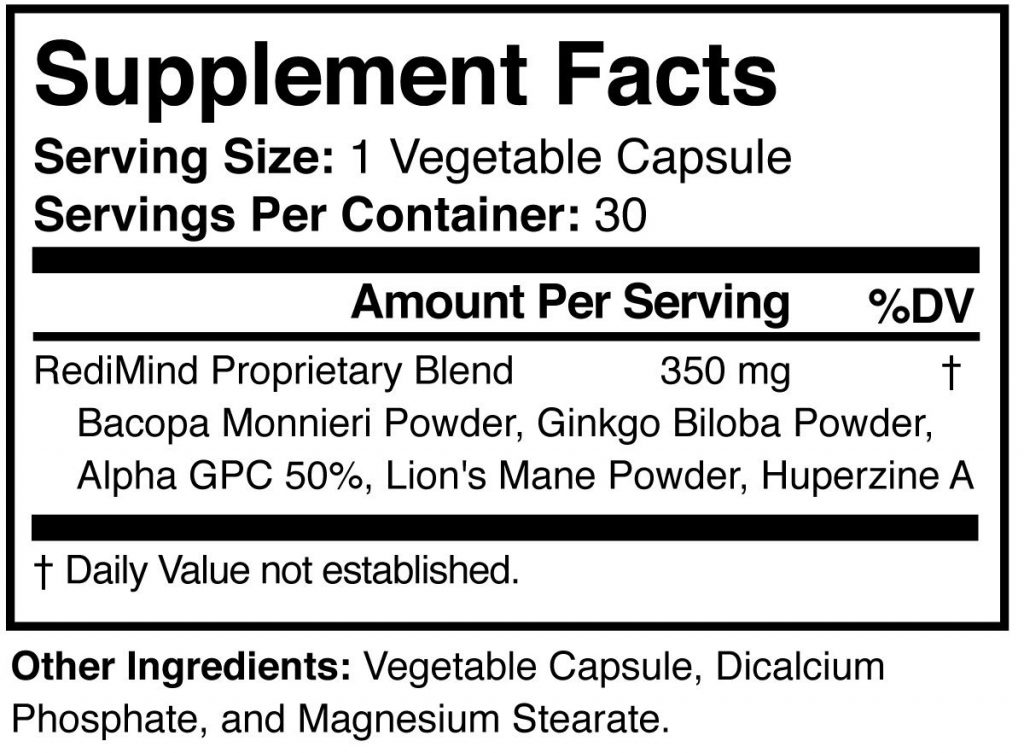 Directions: Take one (1) capsule once or twice daily or as directed by a physician. Read warnings and use only as directed.
Mind Lab Pro Supplement Facts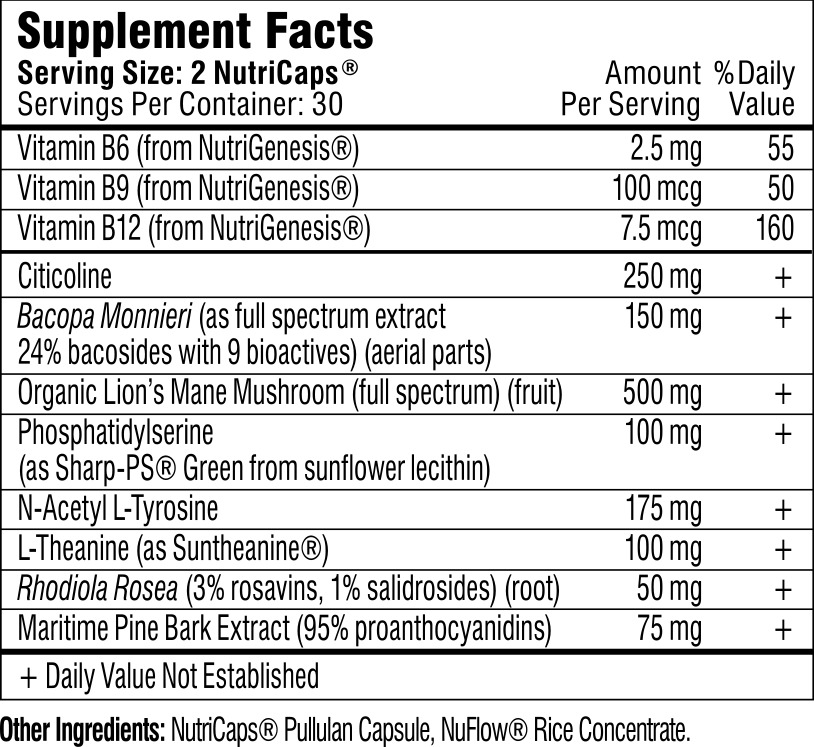 Directions: Take 2-4 capsules per day. For best results, take 2 capsules in the morning on an empty stomach. During times of intense cognitive activity – such as studying for exams, meeting demanding work deadlines or preparing for competition – you can add a further 2 capsules around lunchtime.
RediMind: Formula Review
The big selling point for RediMind is the "clinically studied" claim on its label, which is typically BS… but actually seems to apply here. There was seemingly a study performed; however, if you read my RediMind review, you know that I don't buy the results of this study (which claim 45% memory increase after 2 weeks of supplementation). Frankly, it's clearly a bogus study, considering how weak and clinically underdosed these ingredients are.
RediMind does what many inferior nootropic supplements do: it hides its individual ingredient dosages beneath a proprietary blend. The RediMind proprietary blend allots 350mg total for its five ingredients, at least three of which would have to take up that entire dosage (or more) to work. In other words, what you're paying for with RediMind is a collection of well-researched nootropics of questionable quality dosed at subpar levels. All in all, RediMind is a weak brain health supplement.
Read my in-depth RediMind Review.
Mind Lab Pro: Formula Review
Don't get it twisted: RediMind's ingredients, if properly dosed, could actually work to improve to memory memory and brain circulation. With such cholinergic acting ingredients as Bacopa and Alpha GPC, RediMind is pointing in the right direction for memory support. And if you follow where RediMind is pointing, you'll end up at the doorstep of Mind Lab Pro, an all-in-one brain health and performance stack that supports memory, learning, focus, neuroregeneration, neuroprotection, and then some.
With an incomparably potent supply of Bacopa monnieri extract (24% bacosides with 9 bioactives) and citicoline (a superior form of nootropic choline over alpha-GPC), Mind Lab Pro already outcompetes RediMind on the cholinergic front. What's more, Mind Lab Pro also supplies L-theanine and L-tyrosine for more immediate and noticeable boosts on cognition — these nootropics being two of my favorite for their complementary benefits with caffeine. The idea behind Mind Lab Pro is to hit the 6 key biopathways (energy, neurotransmitters, circulation, brainwaves, neuroprotection, neuroregeneration) to achieve 100% brainpower, without relying on any stimulants or synthetics.
All clean, green brainpower. Really, an impressive nootropic supplement through and through.
Read my in-depth Mind Lab Pro Review.
Unique Features
Though Mind Lab Pro covers the biopathways of RediMind, the two still have unique ingredient profiles. Here are the unique features of each respective nootropic formula.
RediMind
Ginkgo Biloba: Perhaps the most research-backed herbal ingredient, Ginkgo has well-documented benefits on circulation and working memory, especially when paired with Rhodiola (as per this study)… which isn't in RediMind, but it's still good to know! More on Ginkgo.
Alpha GPC: A popular ingredient in both brain health and workout supplements, alpha-GPC supplies a good source of choline, which is a precursor to neurotransmitter acetylcholine, the brain chemical associated with memory and high-order cognitive processes. More on Alpha GPC.
Huperzine A: This is perhaps the only ingredient in RediMind likely to work. Hup-A is a cholinesterase inhibitor, meaning it has a protective effect on acetylcholine production. More on Huperzine A.
Mind Lab Pro
Citicoline: I prefer citicoline over alpha-GPC, since citicoline supplies both choline and cytidine, a precursor to brain-energizing uridine. An overall great nootropic to take daily to support brain energy and cell regeneration. More on Citicoline.
Phosphatidylserine (as Sharp-PS®): A quality soy-free PS brand, Sharp-PS can help optimize brain glucose (energy) metabolism, nerve growth factor (NGF) activity, and brain cell membrane health. More on Phosphatidylserine.
N-Acetyl L-Tyrosine: A pro-catecholamine, meaning that L-tyrosine converts to catecholamines (dopamine, norepinephrine) to sustain mood and focus, especially in the face of sleep deprivation and excess physical activity. More on L-Tyrosine.
L-Theanine (as Suntheanine®): Many nootropic enthusiasts are familiar with L-theanine's synergistic effects with caffeine. This green tea amino acid simultaneously calms the mind and sharpens focus, taking the jittery edge off of stimulants while promoting cognitive performance. More on L-Theanine.
Rhodiola Rosea: I might be Rhodiola's biggest fan. I take Rhodiola every morning for HPA Axis (stress system) support to keep my stress hormone cortisol levels in check and fatigue at bay. More on Rhodiola.
Maritime Pine Bark Extract: RediMind uses Ginkgo for circulatory benefits, whereas Mind Lab Pro opts for maritime pine bark's circulatory benefits, which also seem to assist with attention.
Potency & Quality
Next to dosage (quantity), the next important metric of a nootropic supplement's efficacy is the potency of its ingredients. Unfortunately (and predictably), RediMind fails in this department where Mind Lab Pro thrives.
Look at RediMind's Supplement Facts and you see the word "Powder" where you'd like to see "Extract." For example, RediMind supplies Bacopa monnieri powder, while Mind Lab Pro has Bacopa monnieri extract (24% bacosides with 9 bioactives), which essentially provides a greater concentration of all the good stuff in this brain-boosting botanical.
The same applies for each supplement's respective supply of Lion's Mane: RediMind has Lion's Mane powder, Mind Lab Pro has Lion's Mane full spectrum (all of the mushroom's active constituents for brain support and NGF production).
Finally, there are the "Other Ingredients," meaning the capsule qualities — each formula's delivery system. Mind Lab Pro also beats RediMind on this front with the former's unique use of patented NutriCaps®, a clean, prebiotic, all-natural capsule that's easy to digest and does nothing to interfere with the formula's overall bioavailability.
Value: RediMind vs. Mind Lab Pro

Price
Servings
Price Per Serving
RediMind
$39.95
30
$1.33
Mind Lab Pro
$69
30
$2.30
RediMind has Mind Lab Pro beat by roughly $1 per serving. Granted, Mind Lab Pro does have a few purchasing options, with the third option (3 boxes + 1 free) getting you four boxes at the discounted $1.73 price per serving cost, as well as free shipping. In other words, you have to pay more up front but it's cheaper (and more convenient) in the long run.
RediMind or Mind Lab Pro: Which is Better?
RediMind is a bogus brain stack.
Save your money. Don't buy RediMind. Especially at roughly $40 per bottle (full of capsules that don't do much of anything), RediMind simply isn't worth the investment. Not that you should discount the ingredients used in its formula: Bacopa, Ginkgo, Lion's Mane — these are great, effective, natural nootropics for boosting memory and brainpower. However, with RediMind's poorly dosed proprietary blend, they won't accomplish much of anything here. Pass.
Mind Lab Pro is a complete nootropic brain booster.
Unlike RediMind, Mind Lab Pro actually works — and it works really well. Targeting all the key "pressure points" of cognition and brain health, Mind Lab Pro is an awesome foundational nootropic stack that boosts daily performance while taking care of the big picture stuff: neuroregeneration, neuroprotection, etc. etc. Plus, Mind Lab Pro hits the same bio-benefits (and then some) as RediMind, except with greater ingredient quality and potency.
My Recommendation
Not exactly a close comparison. RediMind is shady and host to a poorly dosed formula, whereas Mind Lab Pro is an excellent all-in-one nootropic brain health supplement. What's more, Mind Lab Pro is fully transparent in its formula, showcasing impressive quality cognitive enhancers in an all-natural NutriCaps® delivery system.
The lesson here for consumers is that typically if a supplement has a formula to be proud of, they're likely to show their cards with full transparency. With that in mind, my final recommendation between these two supplements is: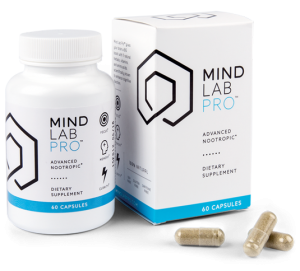 Mind Lab Pro