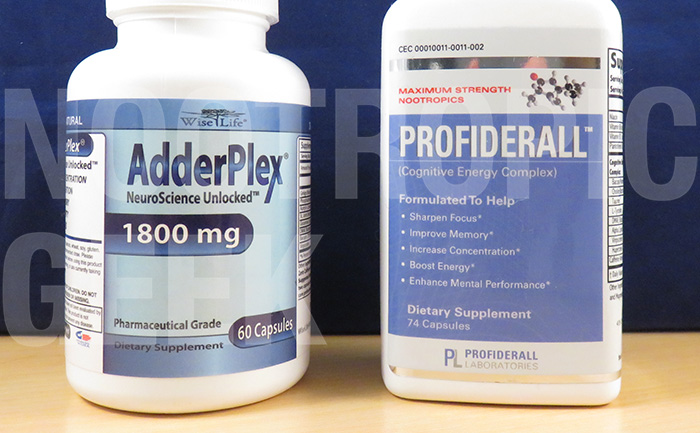 Adderall is a hell of a drug.
Nootropics, on the other hand, are hella aight as the kids say, which I'm told means, like, super fantastic or something. Which is essentially why many Adderall users–who are trying to kick the habit–are converting to nootropics, to reclaim their brain health while legally boosting brain function.
Because of this, many nootropic stacks are selling themselves as legal Adderall alternatives. Some get it right, others just shamelessly take advantage of the smart drug market. And then there are those that shamelessly take advantage yet still get it right.
Where do AdderPlex and Profiderall lie on this spectrum?
And, more importantly, which is better?
Formula Design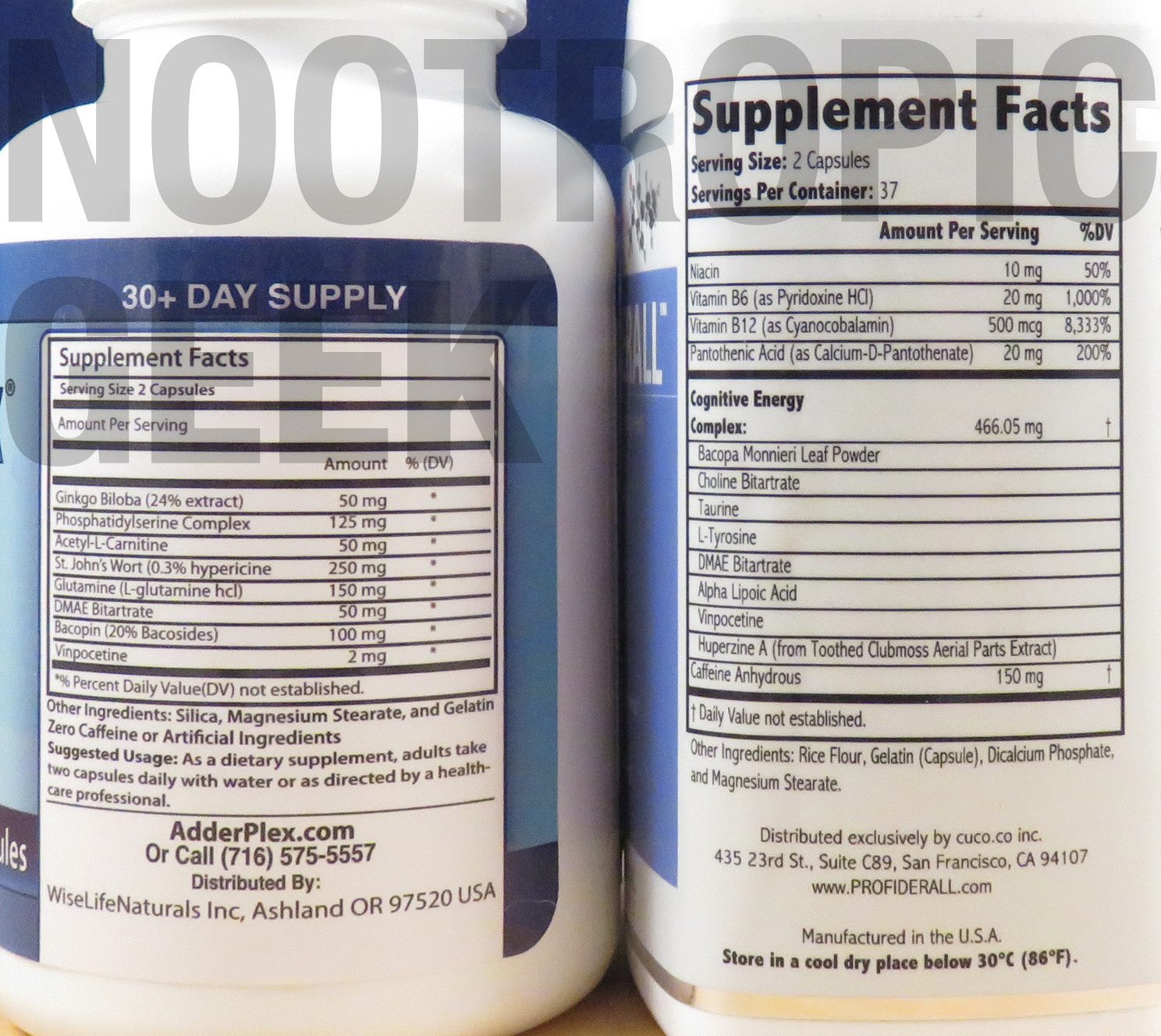 Combine the names of these supplements and you get either Adderall or Profiplex. If we're talking nootropics, I'm partial to the second name for its play on the word "professor." After all, what is the Nootropic Geek but an online professor of all things nootropic & awesome, am-I-right doods??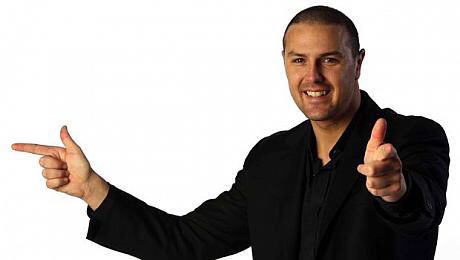 Of course I'm right.
However, these products are clearly playing off of the word "Adderall" as an obvious attempt at selling themselves as natural, guilt-free versions of the Adderall experience. Nootropics aren't meant to imitate the Adderall experience, but they help enhance focus in other, healthier ways.
Let's see how these Adderall alternatives work:
AdderPlex: Brain Health & Happy Feel-Goods
For a supplement that plays off of the name "Adderall" there's an blatent lack of stimulation in the formula. Actually there's no stimulation, not even caffeine, but rather a decent list of nootropics, most notably St. John's Wort, which takes up most of the milligrams in AdderPlex.
St. John's Wort is a popular, natural antidepressant, believed to help combat mild depression and mood imbalances. It's not a bad choice as a mood booster, especially when accompanied by a number of brain healthy cognitive enhancers: e.g. Phosphatidylserine, DMAE, Bacopa, Vinpocetine.
None of these will provide Adderall levels of focus & attention, but they do support brain structure & memory-related cognitive functions. Frankly, I'd take those over cheap stimulation any day of the week (except for Friday nights, of course). Read my in-depth review on AdderPlex.
Profiderall: Caffeinated Adderall Alternative
Profiderall does have the stimulation, and a decent amount of it at 150 mg Caffeine Anhydrous. I wouldn't expect Adderall levels of focus & attention from Caffeine either, but it's a closer experience to the ADHD drug than what AdderPlex provides.
Aside from that, we're seeing a similar nootropic profile to AdderPlex (Bacopa, DMAE, Vinpocetine) with a number of "energy drink" ingredients tossed in as well (Tyrosine, Taurine, Vitamin B6, Vitamin B12). Given the proprietary blend design of this formula, it reads like an inferior nootropic product to AdderPlex, but its ingredient selection marks it down as a more traditional Adderall alternative supplement. Not a bad source of caffeine, if you ask me. Read my in-depth Profiderall review.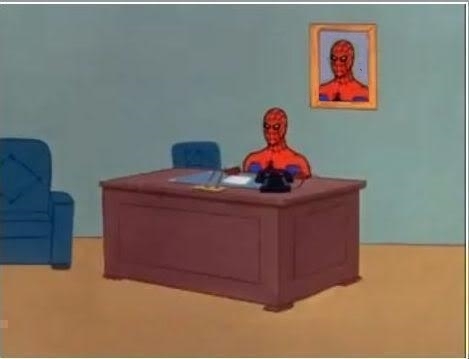 Unique Features
The differences between these supplements can essentially be filtered down to caffeine. Because that's what you're likely to notice (or not notice) between AdderPlex and Profiderall. Even though, that's not the only difference dividing their formulas, each possessing their own unique features listed below:
AdderPlex
Ginkgo Biloba Extract. Potent extract of Ginkgo, an ancient herb typically used for elderly circulation, but supports memory as well.
Phosphatidylserine Complex. I wish I knew exactly what the "complex" entails (is it soy-derived? sunflower-derived?), but a solid nootropic nonetheless.
St. John's Wort. Extract of a well-researched natural antidepressant, standardized to 0.3% hypericine.
Acetyl-L-Carnitine. ALCAR is the right form for cognitive energy. Unlike regular L-Carnitine, ALCAR is able to cross the blood-brain barrier.
Bacopa Extract. Profiderall has plain Bacopa powder. AdderPlex has Bacopa extract, standardized to 20% bacosides. Not the best extract, but better than powder.
Profiderall
B Vitamins. Not the best B vitamin forms (P-5-P and methylcobalamin are better), but an okay "feel-good" counterpart to AdderPlex's St. John's Wort.
Taurine & Tyrosine. Again, not the best forms, but these energy drink classics are helpful in resisting stress and excess caffeinated energy.
Huperzine-A. An awesome companion to Vinpocetine for its low dosage requirement. Inhibits deactivation of acetylcholine, supporting memory & learning functions.
Caffeine. Popular drug likely coursing through your veins right now.
Potency & Quality
Potency & quality aren't the strong suits of either AdderPlex nor Profiderall, yet they're more suitable to AdderPlex than Profiderall. This is evidenced by the:
Herbal Extracts. Bacopa being a direct comparative example of this.
Actually that's it.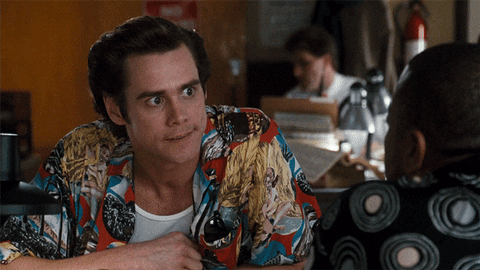 The herbal extracts. That's what earns AdderPlex an edge over Profiderall, which uses plain powder Bacopa, cheap Choline Bitartrate (the worst of the choline sources), cheap B vitamins, and low-grade aminos (L-Tyrosine & Taurine).
Plus Profiderall hides its ingredients under a proprietary blend, obscuring the individual dosages of each ingredient. This is particularly annoying when I see the capsule filler "Rice Flour" listed under the "Other Ingredients."
466.05 mg isn't the highest dosage for these ingredients. I'm thinking the rice flour should be tossed to make room for more nootropics. On the other hand, AdderPlex's "Other Ingredients" are cleaner and its formula serves more Pros than Cons in the potency & quality department.
But does this quality come at a cost?
Value: AdderPlex vs. Profiderall

Price
Servings
Price Per Serving
AdderPlex
$49.99
30
$1.67
Profiderall
$54.99
37
$1.49
AdderPlex or Profiderall: Which is better?
AdderPlex is stimulant-free cognition.
The best nootropic stacks are able to boost focus & attention without resorting to caffeine (and if they do supply caffeine, they counter it with layers of brain nourishing nootropics). AdderPlex doesn't quite rank among the elite levels of nootropic supplements, but its brain health benefits are impressive, particularly in the absence of caffeine.
Sometimes the best substitute for stimulants is avoiding them altogether.
Profiderall is caffeinated focus.
Now that I've talked shit on caffeine, let's talk about Profiderall (which has caffeine). As a nootropic, Profiderall reviews poorly, both in terms of quality & ingredients. However, as a caffeine source, Profiderall provides a decent, healthy option, that edges out coffee by having the upside of providing measurable cognitive advantages.
If Profiderall were willing to remove the proprietary status of its blend, showing us its actual dosages, then I'd likely give it a higher review. But as it stands, it's sort of looking like glorified caffeine capsules posing as a nootropic Adderall replacement.
My Recommendation
I geek out on nootropics. Not caffeine, which misses out on the "health" aspect of nootropics. This is essentially why uppers like Adderall, Vyvanse, and Modafinil don't make the nootropic cut either: They temporarily sharpen cognition, but at the long-term cost of brain health. The same can arguably be said for caffeine.
Profiderall doesn't make a convincing enough argument that it's more than a caffeine pill. Otherwise I'd be willing to agree that caffeine in an intentional "Adderall alternative" isn't a bad idea. But as it stands, Profiderall makes a poor attempt at boosting brain health, whereas AdderPlex does well in that arena.
Not super fantastic, but well. Thus earning my final recommendation:
AdderPlex > Profiderall
Read my Best Nootropic Supplements to Buy in 2020 list here.