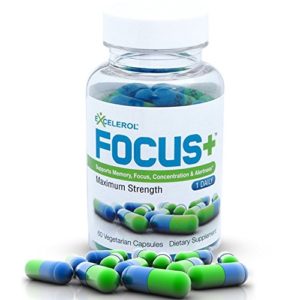 Excelerol may not be the "America's #1 brain supplement" as it claims.
But it does carry the world's #1 favorite brain drug.
You know what I'm talking about: Caffeine. And it doesn't carry just one caffeine but EIGHT CAFFEINES. Or rather eight sources of caffeine, split into various forms and colors of teas, which are sort of a red herring: Black, Green, White, etc. teas all originate from the same plant. In essence, Excelerol's formula lists the same ingredient over and over.
Confused? I don't blame you.
Let's read the Excelerol Focus Plus review to make sense of this madneth.
About Excelerol Focus Plus
Manufactured by Accelerated Intelligence, Excelerol Focus+ claims to enhance Focus and then some (hence the "Focus Plus" in the title).
Compared to its predecessor (Excelerol®), Excelerol Focus+ is nearly identical, with exception to a much, much cheaper price tag and serving requirement.
The first four ingredients look decent, but the remaining 16? Hard to say with all of those tea extracts clumped together in that proprietary blend.
Excelerol Focus Plus Ingredients

Ingredients
Amount Per Serving
Vitamin B12 (as Methylcyanoblamin)
625 mcg (10,416% DV)
Niacin
10 mg (50% DV)
Huperzine 1% Standardized
12.5 mcg
Vinpocetine Standardized
600 mcg
Proprietary Blend
325 mg
Matcha Green Tea (leaf), Coffee Bean Extract, Rhodiola (root) Extract, Ginkgo Biloba (leaf) Extract, Phosphatidylserine, Alpha-Glyceryl Phosphoryl Choline, Guarana (seed) Extract, Green Tea Extract, Kola Nut Extract, Black Tea (leaf) Extract, DMAE, Holy Basil (leaf) Extract, Peppermint (leaf) Extract, White Tea (leaf) Extract, Acetyl L Carnitine, and Menthol
Serving Size: 1 Capsule
Servings Per Container: 60
Other Ingredients: Hypromellose (vegetarian), Titanium Dioxide, FD&C Blue #1, Yellow #5 and #6.
Directions: Take one capsule daily with plenty of water.
First impression: Excelerol Focus+ seems have ingredient count confused with ingredient dosages. There are many ingredients in this stack (20!), but nowhere near enough milligrams to cover them all. Say, what're you trying to pull here, Excelerol!!
Time to solve this mystery, ingredient by ingredient:
Excelerol Focus Plus Review: Ingredients
Vitamin B12 (as Methylcyanoblamin) – This is a strange one: "Methylcyanoblamin." Try Googling that. It's not a real B12 form but rather an amalgamation of methylcobalamin and cyanocobalamin. The standard Excelerol product corrected this to methylcobalamin, the preferred B12 form. Hopefully, Focus Plus carries the same. Either way, someone is getting fired. More on Vitamin B12.
Niacin – Vitamin B3, a circulation enhancer common to pre-workout supplements and a key constituent to the nootropic drug picamilon.
Huperzine (1% Standardized) – Potent semi-synthetic compound sourced from Chinese club moss. Inhibits acetylcholinesterase, an enzyme that catalyzes the breakdown of neurotransmitter acetylcholine. More on Huperzine A.
Vinpocetine (Standardized) – Another potent semi-synthetic compound, another circulation enhancer. Significantly increases blood flow to the brain. More on Vinpocetine.
Proprietary Blend
Only 325 mg to divvy across 16 ingredients. And most of those ingredients are natural sources of caffeine. Not the most nootropic approach to enhancing cognition. I'll cover the actual nootropics first, then let's figure out the caffeinated herbal extracts:
Rhodiola Extract – Awesome adaptogen, grown in high Siberian altitudes. Assists the brain and body in resisting stress and fatigue, enhancing mental and physical performance. More on Rhodiola.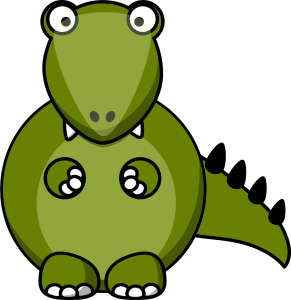 Ginkgo Biloba Extract – Known as a "Living Fossil" for its deep roots in this planet's history, Ginkgo is a circulation enhancer with significant memory and mood benefits. More on Ginkgo Biloba.
Phosphatidylserine – One of my favorite brain health nootropics, favored for its general support of long-term cognitive health, so awesome even the FDA wrote a letter about it. More on Phosphatidylserine.
Alpha-Glycerol Phosphoryl Choline – Or alpha-GPC, a notable nootropic choline donor, precursor to acetylcholine and phosphatidylcholine. While I prefer citicoline as my choline source, alpha-GPC supplies more choline per serving. More on Alpha GPC.
DMAE – Sort of an overrated nootropic, given that we know very little of its bio-effects. Seems to benefit cognition associated with hyperattention and neurodegeneration. More on DMAE.
Holy Basil – Viewed as a sacred adaptogen in Ayurvedic medicine, holy basil is similar to rhodiola in its resistance boost against stress and anxiety.
Acetyl-L-Carnitine – ALCAR is able to cross the blood-brain barrier, improving mitochondrial energy output in brain cells. Research only points to improvements in elderly cognition. More on ALCAR.
The remaining ingredients — coffee bean extract, green tea extract, black tea extract, white tea extract, etc. — involve a series of herbal caffeine sources, each delivered in an "extract" form that, if I had to guess, is primarily comprised of caffeine. And then there's peppermint and menthol, which are cool and minty! Chicka-chicka-yaaaaa.
Excelerol Focus Plus Review: Proprietary Caffeine+
Excelerol Focus+ reads like an exceptional anti-stress, anti-anxiety nootropic stack that's been mixed with a very cheap, BS caffeine pill. And that's focusing strictly on ingredient choices.
In terms of ingredient count, the formula is inherently broken:
You can't fit 16 ingredients into a 325 mg proprietary blend.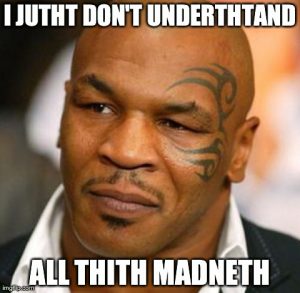 Well, technically, you can fit 16 ingredients into a 325 mg proprietary, but you shouldn't if you want your ingredients to actually work. The fact that Excelerol Focus+ takes the proprietary blend route, masking its individual ingredient dosages, and fills the blend with a variety of caffeinated herbal extracts leads me to question the validity of its "nootropic" status.
I suspect the answer to that question is: Caffeine is a nootropic.
In which case, fine: Excelerol Focus+ certainly passes as a caffeine "smart pill." It may even qualify as a healthy caffeine smart pill for its herbal admixture of caffeine and nootropics. Although, that point is somewhat diminished by the junky "Other Ingredients" additives.
The Pros
Excelerol Focus+ takes the herbal route of caffeination, potentially including brain healthy herbal antioxidants and neuroprotectors.
Huperzine-A and Vinpocetine are at least adequately dosed, somewhat guaranteeing a nootropic edge to this caffeine supplement.
Compared to its predecessor, Excelerol Focus+ is insanely cheap. This both reveals and justifies the cheapness of its formula.
The Cons
Caffeine does not qualify as a nootropic in my book, and Excelerol Focus+ almost uses it deceptively, advertising nootropic benefits on cheap stimulation.
The proprietary status of Excelerol's blend masks the individual ingredient dosages, obscuring the mg levels of some pretty awesome nootropics (e.g. rhodiola, phosphatidylserine, alpha-GPC).
Excelerol colors its capsules with junk colorants and additives.
Pricing
$19.92 for 60 capsules, a < 60-day supply
$0.33 per serving
Amazon grants a Subscribe & Save option, which adds a 5% discount to each bottle's price, reducing each bottle's cost to $18.92 (per month).
Who Takes Excelerol Focus Plus?
Charming, good-looking (paid?) reviewers. There are many positive customer reviews accompanied by videos of college students, mothers, workers, etc. recommending Excelerol Focus+ because "Honestly, i did not think Focus Plus would really help me focus better. I'm happy to say this product is definitely helping me!"
Oh, is that so…
Where to Buy It
You can buy Excelerol Focus+ directly through the manufacturers as well as GNC and Amazon. Although, it seems to be easiest to find on Amazon (and it's also cheapest there).
Conclusion: Does Excelerol Focus Plus Work?
Excelerol Focus+ certainly amps up the energy. And typically I'm lenient on this in a manufactured nootropic supplement, but only if L-theanine is provided to reduce the jittery side effects of excess stimulation.
Excelerol Focus+ does not have L-theanine.
Even the paid customer reviews acknowledge a jittery edge to this supplement, leading me to believe it doesn't work as a bona fide cognitive enhancer. Given its cheap price, it may be worth the consideration if you're looking to add caffeine to your DIY nootropic stack.
But as a standalone nootropic supplement? Not quite.
Final Rating
Formulation Strategy

Brainpower Benefits

Brain Health Benefits

Transparency

Quality

Value