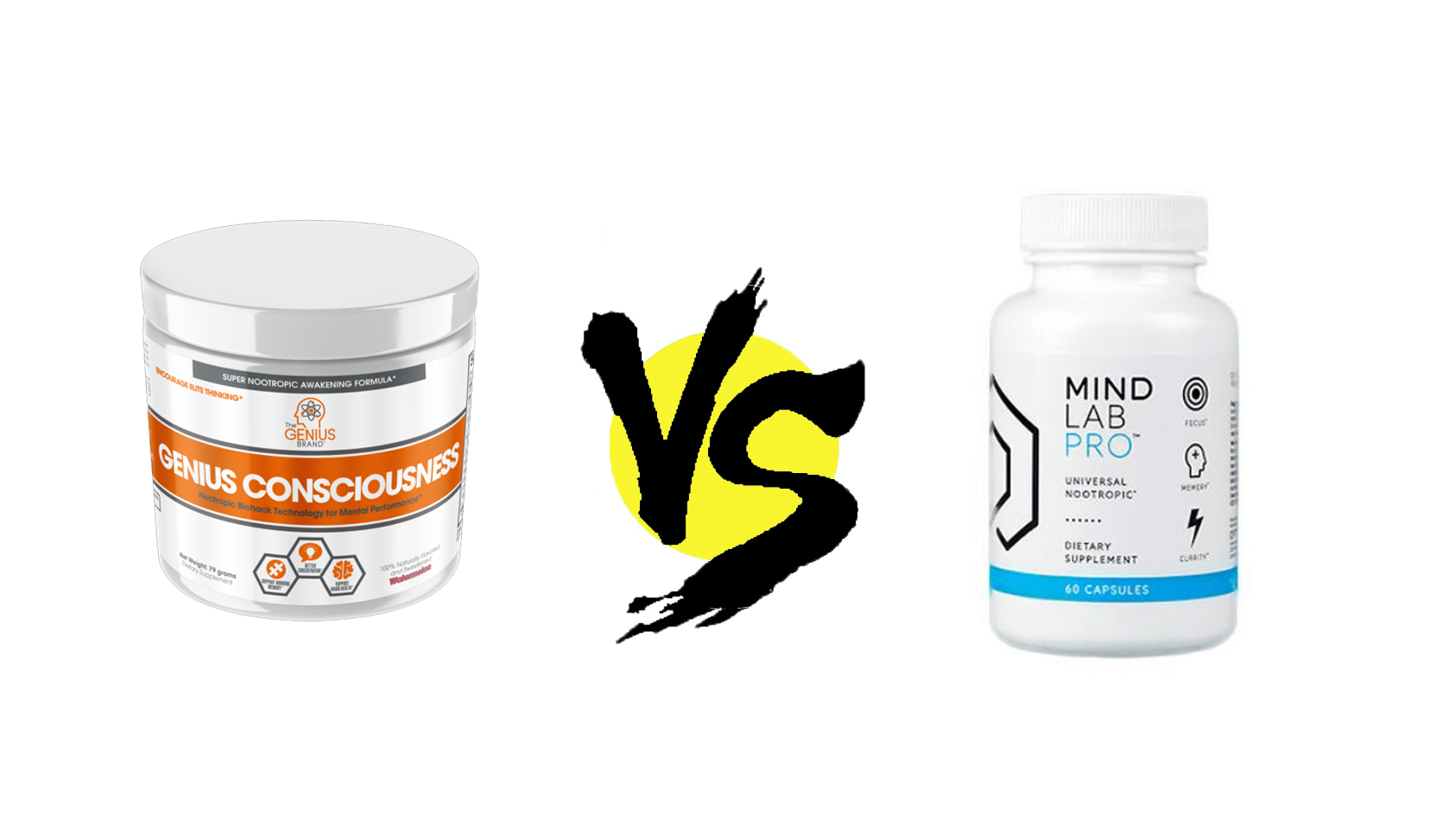 Genius Consciousness vs. Mind Lab Pro pits the stimulant-fueled cognitive enhancer against the completely natural, stim-free brain booster, dividing the world further into two polarized groups: caffeinated vs. non-caffeinated. And I tell you what: the division needs to STAHP!
Which is why I'm happy to say: both Genius Consciousness and Mind Lab Pro are awesome, and whichever way you go you're receiving an awesome brain health stack that's truly healthy for you brain… having said that, one of the stacks is undoubtedly healthier for your brain (and brain function), and I'm guessing you'd like to know which one that is, hm??
Let's read the Genius Consciousness vs. Mind Lab Pro comparative review to find out which one that is, hm!!
Formula Design
Genius Consciousness vs. Mind Lab Pro Ingredients
Genius Consciousness Supplement Facts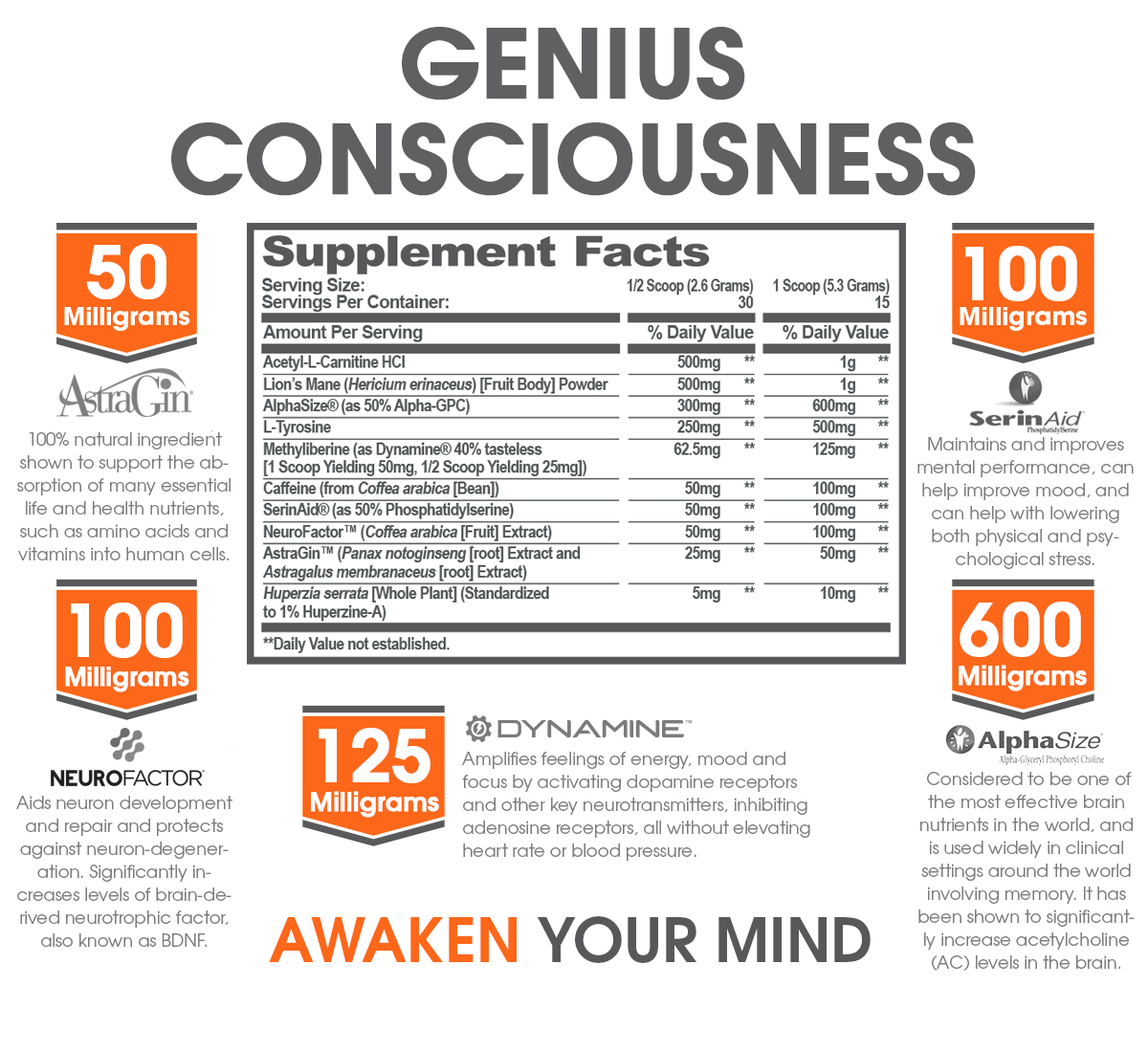 Genius Consciousness Directions: Assess your individual tolerance by mixing 1/2 scoop into 6-10 ounces of water (vary amount of water by taste preference) and consume 15-30 minutes before mental performance is required. If you experience any displeasing effects, discontinue use and consult your doctor. To support maximum cognitive performance and energy, we recommend using 1 scoop in 8-12 oz of cold water (vary amount of water by taste preference).
Mind Lab Pro Supplement Facts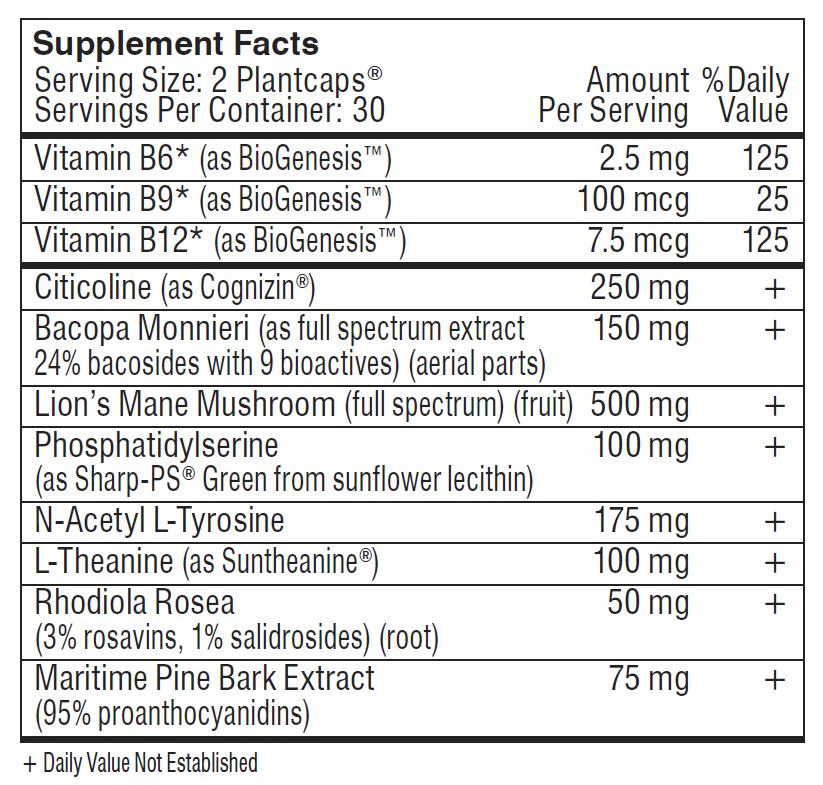 Mind Lab Pro Directions: Take two (2) capsules in the morning or early afternoon, preferably with food. This may be increased to a maximum of four (4) capsules in a 24-hour period. Do not exceed four (4) capsules in a 24-hour period unless otherwise directed by a health care practitioner.
So, while both Genius Consciousness and Mind Lab Pro supply brain healthy nootropics, it isn't simply a matter of one being caffeinated and the other not. Genius Consciousness also supplies another caffeine-like stimulant that further qualifies either excitement or concern w/r/t its mental stimulating potential. However, stimulation isn't the only difference between these supplements, as you'll see by their different approaches to formula design.
Genius Consciousness: Stim-Charged Brain Boosts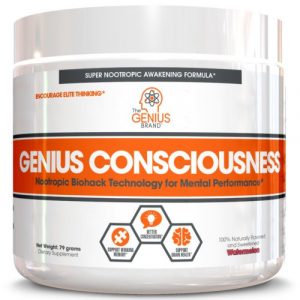 Of the Genius Brand line of nootropic supplements, Genius Consciousness might be the best for daily cognitive enhancement, thanks to the stack's use of:
Cholinergic Memory and Focus Boosters
Stimulating Caffeine and Caffeine-Like Compounds
And don't forget: Lion's Mane Mushroom, a unique NGF-boosting shroom with significant neuroregenerative potential. It's an interesting mix of right-now! mental stimulation and long-term brain health enhancement that may attract both the competitive worker types and the health conscious hippies.
With exception to the totally health conscious who shun caffeine (and other stimulants) for their cognitive impairing potential.
Not to mention that Genius Consciousness also comes in powder scoop format, allowing for more dosage control than your usual capsule contained supplement formulas. There's not too many nootropic supplements that compare with Genius Consciousness in terms of formula/format design. Sort  of bridges the gap between cognitive enhancement and PWO energy boosts.
Read my in-depth review on Genius Consciousness.
Mind Lab Pro: Stim-Free Brain Boosts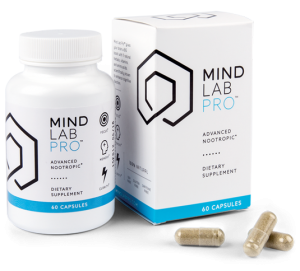 Genius Consciousness packs its formula into powder scoops. Mind Lab Pro instead contains its 11-ingredient stack with Plantcaps® branded capsules. The benefit of this: clean, additive-free delivery. And, really, Mind Lab Pro is all-around one of the cleaner stacks on the market, delivering a finely tuned stack of nootropics, each targeting a key bio-pathway for comprehensive "pressure point" cover on cognitive enhancement.
Altogether, Mind Lab Pro's cognitive enhancers support the following brain bio-pathways:
Energy – non-stimulant, non-caffeinated energy, that is.
Chemicals – acetylcholine, dopamine, serotonin, and more.
Circulation – better bloodflow for better oxygen and nutrient delivery.
Brainwaves – calm, creative, meditative alpha brainwave promotion.
Neuroprotection – antioxidant resistance to free radical damage.
Neuroregeneration – NGF and BDNF boosts for increased neuron growth.
Mind Lab Pro is a brain health stack that takes brain health seriously. These guys hit all the high notes without relying on any stimulant-based cheap shots. The energy boosts are genuine boosts in natural energy production, resulting in crash-free, daily cognitive enhancement. And with L-theanine, Mind Lab Pro still pairs well with external sources of stimulation — e.g., that morning cup of coffee — without forcing any stimulants upon you.
Read my in-depth review on Mind Lab Pro.
Unique Features
The only ingredients shared between these supplements: Lion's Mane, Phosphatidylserine, and L-Tyrosine — and even the forms used by each product differ in potency and brand. However, aside from these ingredients, Genius Consciousness and Mind Lab Pro sport entirely separate ingredient profiles, such as:
Genius Consciousness
Acetyl-L-Carnitine – Antioxidant amino acid that benefits cellular energy by enhancing mitochondrial ATP energy output. More on ALCAR.
Alpha-GPC (as AlphaSize®) – High concentration of nootropic choline, the precursor to neurotransmitter acetylcholine. More on Alpha-GPC.
Methyliberine (as Dynamine®) – Somewhat of an understudied caffeine-like stimulant, methyliberine is essentially a more stimulative spin on the usual caffeine experience.
Caffeine – You know what it is: caffeine is the world's favorite stimulant that under certain conditions may have cognitive impairing effects. Although, Genius Consciousness supplies a modest amount of this stuff. More on Caffeine.
NeuroFactor™ – This unique brand supplies the full bio-active profile of coffee beans, supplying the NGF- and BDNF- boosting compounds associated with Coffea arabica.
AstraGin™ – Another unique brand that purportedly assists with amino acid absorption, potentially increasing the effects of Genius Consciousness' amino ingredients.
Huperzine-A – A semi-synthetic compound that may inhibit acetylcholinesterase, the enzyme responsible for breaking down acetylcholine during neurotransmissions. More on Huperzine-A.
Mind Lab Pro
B Vitamins (as BioGenesis™) – B6, B9, and B12 — three B vitamins that assist with mood-related neurochemical balance and better bloodflow to the brain. More on B Vitamins.
Citicoline (as Cognizin®) – Genius Consciousness uses Alpha-GPC, whereas MLP sides with citicoline, a choline + cytidine duo, delivering additional brain energy benefits by way of cytidine. More on Citicoline.
Bacopa Monnieri Extract – Full spectrum extract of one of the most researched nootropic herbs, Mind Lab Pro's Bacopa assists with memory and learning, perfect for the academic thinkers. More on Bacopa Monnieri.
L-Theanine (as Suntheanine®) – Clean, sunflower-derived L-theanine (as opposed to soy-derived) that promotes calm, yet focused cognitive performance. More on L-Theanine.
Rhodiola Rosea Extract – Powerful, potent herbal adaptogen for mental and physical performance enhancement. Helps alleviate stress and fatigue. More on Rhodiola Rosea.
Maritime Pine Bark Extract – Somewhat rare to the world of manufactured nootropic supplements, this herbal extract supplies an antioxidant-rich profile of brain boosters, improving attention and cognitive longevity.
Potency & Quality
Both Genius Consciousness and Mind Lab Pro impress in the potency and quality departments, thanks to their uses of:
Premium ingredient brands
Potent herbal extracts and compounds
Sufficient dosages all around
Really, neither supplement really gives me much reason to complain. However, if I'm comparing them side-by-side (which, yes, that's the whole point of this post), I'd have to say that Mind Lab Pro comes across as significantly cleaner than Genius Consciousness. Not to say that Genius Consciousness is a "dirty" supplement; however, the powder scoop format undoubtedly comes with a bunch of unnecessary additives that are otherwise not found in Mind Lab Pro's vegan Plantcaps® capsules.
Not only that but Mind Lab Pro also supplies a full spectrum profile of its Lion's Mane Mushroom, which is one of the more unique, exciting ingredients found in Genius Consciousness — albeit in plain powder format.
Even so, I generally don't have complaints towards either supplement. Both rank as high quality grade products in my eyes.
Value: Genius Consciousness vs. Mind Lab Pro

Price
Servings
Price Per Serving
Genius Consciousness
$37.99
15 – 30
$1.27 – $2.53
Mind Lab Pro
$65
30
$2.17
Bottle to bottle, Genius Consciousness is almost half the price of Mind Lab Pro. On a price per serving basis, Genius Consciousness is also a dollar cheaper than Mind Lab Pro, if you're taking only half scoop servings. However, full scoop servings make Genius Consciousness more expensive than Mind lab Pro, so that that into consideration, if you plan on using full scoops.
Genius Consciousness or Mind Lab Pro: Which is better?
Genius Consciousness supplies noot-infused mental stimulation.
With its use of NGF-boosting Lion's Mane and cholinergic boosting nootropics, Genius Consciousness qualifies as a true nootropic cognitive enhancing brain health supplement. While caffeine and other stimulants aren't true nootropics, due to their cognitive impairing potential, Genius Consciousness does a fine job of pairing them with brain healthy nootropics. Plus, some noot users are down for the extra stimulation provided by Genius.
Mind Lab Pro takes a more genuine nootropic approach towards better brainpower.
By eschewing the stimulants and synthetics, Mind Lab Pro is a true cognitive enhancing brain health stack. And not only that but it's a smartly crafted brain health stack, supplying an impressive, diverse mix of nootropic ingredients that each cover a key bio-pathway towards better optimized brainpower. Some nootropics take the shotgun approach to cognitive enhancement, supplying everything under the sun with hopes that something will hit the target. Mind Lab Pro, on the other hand, takes a more surgical approach, hitting the pressure points of cognition, keeping all of the important cogwheels turning so that everything else may fall in line.
My Recommendation
Regardless of my recommendation, I think the buyers of these products will split into two groups:
Those who want stimulation.
Those who want just nootropics.
I'm not 100% against stimulants. I take them every now and then. (Plus, I still drink my coffee.) But when it comes to choosing nootropic supplements, I stick with the stacks full of genuine nootropics. Stimulants are easy to come by. Smartly stacked noot supplements are in much fewer numbers.
Having said that, Genius Consciousness is a smart stim-charged supplement, a great brain health option for the caffeine junkies. If that's what you're looking for, Genius Consciousness is a great supplement for you. But for me, I'm sticking with the true brain booster: Mind Lab Pro.
Mind Lab Pro > Genius Consciousness
If you you'd like to learn more about Mind Lab Pro and other information on Mind Lab Pro's ingredients, hit the following link: Click here to learn more about Mind Lab Pro.