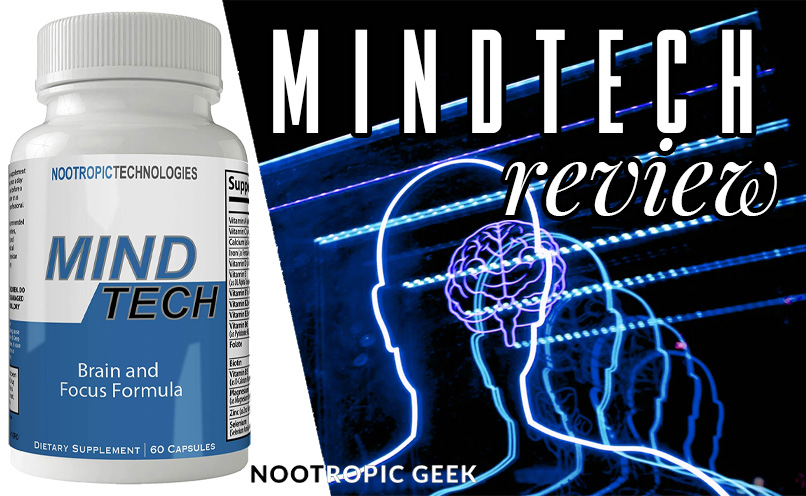 Summary: Nootropic Technologies MindTech Review
There are a lot of shady scammy "brain health" supplements that all promise to enhance memory, mood, focus, and overall brainpower while recyclying the same awful "multivitamin" stuff formula. MindTech is one of those formulas. There's nothing really remarkable about this nootropic supplement to point out, except for how remarkably bad (and tiring for a supplement reviewer) this product is. Avoid this supplement at all costs. And when I say "at all costs," I mean "avoid MindTech for free because, let's not be dramatic, it doesn't cost you anything to not take a formula." To see a list of supplements worth the cost, however, hit the following link:
About MindTech Nootropic Technologies
By Nootropic Technologies, MindTech is …well, it's just an incredibly awful "brain and focus" formula — just avoid it.
With a mix of vitamins and minerals and a low-dose proprietary blend full of an odd assortment of herbal extracts and ineffective compounds, MindTech is pure nonsense.
I like to use up three bullet-points in this section so I'm just typing stuff here to use up this bullet-point… because I have nothing else to say about this garbo brain-booster stack.
MindTech Ingredients

Ingredients
Amount Per Serving
Vitamin A (as Beta-Carotene)
122 mcg RAE
Vitamin C (as Ascorbic Acid)
125 mg
Calcium (as Calcium Carbonate)
20 mg
Iron (as Ferrous Fumarate)
1 mg
Vitamin D (as Cholecalciferol)
3 mcg
Vitamin E (as DL Alpha Tocopheryl Acetate)
14 mg
Vitamin B1 (as Thiamine Mononitrate)
3 mg
Vitamin B2 (as Riboflavin)
1.7 mg
Vitamin B3 (as Niacin)
12.5 mg NE
Vitamin B6 (as Pyridoxine HCL)
12 mg
Folate
666 mcg DFE (400 mcg Folic Acid)
Biotin
3 mcg
Vitamin B5 (as Calcium Pantothenate)
12 mg
Magnesium (as Magnesium Oxide)
50 mg
Zinc (as Zinc Oxide)
10 mg
Selenium (as Selenium Amino Acid Chelate)
50 mcg
Copper (as Copper Gluconate)
52 mcg
Manganese (as Manganese Amino Acid Chelate)
400 mcg
Chromium (as Chromium Picolinate)
12 mcg
Molybdenum
10 mcg
Potassium (as Potassium Citrate)
50 mg
Choline (as Choline Bitartrate)
50 mg
Proprietary Blend
642 mg
DMAE Bitartrate (Dimethylaminoethanol), L-Glutamine HCL, Glutamic Acid, Green Tea Extract (Camellia sinensis) (leaf), Bacopa Extract (Bacopa monnieri) (whole herb), Inositol, N-Acetyl L-Tyrosine, Bilberry Fruit Extract (Vaccinium myrtillus), Gaba (Gamma aminobutyric acid), Grape Seed Extract (Vitis vinifera L.), Grape Fruit Seed Extract (Citrus paradisi), Olive Leaf (Olea europaea L.), Cinnamon Bark Extract (Cinnamomum cassia), Licorice Root Extract (Glycyrrhiza glabra), Boron (as Boron citrate), DHA (Docosahexaenoic Acid) 14%, Vanadyl (as Vanadyl sulfate), Phosphatidylserine, Huperzine A
Serving Size: 2 Capsules
Servings Per Container: 30
Other Ingredients: Cellulose (Vegetable Capsule), Rice Flour, Magnesium Stearate, Silicon Dioxide; Contains: Soy & Fish
Directions: As a dietary supplement, take two (2) veggie capsules once a day. For best results take 20-30 min before a meal with an 8oz. glass of water or as directed by your healthcare professional.
We may as well skip over the vitamins and minerals in this formula, namely because they're both ineffective here and straight-up don't belong in a nootropic formula. Certainly, there are brain health benefits to taking a multivitamin (hit the link here to read my favorite multivitamin's review), but multivitamin formulation should be reserved for multivitamins — not supplements advertised as cognitive enhancers.
Likewise, there isn't much to MindTech's proprietary blend that excites me. The overall dosage is simply too small for all of these ingredients to work (and not all of these ingredients work anyways). All the same, here's an ingredient-by-ingredient breakdown of Nootropic Technology MindTech's proprietary blend:
MindTech Review: Ingredients
DMAE Bitartrate: I'm not a big believer in DMAE, though many nootropic formulas supply this ingredient. Because of its similar structure to choline, DMAE may possess cholinergic-like benefits for memory and concentration; however, the research on this compound aren't totally convincing — and I don't think it's a mistake that many cheap-O supplements tend to favor it. More on DMAE.
L-Glutamine HCL: As the most abundant amino in the body, glutamine does play a role in cognition — as well as basic bodily function. But as a nootropic, this ingredient only seems to benefit cognitive performance in a post-workout context; and you'll need much more glutamine than what's likely present here (plus, this isn't a post-workout supplement). More on Glutamine.
Glutamic Acid: Similar to L-glutamine, glutamic acid is a bad choice. Doesn't really do anything for cognition here.
Green Tea Extract: For brain health protection and weight loss, green tea extract supplies a rich complex of antioxidants. This is generally a healthy choice, but the proprietary blend dosage doesn't allow for enough room for you to get much mileage out of this extract.
Bacopa Extract: One of my favorite natural nootropics, Bacopa monnieri is often referred to as the "student's herb" thanks to this plant's well-documented benefits on memory and learning. More on Bacopa Monnieri.
Inositol: A vitamin B-like compound, inositol may possess anti-anxiety benefits — however, you'll need a lot of inositol to achieve this effect. Don't expect anything from MindTech's inositol.
N-Acetyl L-Tyrosine: One of the best stress relief nootropics, L-tyrosine is an effective amino acid for boosting mood, motivation, and attention under heightened conditions of stress and sleep deprivation. More on Tyrosine.
Read my Best Nootropics for Stress list here.
Bilberry Fruit Extract: Typically found in vision supplements, bilberry fruit extract seems to benefit vision health, heart health, and blood sugar levels… but I'm not too sure what it's doing here.
GABA (Gamma aminobutyric acid): A naturally occurring amino acid and neurotransmitter associated with cognitive calm and anxiety relief. However, its poor oral bioavailability makes it virtually useless as an oral supplement.
Grape Seed (Fruit) Extract: Resveratrol and pterostilbene — the antioxidants in grape extract are great for cognitive health as well as all-around health, but this extract is *thumbs down* for the same reason I'm *thumbs down* on all the other ingredients: poor dosage, unclear potency. More on Pterostilbene.
Olive Leaf: The active ingredient in olive leaf, oleuropein, may help combat oxidative stress in the brain while assisting with cardiometabolic health; but this "plain leaf" stuff here isn't too exciting.
Cinnamon Bark Extract: The primary reason for taking cinnamon bark extract is to ease digestive concerns — I wouldn't recommend this for cognitive performance.
Licorice Root Extract: I wouldn't recommend licorice root extract for cognitive performance either; this may actually increase stress hormone cortisol levels, so I generally wouldn't recommend licorice root at all.
Boron: Again, there's no reason for this to be here lol boron is favored by testosterone boosting supplements due to some research that links boron to heightened T activity… but not a nootropic.
Read my Best MCT Oil Supplement article here.
DHA (Docosahexaenoic Acid): One of two preferred omega-3s (the other being EPA), DHA may help with brain structure and function… but you'll need much more than you're getting here.
Vanadyl: This is for blood sugar, not brain health.
Phosphatidylserine (PS): A great natural nootropic that assists with brain cell-to-cell communication and structural integrity. You should definitely add more PS to your daily diet, if you're concerned about boosting your overall brainpower. More on Phosphatidylserine.
Huperzine A: A well-known acetylcholinesterase inhibitor, huperzine-A helps preserve cognitive health and function for elderly users. More on Huperzine-A.
MindTech Review: My Thoughts
If you're unfamiliar with nootropics, you may be forgiven for being momentarily excited by MindTech. This supplement pulls all the marketing tricks to make you think this is the REAL DEAL "Limitless Pill!" formula that you've been looking for.
There is no such thing as a Limitless pill, so any supplement that claims to be one (as this product does) is just straight-up lying to you.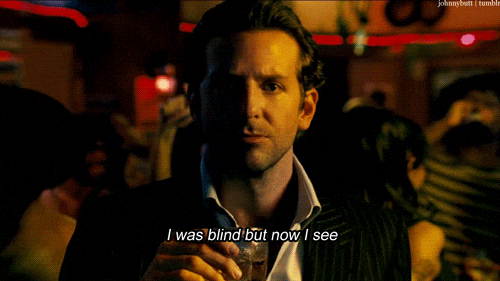 Up until this review, I've been somewhat patient with these types of cheap-O supplements. And when I say "somewhat patient," I mean that I've given them each a full in-depth review explaining the ins and outs of why they're bad.
Here, I'll just say that MindTech is bad. It's absolutely not worth your time or investment.
…And, okay, I'll give you a couple reasons why:
Bad Ingredient Choices: most of the ingredients absolutely do not make sense for a formula that claims to boost brain health and focus, because most of the ingredients here do not boost brain health and focus.
Proprietary Blend: supplements that hide their ingredients beneath proprietary blends tend to do so because they're offering you suboptimal dosages. Even the overall dosage on MindTech's proprietary blend is alarmingly low, especially for this many ingredients.
All in all, MindTech is a bad supplement. It's a bad supplement and you should not buy it.
The Pros
None, there are no pros to this formula — and even if there are (there are always some "pros") it's not worth covering them here, because I don't want to do anything to influence anyone to buy this heartless, soulless product.
The Cons
Everything about MindTech is a con. Don't buy it.
Pricing
$19.99 for 60 capsules, a 30-day supply
$0.67 per serving
This is the price listed on Amazon, though when I checked MindTech was listed at the *reduced* price of $12.99. However, at other online retailers, MindTech is listed as high as $69 (hee hee), which is insanely overpriced for such a cheap low-value product.
Frankly, I think $12.99 is a wasted investment for a supplement like this. It's simply not worth the buy.
Who Takes MindTech?
I don't want to think about who takes MindTech. The thought of it just bums me out, because no one should take MindTech. So I'll just say no one. And if you're thinking of taking MindTech, just don't — you can very easily do better than this.
Where to Buy It
You can buy MindTech on Amazon. Personally, I wouldn't search anywhere else for this product, as anywhere else tends to way overprice this formula and/or comes from a shady scammy storefront filled with awful "Limitless pill!" marketing. More on the Best Nootropics on Amazon.
Conclusion: Does MindTech Work?
No, MindTech does not work. And it's not an ineffective formula because the formulators took aim and missed the mark. They didn't aim at making an impressive effective formula at all.
The "formulators" (if we can call them that) simply took a cheap stock mix of cheap stock ingredients, threw it in a capsule, and wrapped it all in a cheap stock marketing scheme that uses such buzzwords as "limitless" and "brainpower" and "focus" and "clinically studied" etc. etc.
This isn't a real formula. It's pure bogus.
Read my Best Pre-Made Nootropic Supplements list here.
Final Rating
Formulation Strategy

Brainpower Benefits

Brain Health Benefits

Transparency

Quality

Value