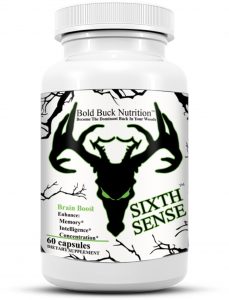 Bold Buck Nutrition — this isn't a supplement manufacturer for the doughboys or doe-girls. These are supps for all you big, bad BUCKS — you hang-dang swangin' motherbuckers with big buckin' brains and even bigger muscles.
Admittedly, BBN's Sixth Sense Brain Boost is one of the swaggier supplements I've reviewed, at least in terms of appearance: the green-glowing buck, the demonic antlered stare, the …god damn branches.
But one quick look into the Supplement Facts reveals that perhaps these buckboys should've stuck with the muscle supps — this is not a Nootropic Geek style stack. However, I've got a big buckin' open mind: Let's check this one out.
About Sixth Sense
Sixth Sense by Bold Buck Nutrition, a bodybuilder supplements manufacturer taking a stab at nootropics.
Multivitamin + Prop Blend: The Supp Facts divide into two parts, the first being a long list of vitamins/minerals, the second being a confusing proprietary blend.
With exception to a few noteworthy nootropics, Sixth Sense fails to send it — an even with regards to those nootropics, it provides a questionably low dosage for them all.
Sixth Sense Ingredients

Ingredients
Amount Per Serving
Vitamin A (from natural beta-carotene and mixed carotenoids)
4000 IU (80% DV)
Vitamin C (as ascorbic acid, sodium ascorbate, calcium ascorbic, potassium ascorbic)
250 mg (417% DV)
Vitamin D (as cholecalciferol)
100 IU (25% DV)
Vitamin E (as natural d-alpha-tocopheryl succinate)
30 IU (100% DV)
Thiamin B1 (as thiamin mononitrate)
3 mg (200% DV)
Riboflavin B2
1.7 mg (100% DV)
Niacin B3 (from inositol hexanicotinate and 50% as niacinamide)
25 mg (125% DV)
Vitamin B6 (as pyridoxal-alpha-ketoglutarate, pyridoxal 5-phosphate)
15 mg (750% DV)
Folate, Folic Acid, Folacin (as folic acid)
400 mcg (100% DV)
Biotin
300 mcg (100% DV)
Pantothenic Acid (as d-calcium pantothenate)
12 mg (120% DV)
Calcium (as calcium-citrate, calcium succinate and calcium ascorbate)
50 mg (5% DV)
Iron (as Ferronyl carbonyl iron)
5 mg (28% DV)
Iodine (as kelp [ascophyllum nodosum])
15 mcg (10% DV)
Magnesium (as magnesium citrate)
100 mg (25% DV)
Zinc (as zinc citrate and zinc ascorbate)
10 mg (67% DV)
Selenium (as selenomethionine)
50 mcg (71% DV)
Copper (as copper citrate, TRACCS copper glycinate chelate)
0.4 mg (20% DV)
Manganese (as manganese citrate)
2 mg (100% DV)
Chromium (as chromium polynicotinate)
100 mcg (83% DV)
Molybdenum (as molybdenum amino acid chelate)
10 mcg (13% DV)
Potassium (as potassium citrate, potassium aspartate & potassium ascorbate)
50 mg (1% DV)
Synergistic and Proprietary Formulation
692 mg
Dimethylaminoethanol (as DMAE bitartrate), L-Glutamine, Bacopin (bacopa monnieri extract leaf), L-pyroglutamic Acid, Phosphatidylserine, Docosahexaenoic Acid (DHA) Concentrate (15% DHA from fish body oil), Choline (as choline bitartrate), Inositol, N-Acetyl Tyrosine, Bilberry Fruit Standardized Extract (25% anthocyanosides), Gamma Aminobutyric Acid (extract of huperzia serrata; whole plant), Grape Skin Extract and Activin (grape seed extract, Vinpocetine, Trace Lyte electrolyte concentrate, Huperzine A (extract of huperzia serrata; whole plant), Boron (as boron citrate), Vanadium (as vanadyl sulfate)
Serving Size: 2 Capsules
Servings Per Container: 30
Other Ingredients: Cellulose (Vegetable Capsule)
Directions: As a dietary supplement take two (2) veggie capsules once a day. For best results take 20-30 min before a meal with an 8oz. glass of water or as directed by your healthcare professional.
Sixth Sense has what could be one of the coolest brand designs I've seen on a nootropic bottle buuut also (and this is just a first impression) one of the weaker Supp Facts to match it. Essentially, it looks like a multivitamin with an over-stacked, low-dosed proprietary formula.
Given how many of these reviews I've written, I feel my hunch is spot on, that Sixth Sense is exactly that: a multivitamin + low-dosed proprietary blend. But just to make sure, let's check out each ingredient in the blend:
Synergistic and Proprietary Formulation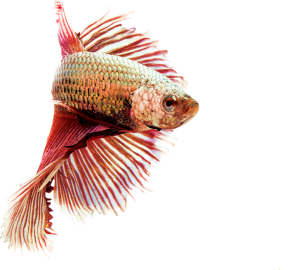 DMAE Bitartrate – Brain-beauty compound that may support memory & concentration impaired by hyperattention & neurodegeneration, but clinical research has yet to justify its status as a nootropic. More on DMAE.
L-Glutamine – The most abundant amino acid in the body that may assist cognition for athletes & elderly but it's rarely required by the average, healthy nootropic user. More on Glutamine.
Bacopa Monnieri Extract – One of the best herbal nootropics, the Ayurvedic Bacopa monnieri adaptogen supplied here as a decent extract, enhances memory & learning when supplemented long-term. More on Bacopa.
L-Pyroglutamic Acid – This compound has some therapeutic appeal for traumatic brain injury, although its nootropic efficacy remains clinically unobserved.
Phosphatidylserine – Is it soy-derived or sunflower-derived PS? Odds are it's the former (I prefer the latter) but either way it's a great nootropic compound, protecting the brain by increasing brain cell membrane health & neurotoxin removal. More on Phosphatidylserine.
Docosahexaenoic Acid (DHA) – A key fatty acid supplement, great for brain health as well as general health — may require an element of faith in its brain restorative effects but, frankly, I hold the faith in this popular health compound.
Choline – Choline is great for its productive role in boosting acetylcholine & phosphatidylcholine, yet standard choline doesn't do much for brain health: it's unable to cross the blood-brain barrier. Citicoline or Alpha-GPC would've been the better options here. More on Choline.
Inositol – High doses of inositol may alleviate anxiety, however I doubt Sixth Sense's inositol is "high dose," given this proprietary blend's low dosage.
N-Acetyl Tyrosine – Powerful anti-stress amino acid in superior form (NALT outperforms standard L-Tyrosine), improves focus & mood during stressful conditions. More on Tyrosine.
L-Tyrosine vs. N-Acetyl-L-Tyrosine
Props to Sixth Sense for siding with the superior tyrosine form (NALT) over the more common, cheap-o supplement: L-tyrosine. It may seem like only a small difference, but the acetyl attachment makes all the difference, enhancing tyrosine's bioavailability by allowing the amino to more readily cross into the bloodstream.
Bilberry Fruit Extract – Often supplemented for eye health, perhaps providing brain healthy antioxidants. Not the best ingredient for enhancing cognition.
Gamma Aminobutyric Acid – GABA is a key neurotransmitter in resisting excess brain activity & hyperattention, yet GABA as a supplement is useless. This is why nootropic users opt for picamilon or phenibut instead, which are GABA & GABA-like supplements that are able to cross the blood-brain barrier.
Grape Extract – Provides activin & (I'm guessing) resveratrol, the former assisting with FSH secretion (nothing to do with brain health) and the body's antioxidant capacity, although I'm hoping for a heavier emphasis on pterostilbene in this extract for its 4x higher potency than resveratrol. More on Pterostilbene.
Vinpocetine – Semi-synthetic nootropic drug sourced from periwinkle, enhances cerebral circulation for an increased delivery of oxygen & nutrients to the brain. More on Vinpocetine.
Trace Lyte electrolyte concentrate – Patented brand of liquid minerals & electrolytes. (Hence the long list of vitamins & minerals on the Supp Facts.)
Huperzine A – Semi-synthetic drug sourced from Chinese club moss, inhibits acetylcholinesterase, the enzyme responsible for the breakdown of acetylcholine. More on Huperzine A.
Boron Citrate – Big among bodybuilders for its testosterone:estrogen balancing benefits, may also balance cognition under boron-deficient conditions.
Vanadium – Rat research suggests vanadium may have a "positive impact on cognition," but that's about as much as know about this compound.
Sixth Sense: The Beta Buck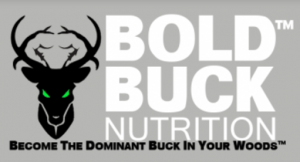 If you're going to take the alpha male approach to supplementation, you need a formula to walk the talk. Sixth Sense accomplishes the talk ("Become The Dominant Buck In Your Woods™") — and trademarks that talk because damn you if you think you're going to steal it! — but it can't even manage a walk, stumbling onto the brain health market with a weak, confusing formula.
The "weak" points:
More vitamins/minerals than nootropics
Inadequate dosage on the proprietary blend
The "confusing" points:
Poor ingredient choices (e.g., DMAE, Glutamine, Choline)
Proprietary obscurity on individual ingredient dosages
If there's anything to like about this formula, it'd be the somewhat highly prioritized Bacopa Monnieri extract, as well as that huge supply of B vitamins. Yet, frankly, these aren't rare ingredients. You can find plenty of quality nootropic formulas that provide both, minus all of the proprietary/multivitamin shenanigans.
But could you find another product at the Sixth Sense price?? Hmm, they may have us on that one: $21.99 ain't a bad price — just know, you get what you pay for here.
The Pros
Ignoring the dosage issue, Sixth Sense does provide sound nootropics, most notably Bacopa, Phosphatidylserine, Vinpocetine, Hup-A, & NALT.
For 60 capsules, a 30-day supply, $21.99 isn't a bad price, delivering an impressive price per serving that won't empty your wallet.
The Cons
Put simply, Sixth Sense just isn't a formula designed to work: it's dosage is too low, many of the ingredients are non-nootropic and/or do not work.
Multivitamin stacks may help brain health & cognition, particularly if you're a mineral-sweating athlete or older feller, but multivitamin stacks are also cheap. No need to waste space in a nootropic formula for multivitamins.
Waste of an awesome brand… the demonic green buck gets me GOING.
Pricing
$21.99 for 60 capsules, a 30-day supply
$0.73 per serving
Who Takes Sixth Sense?
As I mentioned, Sixth Sense takes the alpha male approach in its design, presumably appealing to the alpha crowd. While I have to give props to Sixth Sense for not cramming a ton of caffeine into this supplement and labeling it "eXtreme!!", I don't think this product is extreme enough for alpha males or alpha thinkers.
Where to Get It
You can buy Sixth Sense through Bold Buck Nutrition as well as 3rd party retailers, such as Amazon.
Conclusion: Does Sixth Sense Work?
Maybe, although I doubt it. Interestingly, Sixth Sense's Amazon customer reviews are generally positive, however with a review such as this: "I've been taking the suggested amount for 3 days. I know I can fly, I'm just smart enough to not try. It works." — I still have reasonable reservations.
Personally, I have no need for Sixth Sense: I'm already supplementing the ingredients that work in this product, and if I wanted a brain health multivitamin, then GD I'll get myself a brain health multivitamin (many are actually cheaper than this cheap supplement). But on that note (the "cheap" note), trying this supplement shouldn't be too much of an issue — if you're considering it, I say go for it. If by the end of the cheap 30-day supply you're not into it, then well… buck it.
Final Rating
Formulation Strategy

Brainpower Benefits

Brain Health Benefits

Transparency

Quality

Value

Average