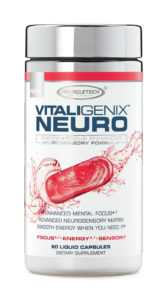 I'm somewhat straying outside of my Nootropic Geek domain to write this Vitaligenix Neuro review, given that MuscleTech seems to primarily identify as a beefcake supplement manufacturer.
But believe it or not, this Nootropic Geek is also a bench-and-bi's freak, if you know what I mean. And ONLY bench and bi's — none of that namby pamby low squats and deadlifts BS. It's all front upper body for this well-endowed gentlegeek.
So, if anything, I'm perhaps just the right guy to review this quasi-nootropic, quasi-pre-workout performance enhancing stack. In fact, I'm done justifying myself to all you beta boys.
Let's get on with it and read the Vitaligenix Neuro review.
About Vitaligenix Neuro
Manufactured by MuscleTech, Vitaligenix Neuro is a sporty looking "Premium Neurosensory" formula designed to enhance smooth energy and focus.
The energy comes in a familiar form: Caffeine. Whereas the smoothness comes via one of my nootropic favorites: L-Theanine — as well as Theacrine.
Vitaligenix Neuro also stacks an impressive array of healthy nootropic herbs and adaptogens, albeit at disappointingly low dosages all around.
Vitaligenix Neuro Ingredients

Ingredients
Amount Per Serving
ProNeuro Sensory Matrix
L-theanine
75 mg
Ginkgo (as Ginkgo biloba) (leaf)
50 mg
Rhodiola extract (as Rhodiola rosea) (root)
50 mg
 Standardized for salidrosides and rosavins
Choline (as Bitartrate, AlphaSize® alpha-glyceryl phosphoryl, Cognizin® citicoline)
50 mg
Theacrine (TeaCrine®)
35 mg
NRG Focus Enhancer
Caffeine anhydrous
175 mg
Peak 4X Neurosensory Matrix
Sage (as Salvia officinalis) (leaf)
50 mg
Lion's mane (as Hericium erinaceus) (mycelial biomass)
50 mg
N-Acetyl-l-carnitine HCl
25 mg
Gotu kola (as Centella asiatica) (aerial parts)
20 mg
Serving Size: 2 Liquid Capsules
Servings Per Container: 30
Other Ingredients: Sesame Oil, Capsule (Bovine Gelatin, FD&C Red No. 40). Contains sesame ingredients.
Directions: Take 1 serving (2 liquid capsules) once daily. Do not exceed 2 liquid capsules in a 24-hour period. Drink 8 glasses of water daily for general good health. Read the entire label before use and follow directions provided.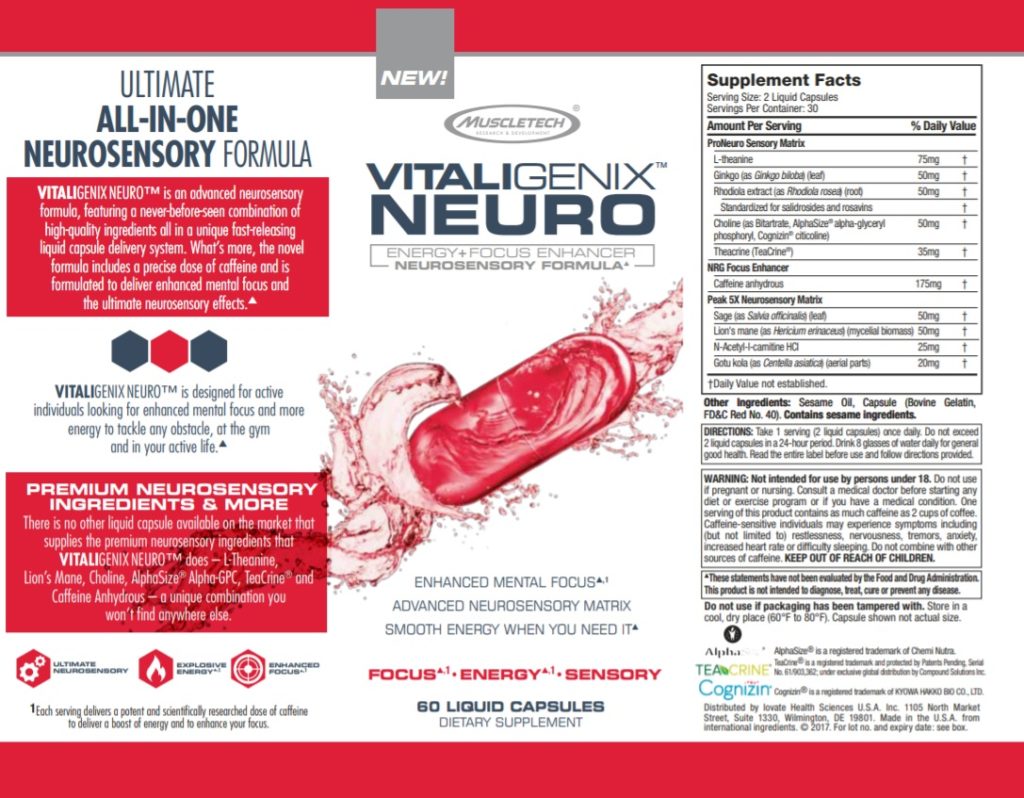 Do you want ultimate NEUROSENSORY, my man?! Of course you …maybe do. I definitely think I kind of want that …I'm just not entirely sure what MuscleTech means by "neurosensory" — technically, anxiety is a neurosensory experience. It's a severe neurosensation.
Are you trying to give me anxiety, MuscleTech? Is that what you're doing?!
Fortunately, the first nootropic listed in this non-proprietary stack is a notable anxiolytic. Check it out:
Vitaligenix Neuro Review: Ingredients
L-Theanine – I supplement L-theanine damn near everyday. So, my L-theanine dosage numbers are up there. Having said that, 75 mg isn't quite enough to get those relaxing focus boosts you'd expect from this nootropic amino. Especially with Vitaligenix Neuro's 175 mg caffeine to override its effects. More on L-Theanine.
Ginkgo Biloba – With roots that dig deep down to the days of dinosaurs, Ginkgo may be our oldest natural nootropic. As a health supplement, Ginkgo serves significant cognitive and cardio benefits, particularly for the older doods and doodettes. However, its boosts on working memory seem to benefit everyone …although, I'm skeptical of this low dosage and average quality. More on Ginkgo Biloba.
Rhodiola Rosea Std. Extract – Here's a good quality extract of Rhodiola rosea, one of my favorite strength and energy enhancing adaptogens. Standardized to bio-active rosavins and salidrosides, this Rhodiola extract looks set to reduce those stress levels …but, again, that dosage sucks. More on Rhodiola Rosea.
Choline (as Bitartrate, AlphaSize®, and Cognizin®) – Not too sure how I feel about this one. Choline bitartrate sucks. AlphaSize is a great alpha-GPC brand. And Cognizin is the choline G.O.A.T., supplying powerful brain booster citicoline. But I'd rather see Vitaligenix focus on citicoline, and then at least quadruple that dosage… Yeah, you know what, I do know how I feel about this: I don't like it. More on Choline.
Theacrine (as TeaCrine®) – Caffeinated supplements use theacrine to lengthen the effects of caffeine over time. The idea still seems somewhat theoretical; however, I give props to supplement manufacturers who put in the effort to better their caffeine output.

NRG Focus Enhancer
Caffeine Anhydrous – Speaking of caffeine, here it is, at a sizable 175 mg. This isn't caffeine overload, yet it's significantly higher than any other nootropic in this stack. This somewhat diminishes the natural nootropic angle on this stack. More on Caffeine.
Peak 4X Neurosensory Matrix
Sage (as Salvia officinalis) – "An ancient herb that contributes to the cutting-edge sensory matrix." That is Vitaligenix's reasoning for including this botanical. Sage does have potential cognitive enhancing and protecting effects …but I this sage's quality and quantity suck.
Lion's Mane Mushroom – An awesome, awesome nootropic shroom, and one of few natural NGF boosters. As such, it may possess significant brain regenerative properties. Yet, I distrust this Lion's Mane. For instance, Mind Lab Pro supplies the full bio-active spectrum of this shroom at 500 mg per serving. Vitaligenix Neuro only gives us 50 mg of plain Lion's Mane. Far from topping any top nootropic lists of 2018. More on Lion's Mane Mushroom.
N-Acetyl-L-Carnitine HCl – For reasons unknown to me, ALCAR has almost become a staple to manufactured nootropic stacks. Some research suggests ALCAR may improve brain mitochondrial function to increase brain energy, yet this seems to primarily apply to old folks. More on ALCAR.
Gotu Kola – Do you want to live forever? If so, you likely already know about this highly antioxidant herb. I occasionally supplement gotu kola. Not too often as my batch sometimes gives me headaches. As far as using it in a supplement, I generally figure why not: antioxidants are always good for the brain and body. More on Gotu Kola.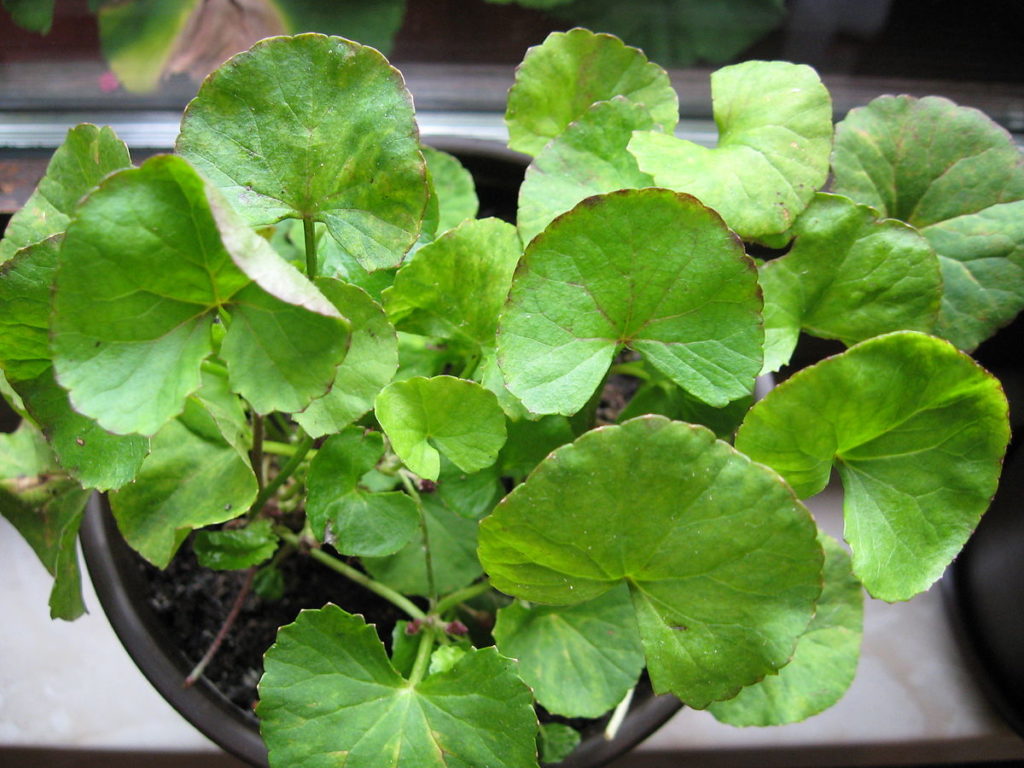 Vitaligenix Neuro Review: Caffeine with Nootropic Sprinkles
But where's the cherry on top??
I suppose the "cherry" on this cupcake is the fact that Vitaligenix Neuro had the balls enough to not go the proprietary blend route with this supplement. And I'm being genuine when I say that: this formula is prime material for pulling off the proprietary trick.
For those not quite in the know: placing a supplement's ingredients in a proprietary blend allow for supplement companies to not disclose their individual ingredient dosages; instead using a catch-all dosage for the entire formula.
Many nootropic supplements take advantage of this system by loading their pills with a ton of caffeine, then only sprinkling in a bunch of nice-sounding nootropic to give the appearance of having a powerful, competent cognitive enhancer.
Vitaligenix Neuro loads its pills with a ton of caffeine, sprinkling some awesome nootropics on top, yet discloses the individual ingredient dosages.
So, I can't be too mad at them. However, I'm not too happy with their poor formula design: Vitaligenix Neuro has the potential to deliver an awesome cognitive enhancer here.
They fail to meet that potential by skimping out on the nootropics that truly matter, instead doubling down on the caffeine to get their users jazzed on a cheap, easy brain high. On that note, if you're solely invested in the "Energy" angle on this supplement, then Vitaligenix Neuro does provide there.
Just don't expect any nuanced improvements on your mental performance.
The Pros
Vitaligenix Neuro picks the correct combo of nootropics for smooth energy and enhanced mental focus — or as MuscleTech likes to call it: "Neurosensory"…
Despite the caffeine, Vitaligenix Neuro showcases some impressive, healthy natural nootropics, most notably Lion's Mane Mushroom, Ginkgo Biloba, and Gotu Kola.
The nootropic method of supplementing caffeine: stack it with L-theanine and/or theacrine. Vitaligenix Neuro does it right here.
Props to MuscleTech for keeping this formula blend non-proprietary.
The Cons
Those dosages are baaad, essentially rendering anything but caffeine in this formula inoperable. And I wish I was exaggerating: Vitaligenix Neuro has pretty poor dosages.
Some of the best nootropics in this stack are diminished by their poor quality — e.g., choline bitartrate, plain powder herbs (Sage, Gotu Kola)…
For what amounts to essentially a decent caffeine pill, Vitaligenix Neuro is pretty expensive. Especially considering the general poor quality of these ingredients.
Pricing
$69.99 for 60 liquid capsules, a 30-day supply
$2.33 per serving
Who Takes Vitaligenix Neuro?
"VITALIGENIX NEURO™ is designed for active individuals looking to tackle any obstacle, at the gym and in your active life." Essentially, active men with issues that can be overcome with an additional liquid capsulated dose of 175 mg caffeine may find value in Vitaligenix Neuro. It's focus on energy seems to align it more as a male pre-workout supplement than a premium cognition enhancer.
Where to Get It
You can buy Vitaligenix Neuro through GNC. Even searching the product through the MuscleTech store and Vitaligenix's website will redirect you to the GNC listing when you hit that order button.
Conclusion: Does Vitaligenix Neuro Work?
In terms of smooth energy? Vitaligenix Neuro works.
At least on the energy front.
However, on the smoothness front, I'm not as confident. Even though Vitaligenix Neuro has all the right nootropic complements to its caffeine content — L-Theanine, Theacrine, Rhodiola — it doesn't dose them anywhere near to their proper levels for them to work.
Normally, I'd recommend doubling down on the daily servings to make up for the dosage discrepancies. Unfortunately, this doesn't work in Vitaligenix Neuro's case, given that you'd be then doubling down on the caffeine as well.
But perhaps that's what you're looking for: a decent caffeine supplement with a few healthy nootropics on the side. However, frankly… there are better nootropic supplements that supply that, and then some. I'd recommend giving those a try before jumping into this one.
Final Rating
Formulation Strategy

Brainpower Benefits

Brain Health Benefits

Transparency

Quality

Value

Average