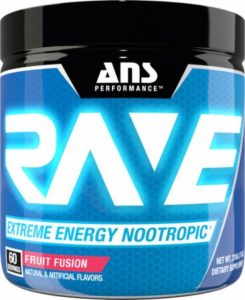 There's no such thing as a low-energy rave.
And ANS Performance clearly doesn't intend to pioneer in that direction.
ANS Performance RAVE is an energy supplement through-and-through, delivering 4 different, high-dosed stimulants, one being everyone's favorite drug: Caffeine.
But Nootropic Geek: I thought stimulants weren't nootropics??
You're damn right, reader. However, if you think that means that RAVE is not a true nootropic supplement, then you're also damn wrong… kind of. Maybe.
You know what, let's hit the review to find out:
About ANS Performance RAVE
Manufactured by ANS Performance, RAVE is an Extreme Energy Nootropic powder designed to provide "High Energy with No Crash."
The nootropics range between relaxants and neuroregenerators, the energy comes in the form of exotic, caffeinated stimulation.
While there are bona fide nootropics in this stack, the sum total of the RAVE experience comes out to a pre-workout level of cognitive enhancement.
RAVE Ingredients

Ingredients
Amount Per Serving
Vitamin B6 (as Pyridoxine HCl)
5 mg (250% DV)
Nootropic Focal Complex
1652 mg
Taurine
1000 mg
Acetyl-L-Carnitine
250 mg
N-Acetyl-L-Tyrosine
200 mg
Choline bitartrate
150 mg
MagicLion™ Hericium erinaceus fruit extract
50 mg
Huperzia serrata extract (1% Huperzine A)
2.5 mg
Mental Energy System
300 mg
Caffeine Anhydrous
175 mg
L-Theanine
50 mg
Kigelia africana fruit extract
37.5 mg
Infinergy™ Dicaffeine malate
25 mg
Higenamine HCl
12.5 mg
Serving Size: 1 scoop (3.5 g)
Servings Per Container: 60
Other Ingredients: Maltodextrin, Citric Acid, Natural and Artificial Flavor, Malic Acid, Sucralose, Silicon Dioxide, Acesulfame Potassium, Spirulina Blue (color).
Directions: Mix 1 scoop (3.5g) of RAVE with 6 oz of cold water and consume 15-30 minutes before activity. Do not exceed 1 scoop with first use of product. Assess your tolerance to RAVE prior to increasing dose. Dose may be increased up to a minimum of 2 scoops (7g) for extreme focal intensity (mixed in 10-20 oz of water). Do not take within 4 hours of intended sleep. Read entire label before use.
Judging by stimulation held in the "Mental Energy System" blend, the term "rave" might not be a misnomer here. At the least, these blends aren't proprietary, so there's something to rave about (hee haw!). Let's check out the ingredients:
ANS Performance RAVE Review: Ingredients
Vitamin B6 (as Pyridoxine HCl) – Of the B vitamins, B6 possesses the most significantly noticeable cognitive boosts, elevating mood and circulation. (Although, P-5-P is superior to pyridoxine HCl.) More on Vitamin B6.
Nootropic Focal Complex
Taurine – Can you believe this stuff comes from bull nuts? Of course, you can believe that — you're a gullible idiot. Taurine is not sources from cow testicles, but is a notable relaxant for its neurotransmitter GABA promotion and antioxidant potential. More on Taurine.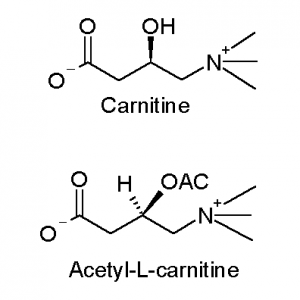 N-Acetyl-L-Carnitine – Many manufactured nootropic stacks carry ALCAR, despite its limited association with elderly cognition. As such ALCAR might energize cognition for the younger doods and doodettes under specific, undefined circumstances, but we'll need more research to pinpoint that mechanism. More on ALCAR.
N-Acetyl-L-Tyrosine – Is it the BEST anti-stress compound? It's definitely an effective one, given the brain's tendency to burn natural tyrosine reserves during conditions of high stress and activity. Props to ANS for supplying the "active" NALT form. More on Tyrosine.
Choline Bitartrate – Choline is a key brain health compound, a precursor to neurotransmitter acetylcholine and membrane lipid phosphatidylcholine. However, only citicoline or alpha-GPC (not choline bitartrate) can deliver choline across the blood-brain barrier. More on Choline.
MagicLion™ Hericium Erinaceus Extract – Exciting shroomy nootropic, believed to promote nerve growth factor (NGF) activity for enhanced neuroregeneration and neuroprotection. More on Lion's Mane.
Huperzia Serrata Extract (1% Huperzine A) – Prescribed in various countries as a neuroprotector against age-related neurodegeneration, huperzine A is a potent memory-protecting alkaloid, best known for its inhibition of acetylcholinesterase, an enzyme that breaks down neurotransmitter acetylcholine. More on Huperzine A.
Mental Energy System
Caffeine Anhydrous – Straight caffeine, baby. Delivered in a jolting, yet manageable 175 mg (roughly the caffeine content of a grande Starbucks Caffè Mocha). More on Caffeine.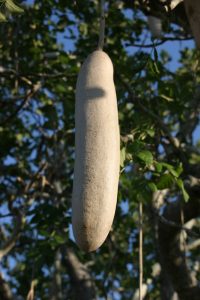 L-Theanine – The only forgivable way to utilize caffeine in a nootropic stack is to complement it with L-theanine, a non-sedative, relaxing amino acid that reduces the jitter of caffeine while maintaining the focus. More on L-Theanine.
Kigelia Africana Extract – Kigelia africana, or Sausage Tree, is believed to supply CNS-stimulating compounds in its bark, although there are no clinical human trials to support this claim.
Infinergy™ Dicaffeine Malate – Patented brand of a caffeine + malic acid fusion (75% caffeine, 25% malic acid), intended to provide a "longer-lasting" caffeine rush, minus the post-energy caffeine "crash."
Higenamine HCl – Often found in a fat burners for its potential thermogenic benefits and (unsubstantiated) ephedrine-like mechanisms. May provide more stimulation to this caffeinated formula.
ANS Performance RAVE Review: Extreme Energy Powder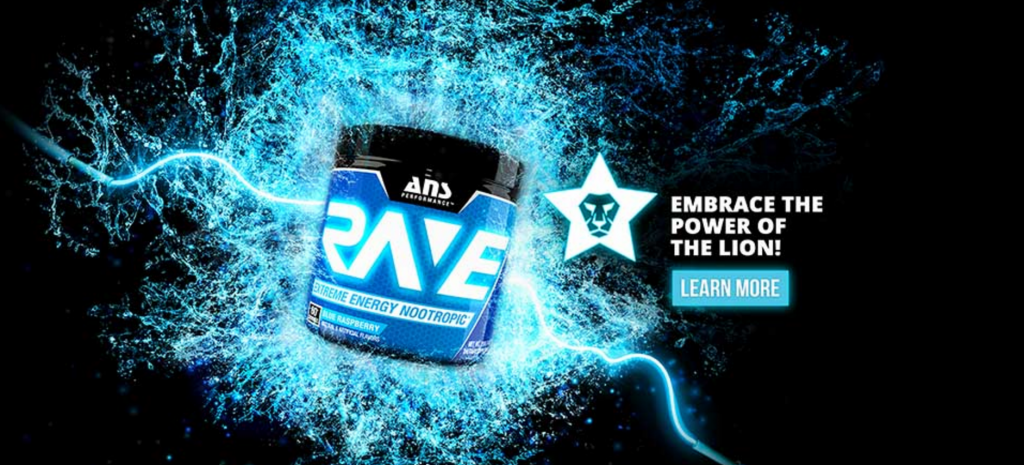 I wish more nootropics would go the powder route over the traditional capsules and tabs. And RAVE is a prime example why:
RAVE serves high ingredient dosages.
RAVE's serving size is malleable.
Other manufactured stacks are limited in their dosage sizes. Plus, not all nootropics are one-size-fits-all, and it's easier to change the "size" of a serving with powders rather than capsules and tabs.
Not that capsules and tabs are impossible formats, or that powder designs are inherently good. But RAVE uses its form well (in tasty flavors — which, I suppose, is both Pro and Con to powders), maximizing its hefty scoop servings with high-quality, well-researched nootropics… and, well, stimulants.
And that's a potential downside to this formula: The energy is stimulation.
Not nootropic.
Caffeine, Kigelia Africana, Higenamine — these are reliable sources of chemical energy, but they're not bona fide, brain healthy nootropics. They don't enhance brain health, and may actually diminish brain health over time, if used frequently.
Granted, RAVE provides relaxants such as L-theanine and taurine to offset any excess bursts in energy (plus the "lionine" MagicLion shrooms is a major nootropic bonus), but if you're dipping into the 2 scoop serving range, then that's a lot of stimulation, effectively converting this nootropic supplement into a pre-workout stack.
The Pros
RAVE reliably amplifies the energy and lifts the mood, tossing in a few anxiolytic relaxants to reduce any hair-raising, stress-induced side effects.
The powder form allows for high dosages and malleable serving sizes, lending more control over intake for RAVE's users.
The quality of RAVE's ingredients is high, showcasing potent N-Acetyl compounds and patented ingredients (MagicLion and Infinergy).
The Cons
RAVE is an "Extreme Energy Nootropic" with a heavier emphasis on stimulant energy over nootropic energy. (Although, I can't fault them for false advertising.)
This powder tastes good, but that comes at the cost of more junk additives: maltodextrin, artificial flavors, spirulina blue…
Kigelia africana and Higenamine require more research for us to better understanding exactly how they work in the human body.
Pricing
$39.99 for 60 scoops, a 30- to 60-day supply
$0.67 per serving
Who Takes RAVE?
RAVE is "Designed for the Athlete, Gamer and Workaholic that wants to #turnitup".
Given the hashtag and the no mention of students or classrooms, this emphasis on work-hard, play-hard is spot on. On the flipside, I wouldn't consider it for long-term cognitive benefits on, say, memory, concentration, anxiety, etc.
Where to Buy It
You can buy RAVE directly through the ANS Performance website as well as most major online retailers, such as Amazon and Bodybuilding.com.
Conclusion: Does RAVE Work?
RAVE certainly works as an Extreme Energy Nootropic.
So much that certain retailers and customer reviews categorize the product as a preworkout product more so than a nootropic supplement. To be fair, RAVE looks, tastes, and feels like a PWO as well, leading me to question its status as a nootropic.
Personally, I can see RAVE retaining cognitive appeal to the gamers, namely the eSports competitors looking to gain a legal edge on their gaming. (However, feel free to consider RAVE for casual Dark Souls sessions as well.)
If you're seeking for brainy cognitive enhancements, RAVE isn't your stack. But if intense energy and focus are the benefits you seek, seek no further.
Read my Best Nootropic Supplements to Buy in 2020 list here.
Read my Best Energy Supplements to Buy in 2020 list here.
Final Rating
Formulation Strategy

Brainpower Benefits

Brain Health Benefits

Transparency

Quality

Value