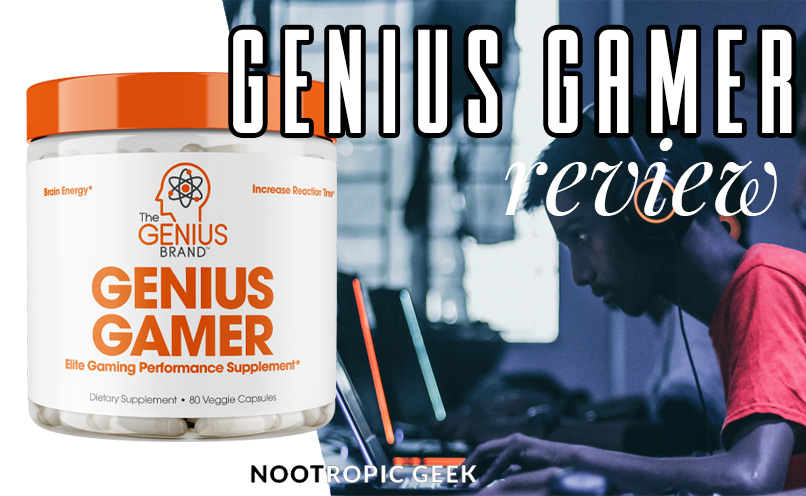 Summary: Genius Gamer Review
On the stimulation side of things, Genius Gamer offers an impressive mix of caffeine and smooth caffeine-like compounds that may help elevate mood and mental performance without the subsequent post-energy crash. However, the "nootropic" side of things here is showcasing a lot of weak, ineffective dosages, severely undercutting the potential of this "elite gaming" performance stack. Not to say the ingredients themselves are bad, just poorly dosed. Gamers can do better than Genius Gamer.
To see some of my favorite formulas, hit the following link:
About Genius Gamer
By the Genius Brand, Genius Gamer bills itself as an Elite Gaming Performance Supplement designed to enhance quick reactions, peripheral vision, and speed of thought.
With premium brand ingredients, such as Cognizin®, Teacrine®, and Dynamine™, Genius Gamer's formula ranks pretty well on the quality front.
However, due to many of the poor dosages, this isn't exactly an "elite" effective formula, and I'm doubtful that simply increasing the serving count will do enough to solve this problem.
Genius Gamer Ingredients

Ingredients
Amount Per Serving
Vitamin B1 (as Thiamine HCl)
0.4 mg (25% DV)
Vitamin B2 (as Riboflavin-5′-Phosphate)
0.4 mg (25% DV)
Vitamin B3 (as Niacinamide)
5 mg (25% DV)
Vitamin B5 (as D-Calcium Pantothenic Acid)
2.5 mg (25% DV)
Vitamin B6 (as Pyridoxal-5′-Phosphate)
0.5 mg (25% DV)
Vitamin B12 (as Methylcobalamin)
1.5 mcg (25% DV)
N-Acetyl-L-Tyrosine
88 mg
Cognizin® Citicoline
50 mg
Caffeine (as VitaShure 65% Sustained Release) [Yielding 13.5 mg Caffeine]
21 mg
Dicaffeine Malate (as Infinergy) [Yielding 12.5 mg Caffeine]
19 mg
Methyliberine (as Dynamine™)
16 mg
Theacrine (as TeaCrine®)
16 mg
Lutein (Marigold [Flower] Extract) from Lutemax® 2020
5 mg
Zeaxanthin Isomers (Marigold [Flower] Extract) from Lutemax® 2020
1 mg
Serving Size: 1 Veggie Capsule
Servings Per Container: 80
Other Ingredients: Hypromellose (Veggie Capsule), Organic Rice Flour, Organic Rice Hulls, Ascorbyl (Vitamin C) Palmitate
Directions: As a dietary supplement, consume one (1) capsule with a glass of water or your favorite drink.
As one of the more popular nootropic brands, likely due to how they've semi-dominated the Amazon nootropic market, the Genius Brand does have some pretty impressive formulas. However, Genius Gamer isn't their best, namely due to the poor dosages (which I'll likely be complaining about a lot throughout this review).
Yet, this isn't to say that the ingredient choices are bad ones — they're generally quite good — but their efficacy is doubtful due to the weak dosages. Either way, let's check out the ingredients:
Genius Gamer Review: Ingredients
B-Vitamin Complex: Vitamins B1, B2, B3, B5, B6, and B12 — a solid (yet meager, dosage-wise) selection of B-vitamins, which are popular in many energy drinks and gaming formulas due to their association with mood, motivation, and catecholaminergic repletion. Always smart to stack these with L-tyrosine, as they help convert tyrosine into mood-related neurochemicals… but, again, those dosages are very not good. More on B Vitamins.
N-Acetyl L-Tyrosine: Under conditions of heightened stress, caffeine intake, and/or sleep deprivation, L-tyrosine helps bolster and sustain brainpower — specifically attention and working memory — while elevating mood. But you'll want way more than 88mg per serving. Upwards of 600mg would more ideal here, especially for a gaming stack. More on Tyrosine.
Cognizin® Citicoline: My favorite cholinergic, citicoline is one-part cytidine (a precursor to uridine) and one-part choline, a precursor to neurotransmitter acetylcholine. Somewhat of a multipurpose brain booster, citicoline helps enhance overall brainpower while also potentially supplying structural repair advantages as well. (Though, again, the dosage here isn't great.) More on Citicoline.
Read my Best Energy Supplements of 2021 list here.
Caffeine (as VitaShure 65% Sustained Release): Altogether supplying 13.5mg caffeine, this is essentially a very small caffeine dose. Of course, while everyone loves caffeine, caffeine serves a special advantage for gamers who rely fast-twitch movements and laser-sharp focus. Personally, I'm a fan of small caffeine doses, and this really isn't bad considering the dicaffeine malate and methyliberine. More on Caffeine.
Dicaffeine Malate: Essentially a buffered form of caffeine that's purported to last longer than traditional caffeine while also mitigating the "crash" side effect of the caffeine comedown.
Methyliberine (as Dynamine™): a pure alkaloid sourced from kutcha tea leaf, methylliberine is structurally and functionally similar to theacrine (the next ingredient), which seems to improve energy, mood, focus via activating dopamine receptors and other neurotransmitter pathways — albeit without elevating heart rate or blood pressure.
Theacrine (as TeaCrine®): a naturally occurring compound similar to caffeine, theacrine (as TeaCrine) works similarly to caffeine, yet not as intensely. The result is an elevating of mood and focus but without the jitters.
Lutein + Zeaxanthin (Marigold Extract) from Lutemax® 2020: two popular carotenoid antioxidants for vision health, lutein and zeaxanthin are naturally concentrated in the macula, the region of the retina associated with sharp central vision. Naturally, for gamers staring at computer screens, eye health is important, and so adding a little lutein and zeaxanthin to your daily diet may go a long way to protect against the negative visual effects of excess blue light (i.e., screen) exposure.
Genius Gamer Review: My Thoughts
Most gamers are content with straight-up caffeine for their "performance fuel." However, Genius Gamer offers caffeine and then some with its impressive mix of caffeine, dicaffeine malate, methyliberine, and theacrine. Essentially, by combining caffeine and these caffeine-like compounds, Genius Gamer delivers on the cognitive enhancing benefits of caffeine while mitigating its jittery downsides with a collection of "smoother" milder caffeine-like bioactivities.
Which is great for gamers who play best when their brain juices are flowing yet their mindset is still calm, collected, and composed.
However, what's not great is the rest of the formula. The "nootropic" side of the formula.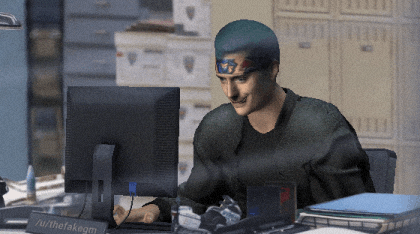 Truth be told, it's not too hard to get your hands on theacrine, methylliberine, etc. — you can buy these ingredients pretty cheaply and make your own gamer fuel stack. Not that everyone has the time for that, but if you're genuinely an "elite gamer," you'd make the time.
So, what Genius Gamer needs to do to set itself apart from the "gaming formula" competitors is stack its caffeine(-like) ingredients with some genuine next-level nootropic brain-boosters. And Genius Gamer kind of does that with its selection of tyrosine, citicoline, and B-vitamins… but the problem is: they're all so poorly dosed.
Well, so what if they're poorly dosed, there's 80 capsules in this thing, right? I can just double, maybe even triple up on the serving and then I'd be good, right??
Not quite.
Even if you were to double, triple, or even quadruple the serving size, the dosages still wouldn't be that great. And then you'd run into the problem of burning through your bottle much too quick, lessening the product's overall value. While this doesn't make this the worst formula in the world, it personally makes it a no-go for me. Certainly, having a source of nootropic-enhanced caffeine is great for gaming, but Genius Gamer got too cheap on the "nootropic enhancement" part of this equation — and they shouldn't have because there are other formulas that do this quite well. (See, for example, Performance Lab Stim — review here.)
All in all, Genius Gamer delivers on the stimulation front, but fails where the nootropics are concerned.
Read my Best Nootropics for Gaming list here.
The Pros
Splitting the stimulation between caffeine and caffeine-like compounds helps smoothly deliver the familiar caffeine rush we all love without the subsequent post-energy comedown and crash.
The overall quality of the ingredients is quite good, with a not insignificant amount of quality brands here.
The Cons
While the mix of caffeine and caffeine-like compounds is smart and impressive here, it's not exactly totally new or unique. You can find a better version of this formula elsewhere.
B-vitamins, tyrosine, citicoline — these are all puzzlingly poorly dosed. Essentially useless here.
You'll need to double, triple, or even quadruple the serving size to get the most out of this formula, which significantly cranks up the cost per serving.
Pricing
$32.99 for 80 capsules, an 80-day supply
$0.41 per serving
Genius Gamer is far from an expensive supplement. If you're spending less than $1.00 per serving, that's a pretty good deal — and Genius Gamer is delivering at less than $0.50 per serving, which is pretty great…
However, having said that….
With such meager dosages, you'll definitely need to double, triple, maybe even quadruple your daily serving count to notice any significant cognitive benefits here. And, of course, doing so will double, triple, quadruple, etc. the cost per serving here. In other words, there's a catch to the great deal here, and that catch is essentially that, well… it's not really that great of a deal lol sorry to say it.
Who Takes Genius Gamer?
Gamers. It's all in the name: Genius Gamer is for gamers. With G Fuel paving the way for gaming-related caffeine supplements, especially as a "healthier" alternative to sugary energy drinks, Genius Gamer feels like an "even healthier" energy drink alternative that's riding the wake behind G Fuel. Though if I were a competitive eSports player, I'd shoot for something more powerful and effective than Genius Gamer.
Where to Buy It
You can buy Genius Gamer directly through the Genius Brand website or through Amazon.
Conclusion: Does Genius Gamer Work?
Genius Gamer does work for boosting cognitive energy and focus, and in a way that's conducive to better gaming. But the results aren't totally stellar — e.g., you'd likely get similar or better results by simply drinking a Xyience energy drink.
When you look at Genius Consciousness, you're looking at a much more well-rounded nootropic + stim brain booster. In fact, if I had to choose a Genius formula to improve my gaming performance, I'd choose Genius Consciousness over Genius Gamer — which looks like they just made a formula of the ingredient run-off of Genius Consciousness.
Either way, I wouldn't necessarily choose Genius Gamer, though it's not exactly the worst formula. Just not that impressive or valuable, in my super-duper humble opinion. Having said that, if you'd like to see more nootropic stacks that do impress me, hit up the following link: Best Nootropic Supplements.
Final Rating
Formulation Strategy

Brainpower Benefits

Brain Health Benefits

Transparency

Quality

Value