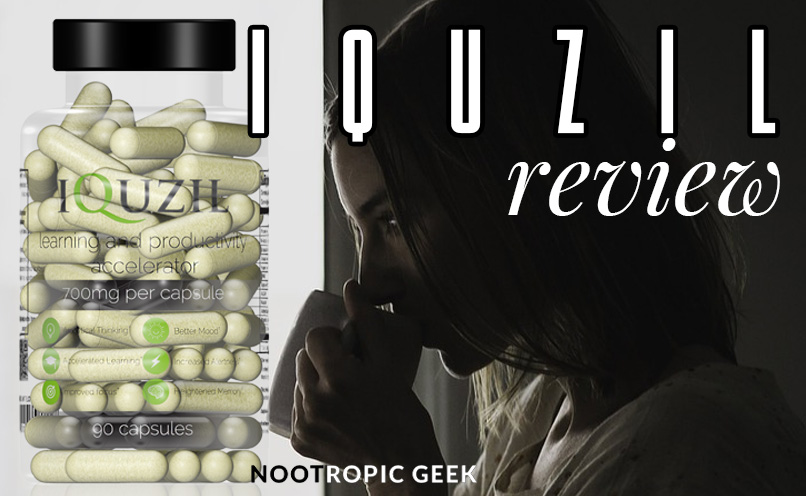 Summary: iQuzil Review
iQuzil is, admittedly, one of the more interesting nootropic supplements on the market, though a somewhat strangely marketed and reckless one. Certainly, adrafinil and phenylpiracetam are huge draws here, as their semi-illicit status is sexy. But, personally, I wouldn't combine the two — not to mention that it's uncertain which iQuzil formula is the real-deal here. Again, strange and reckless.
iQuzil, I wanna love ya.
I wanna love ya and treat ya right.
But you're distant, you're holding back from me, unwilling to show me your true self. Are you the Supplement Facts listed on the iQuzil website or the Adrafinil + "Phenyl-Racetam" laden concoction being advertised elsewhere?
Who are you when I'm not looking?
What is "Phenyl-Racetam"??
Sounds like it's time for the Nootropic Geek to review & re-evaluate this relationship with the so-called iQuzil.
About iQuzil
Developed by ThoughtFoods, iQuzil bills itself as a "Learning and Productivity Accelerator That Beats Adderall."
iQuzil derives most of its power from the nootropic smart drugs adrafinil, phenylpiracetam, & picamilon, a potentially risky combo.
There are two supplement facts attributed to the iQuzil name, both included below.
iQuzil does not beat Adderall. Claiming so is actually illegal, so… That's not good.
iQuzil Ingredients – Variation A

Ingredients
Amount Per Serving
Picamilon
100 mg
N-Acetyl-L-Tyrosine
300 mg
Vinpocetine
10 mg
Vincamine
30 mg
Huperzine A
200 mcg
DMAE
300 mg
Alpha-GPC
300 mg
ALCAR
400 mg
Niacin
30 mg
Anhydrous Caffeine
80 mg
Magnesium Taurate
400 mg
Zinc Picolinate
30 mg
***
iQuzil Ingredients – Variation B

Ingredients
Amount Per Serving
Picamilon
**
N-Acetyl-L-Tyrosine (NALT)
**
Taurine
**
Vinpocetine
**
Huperzine A
**
Caffeine Anhydrous
**
DMAE
**
B Complex
**
ZMA Complex
**
ALCAR
**
Alpha GPC
**
Bioperine
**
Vincamine
**
Niacin
**
Adrafinil
**
Phenyl-Racetam
**
Serving Size: 3 capsules
Servings Per Container: 30
Other Ingredients: Riboflavin, Pyridoxine, Cobalamin, Pantothenic Acid, Magnesium Stearate, Silicon Dioxide. (Nootropic Geek: These "Other Ingredients" may vary for variation B, as I found this list attached to variation A.)
We have two formula variations (possibly three) currently circulating the interwebs. Most customer reviews center on variation B, and so will I by this review's end. However, for now let's take a look at the ingredients of both variations to get a comprehensive look at iQuzil, starting with:
Variation A
Picamilon – One part GABA, one part niacin, picamilon is a synthetic nootropic designed to cross the blood-brain barrier for enhanced GABAergic relaxation & anxiolysis. More on Picamilon.
N-Acetyl-L-Tyrosine – During high stress or activity, the brain burns tyrosine. Supplementing the amino, especially in this NALT form, helps sustain mood & focus under such conditions. More on Tyrosine.
Vinpocetine – Semi-synthetic derivate of vincamine alkaloid, able to increase cerebral circulation for enhanced delivery of brain nourishing oxygen & nutrients. More on Vinpocetine.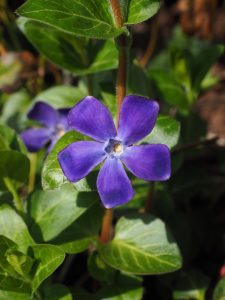 Vincamine – The "natural" version of vinpocetine, presumably offers the same benefits as vinpocetine with a higher risk of side effect, according to certain users who describe the experience as generally less positive than vinpocetine.
Huperzine A – Similar to vinpocetine, huperzine-A is a semi-synthetic nootropic drug that requires tiny doses for potent effects. Believed to inhibit acetylcholinesterase, an enzyme responsible for the breakdown of neurotransmitter acetylcholine. More on Huperzine A.
DMAE – May provide cognitive benefits to hyperattention & neurodegeneration, but research is weak & scarce on this (potential) nootropic. More on DMAE.
Alpha-GPC – While I prefer citicoline as my nootropic choline source, alpha-GPC actually provides more choline per serving. Useful in the production of acetylcholine & phosphatidylcholine. More on Alpha-GPC.
ALCAR – Carnitine is viewed as a "brain energizer" for cognition, but only for elderly cognition. ALCAR as a general nootropic for a general audience is a misinterpretation of the scientific literature. More on ALCAR.
Niacin – Vitamin B3, already supplied by picamilon, makes a second appearance in this formula in an unspecified format. The "Other Ingredients" suggest that vitamin B5, B6, & B12 are also availabile in iQuzil. (Frankly, I would've advertised B6 over B3 here.) More on B Vitamins.
Anhydrous Caffeine – 80 mg of caffeine is reasonable, slightly less than a typical cup of coffee. I'd rank this in the Red Bull range of caffeine. More on Caffeine.
Magnesium Taurate – Viewed as a premium, highly bioavailable magnesium form. Plays important metabolic roles in ATP synthesis & general cognitive function.
Zinc Picolinate – Memory & cognition decrease as zinc levels decrease. 30 mg of the high quality picolinate form of zinc should certainly help resist zinc deficiency.
Variation B
The second Supplement Facts supply essentially the same ingredients as variation A, with exception to a few exceptional additions: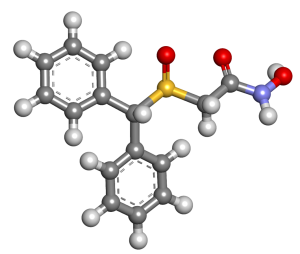 Adrafinil – Adrafinil is the legal* prodrug for modafinil, a wakeful promoting nootropic drug commonly prescribed for narcolepsy, recreationally used for its motivational bursts of dopamine activity. Adrafinil is viewed as a riskier, less effective analogue to modafinil. (*Although, it's still prohibited by the World Anti-Doping Agency.) More on Adrafinil.
Phenyl-Racetam – Or phenylpiracetam, a potent, stimulating racetam that's also banned by WADA for competitive athletes. Some customer reviews report of "pramiracetam" being the advertised racetam on iQuzil's formula, so I'm unsure who's confused here: Us or iQuzil. More on Racetams.
Taurine – Popular energy drink amino acid for its GABAergic relaxation, potentially offsetting any excess stimulation or brain activity that could be detrimental to cognition. More on Taurine.
Bioperine – A smart addition to iQuzil's formula for its enhancement of nutrient absorption, effectively increasing the formula's bioavailability.
iQuzil: The Cambridge Nootropic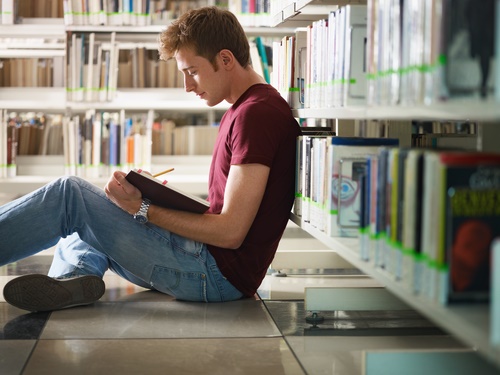 Allegedly, iQuzil was formulated by Cambridge graduate scientists, who sought to help their users "cope with such growing demands and needs in the information age."
I can dig that. There's a respectable enterprise: The undertaking of undermining the informational & perceptual bombardment imposed upon the everyday thinker of the 21st century. After all, isn't that the whole point of nootropics these days?
The only problem: iQuzil is a reckless product.
And the problem extends beyond the formula, evidenced by the mismatches in iQuzil's marketing and by the apparent degradation into proprietary blend formulation: Variation A shows its individual dosages, Variation B does not. Although, I have a hunch that the shared ingredient dosages are relatively static across the board, with perhaps a few shifts to include adrafinil, phenylpiracetam, & taurine.
On that point, the ingredients are generally well-dosed as much as they are of a decent quality. The vitamins & minerals are in relatively bio-active forms, the tyrosine & carnitine have N-Acetyl attachments.
Even so, iQuzil isn't free of side effects, as I and other online reviewers have experienced intestinal discomfort & (I rarely use this word but here it applies) discombobulation. Not to say that I didn't feel any cognitive enhancement — I did for a bit — but frankly the experience felt like the manufacturers weren't entirely sure of what they were creating, leading me to believe that all is not as advertised with this sloppy product. Basically, next time I crave the smart pill route to enhancement, I may just go with straight modafinil and sticky to my own nootropic stack on the side.
The Pros
The overall quality & quantity of the formula is impressive, assuming that the proprietary blend formulation supplies similar dosages to the first formula.
iQuzil combines synthetic stimulation with brain-functional nootropics, a unique combination for a relatively modest & conservative market.
Adrafinil, phenylpiracetam, & picamilon are not common nootropics to manufactured stacks. Bold move, iQuzil.
The Cons
Illegal & misleading claims: For example, iQuzil claims their formula "beats Adderall", a smart pill with medical intentions for ADHD therapy. iQuzil has not been tested for ADHD.
Two sets of Supplement Facts for a single product is not a good look, ultimately diminishing my trust in anything this company claims.
The downgrade to a proprietary blend is annoying and somewhat unnecessary if previous ingredient dosages are viewable. (Could it be that iQuzil supplied minuscule amounts of adrafinil & phenylpiracetam and just don't want for us to know that?)
Pricing
£62.76 for 90 capsules, a 30-day supply
£2.09 per serving
Who Takes iQuzil?
iQuzil is the "Learning and Productivity Accelerator That Beats Adderall" — indicating that the company is aiming at typical smart pill users, i.e. students, entrepreneurs, gamers, etc.
Where to Get It
You can buy iQuzil directly through ThoughtFoods website, but not through other major retailers, e.g. Amazon, Vitamin Shoppe, etc.
Conclusion: Does iQuzil Work?
For a short period of time and to a mild degree, iQuzil works.
Racetam & modafinil users will be familiar with iQuzil's cognitive effects as the experience feels like a watered down, slightly nauseating version of the smart drug rush. Granted, the side effects may be my own personal recollection, yet I'm not the only who has reported of this, causing me to view it as an attribute of this poorly designed supplement.
iQuzil boasts of its Cambridge origins. Despite this, iQuzil seems like it's been bred of incompetence or ill-intentions. (Both?)
Try it if you'd like. Personally, I'll be sticking with the nootropic supplements that work without twisting the facts (or my intestines).
Read my Best Nootropic Supplements to Buy list here.
Final Rating
Formulation Strategy

Brainpower Benefits

Brain Health Benefits

Transparency

Quality

Value